California Firefighters Race to Protect Giant Sequoia Trees
Officials say the historically significant trees were thankfully unscathed by recent blazes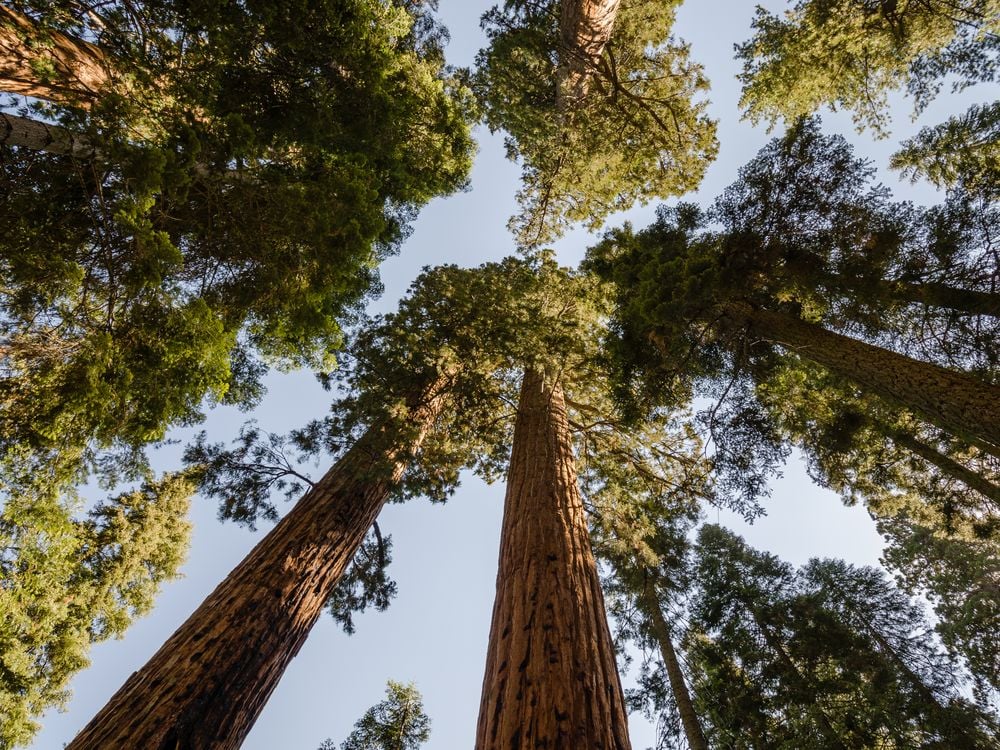 Last week, California's raging KNP Complex Fire encroached on a grove of famous trees in Sequoia National Park. Firefighters raced to wrap the ancient trees in fire-retardant foil and cleared flammable vegetation in the area. Officials say as of yesterday, the park's most famous sequoias are safe from the blaze.
"As of right now, we don't have any damage to any of our trees," said fire information officer Mark Garrett.
More than 7,500 wildfires have burned about 3,600 square miles of California so far this year, according to the Associated Press. Almost half of that land was burned by the Dixie Fire, which is the state's second-largest fire on record. Sequoia National Park has been closed to the public, and King Canyon National Park is still open despite poor air quality. The KNP Complex fire is a combination of blazes ignited from lightning strikes earlier this month and has since grown to 28,000 acres. As of Monday, the fire was zero percent contained.
The blaze caused heightened concern last week when it entered an area of the park called the Giant Forest, which is home to about 2,000 sequoias, including a famous group of trees called the Four Guardsmen. The grove of giant sequoias that draws many tourists to the park includes the General Sherman Tree, which is considered the world's largest by volume. Sequoias, which grow in select areas of the Sierra Nevada mountain range, can reach more than 200 feet tall and live thousands of years.
"Our primary focus is on protection of the communities and always will be, and that's where most of the firefighting efforts are focused," says Clayton Jordan, superintendent of Sequoia and Kings Canyon National Parks, to CNN. "But we do have a special team of resource managers led by park staff that is focused on the protection of the sequoias while the firefighters deal with the main threat of the fire."
Firefighters wrapped the bases of the trees in a fire-resistant blanket to protect them from encroaching flames. The reflective material, which is also used in emergency shelters, is fiberglass fabric that protects the trunk of the tree where damage from past fires could leave it vulnerable to invading embers.
"It is like a big spool," says Garrett, according to Christine Hauser for the New York Times. "They just unwrapped the roll and went around the base of the tree."
Firefighters are also using water and aerial drops of fire retardant to slow the fire, in addition to digging firelines. More than 900 personnel are currently battling the fire.
"We basically told the fire crews to treat all our special sequoias like they were buildings and wrap them all up, and rake all the litter away and roll away the heavy logs," Christy Brigham, chief of resource management and science for the Sequoia and Kings Canyon National Parks, tells CNN.
Another tactic that firefighters used to control the intensity of wildfire in the area is prescribed burns, an ancient indigenous practice that involves setting small, controlled blazes to clear vegetation that could become wildfire fuel. Fire management officials have been using prescribed burns to mitigate wildfire risk in the Giant Forest and nearby Redwood Canyon, according to the Associated Press.
"But like Giant Forest, that one has also seen prescribed burn treatments for several decades since the late '60s so that grove is also well-equipped to transform a high-intensity fire into low-intensity fire," says Garrett.
Scientists credit California's historic wildfire season to severe drought, which decimated livelihoods and threatened communities throughout the western United States. As climate change makes fire seasons longer, hotter and drier, firefighters may need to rely more heavily on fire-mitigation strategies like those used to protect the giant trees of Sequoia National Park.