Buy a Handbag, Burn a Forest
Brazilian deforestation is tied to producers of luxury Italian leather goods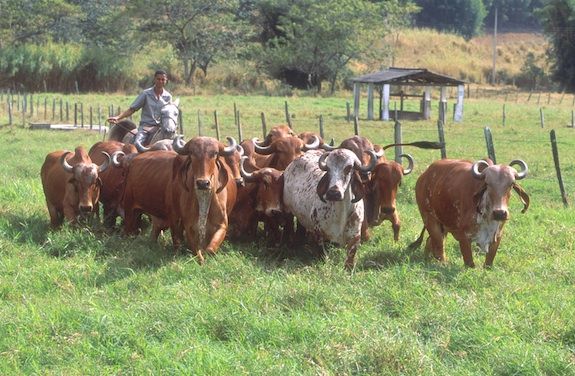 That Italian leather handbag you're sporting might have a more complicated history than you think.
According to environmentalists, deforestation in Brazil (removing trees so the land can be used for other, non-forest purposes) is on the rise, and the fashion houses of Italy are one of the culprits. Brazilian cows, who provide the leather used in products made by Valentino, Ferragamo and other high-end labels, need space on which to roam, graze and conduct important cow business, and ranchers are all too happy to engage in a little tree-burning to make that happen for their charges. The Guardian breaks it down:
A 2009 Greenpeace study proved that ranches were still illegally clearing rainforest and that the leather was going straight into the supply chain of major brands. One hectare of rainforest was lost to ranches every 18 seconds. Following the money as well as the trees, Greenpeace found that the enterprise was underpinned by state-funded banks. While former president Lula made speeches about saving the "lungs of the earth" (the Brazilian Amazon stores 80-120bn tonnes of carbon), the state sponsored its wholesale destruction.

By July 2012, official figures showed deforestation in the Brazilian Amazon to be down by 76% from its high in 2004, but NGOs monitoring the situation report an alarming new upturn. President Dilma Rousseff has recently allowed two reforms to the Forest Code that researchers claim will increase deforestation in Brazil by 47% by 2020. If you'll excuse the phrase, we are not out of the woods.
On the plus side, some fashion houses are scrambling to avoid getting slapped with an anti-rainforest label, and are attempting to source environmentally clean leather:
A new version of Gucci's Jackie bag will be unveiled at Paris Fashion Week. There have been many incarnations of this slouchy handbag since its launch in the 50s – named for Jackie Onassis, as it was one of her favourite accessories – and the style was most recently revived in 2009. But this latest version stands apart. Gucci had stopped using Brazilian leather in the wake of the 2009 Greenpeace report, but it now sources supplies for the Jackie bag from a deforestation-free zone.
The bag, which retails at more than $2,000 dollars, comes with its own passport, declaring it deforestation-free.
More from Smithsonian.com:
Why Did Mayan Civilization Collapse?
Tree Gangsters Are Killing the Rainforest