A Brief History of Sesame Street's Snuffleupagus Identity Crisis
A running joke got canned in response to concern that kids wouldn't feel safe telling adults hard truths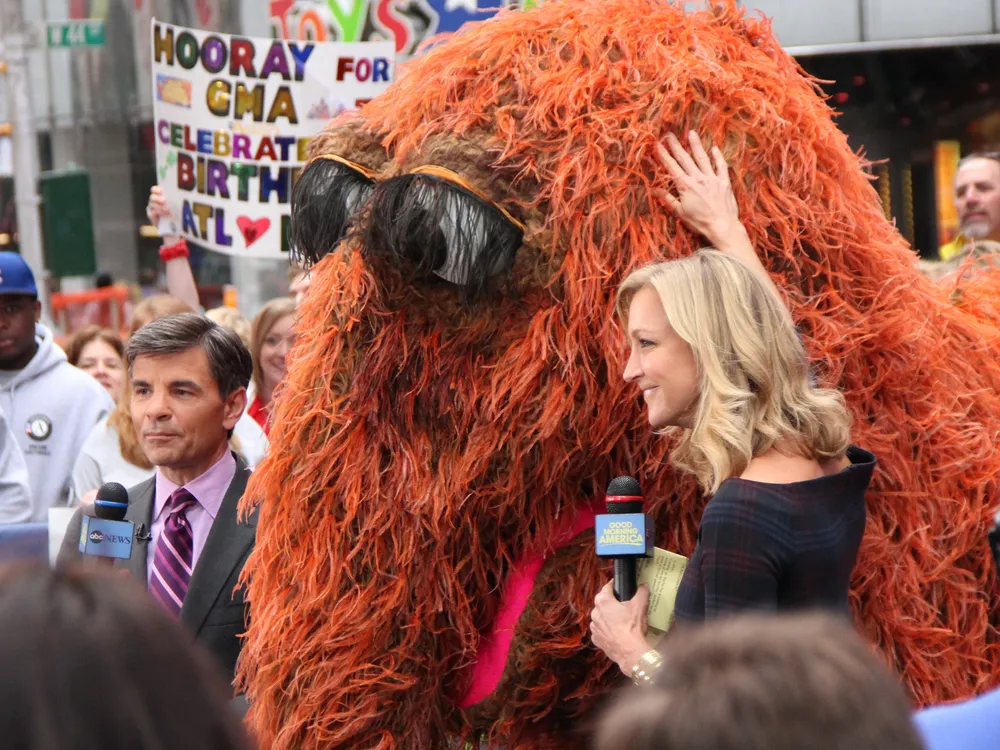 The long-running, classic children's show Sesame Street is well-known for teaching kids more than just their ABCs and 123s. This year's addition of a Muppet with autism is just the latest effort to introduce diversity and life-lessons to children through engaging characters and stories. 
For mental_floss, Jake Rossen and Jennifer M. Wood highlight this role with a retelling of the carefully considered move to introduce Big Bird's friend Aloysius Snuffleupagus as a permanent member to the show. Now, 30 years after that historical 1985 episode, Rossen and Wood interviewed producers and cast members on what made the reveal special.
The "large and friendly monster resembling an anteater" made his first appearance in the Sesame Street's third season in 1971, but at that time only Big Bird saw him. The two became close friends, but Snuffy's existence stayed ambiguous—he would shuffle off screen or just miss everyone. Big Bird insisted Snuffy was real but no one really believed him, Rossen and Wood write.
For 14 years, the show kept up the question unanswered. "It was going with the whole thing of a child's imaginary playmate, which a lot of kids have," says Emilio Delgado, who has played Luis on the show since 1971. But Martin P. Robinson, who has performed as Snuffy since 1980, saw it differently. He explains in an interview with the show Still Gaming:
He was shy, he had bad timing, and the joke was, he's big, you can't miss him, but adults being the way they are—preoccupied, going to work, you know—they miss those little details. And Snuffleupagus just happened to be one of those little details that they kept missing year after year after year.
But the producers realized this storyline needed to change in the early 1980s when an alarming issue started hitting the news. A 60 Minutes series on child abuse made the show runners think that it wouldn't be a good idea to continue a storyline where one of their main child-like characters wasn't believed by grownups. Executive Producer Carol-Lynn Parente says:
The fear was that if we represented adults not believing what kids said, they might not be motivated to tell the truth. That caused us to rethink the storyline: Is something we've been doing for 14 years—that seemed innocent enough—now something that's become harmful?
But revealing that Snuffy was real, and not a resident of Big Bird's imagination, would require some careful planning to make sure the message was clear. The show asked childhood development experts to help them and came up with a two-year "scheme." In the first year, Robinson explains, the cast members would learn that Big Bird could tell the difference between imaginary things and reality. Then some people would start to believe him about Snuffy, trusting Big Bird's perception, building up to Snuffy's reveal in its 17th season.
Even that historic episode teases the audience with several missed connections, however, until Big Bird recruits Elmo to help by holding on to Snuffy's snuffle (trunk). The show then drives home the point they wanted to make with cast member Bob McGrath telling Big Bird: "From now on, we'll believe you whenever you tell us something."
The storyline made it on Time's list of the best moments in Sesame Street's history. There, reporter M.J. Stephey quotes Dulcy Singer, the show's executive producer at the time: "[W]e felt it important for children to feel they could talk to adults and be believed. We didn't want to do anything to discourage children from going to their parents."