You Could Own Rare Artworks Celebrating Canine Companions
An upcoming "Dog Sale" at Bonhams Scotland features 250 paintings, sculptures and more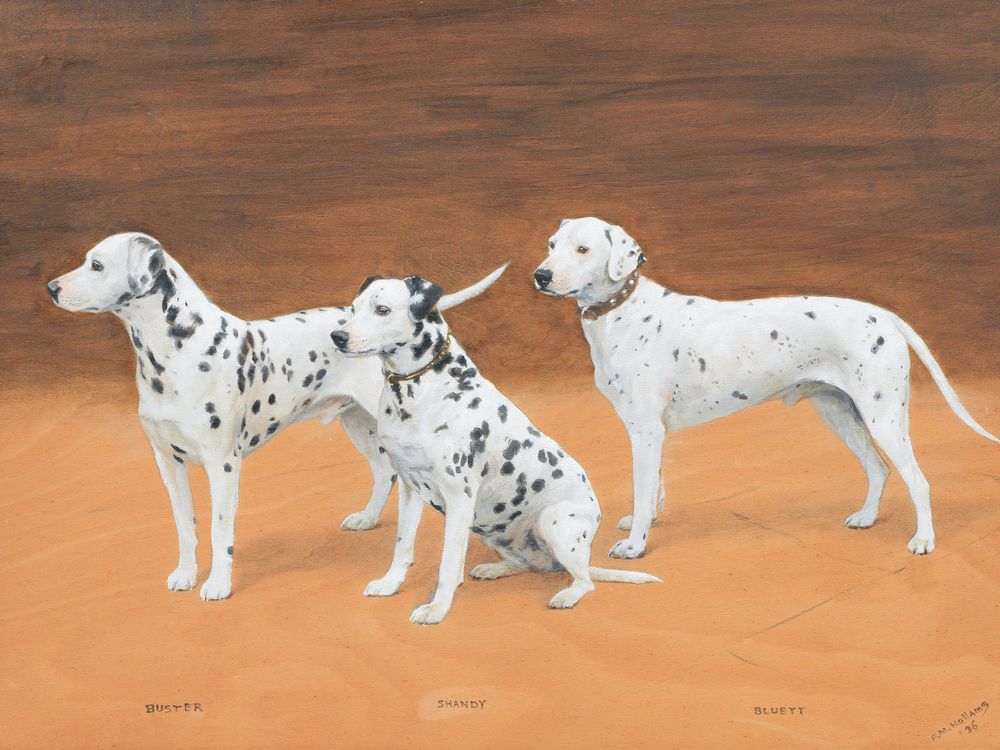 Come November 8, Bonhams Scotland will celebrate the enduring bond between humans and dogs with an auction of canine-inspired art. The aptly titled Dog Sale will feature a selection of 250 paintings, drawings and more, all starring man's best friend.
"We have had an amazing, international response to this sale," says Leo Webster, a specialist in pictures at Bonhams, in a statement. "From 19th-century sporting subjects to portraiture, ceramics, bronzes and even collars, we really wanted to show the breadth of dogs in art."
The auction lots represent a diverse range of breeds, from dalmatians to dachshunds to Irish wolfhounds. Highlights include an 1898 canvas by German artist Paul Friedrich Meyerheim, depicting a playful pup with a racket in its mouth, and a 1900 painting by British artist Maud Earl, which shows a small French bulldog staring wide-eyed at something out of view. Earl was revered for her paintings of purebred dogs. According to Bonhams, her patrons included Queen Victoria and Edward VII, who commissioned a portrait of his "much-loved" terrier, Caesar.
Of the sculptures on sale, a notable offering is a ten-inch-tall bronze of a Pekingese dog by the American artist Gertrude Lathrop.
"I chose to model animals because of their infinite variety of form and texture and their great beauty, for even the lowliest of them have beauty, yes even the ward bug, with his magnificent tusks," Lathrop once wrote, per Bonhams.
Anchoring Bonhams' canine treasure trove is an 1896 oil painting by the eminent British artist John Emms. Titled The New Forest Buckhounds, the work portrays a pack of docile-looking hounds sitting idly during a hunt as their owners scan the surrounding forested area.
"A keen huntsman with a consummate interest in the sporting field, John Emms had the rare ability to give real life to his subjects," notes Bonhams in the lot listing. "He was at his very best when painting dogs; with confident use of fluid brushstrokes, he gives weight and solidity to their different physical characteristics, as well as their individual temperaments."
According to the auction house, Emms loved painting hounds housed at kennels in Hampshire, England. He frequently returned to the New Forest Hounds, the well-known local pack depicted in the 1896 painting, as a subject. Bonhams estimates that the hunting scene will fetch between $60,000 and $85,000, making it the priciest work included in the sale.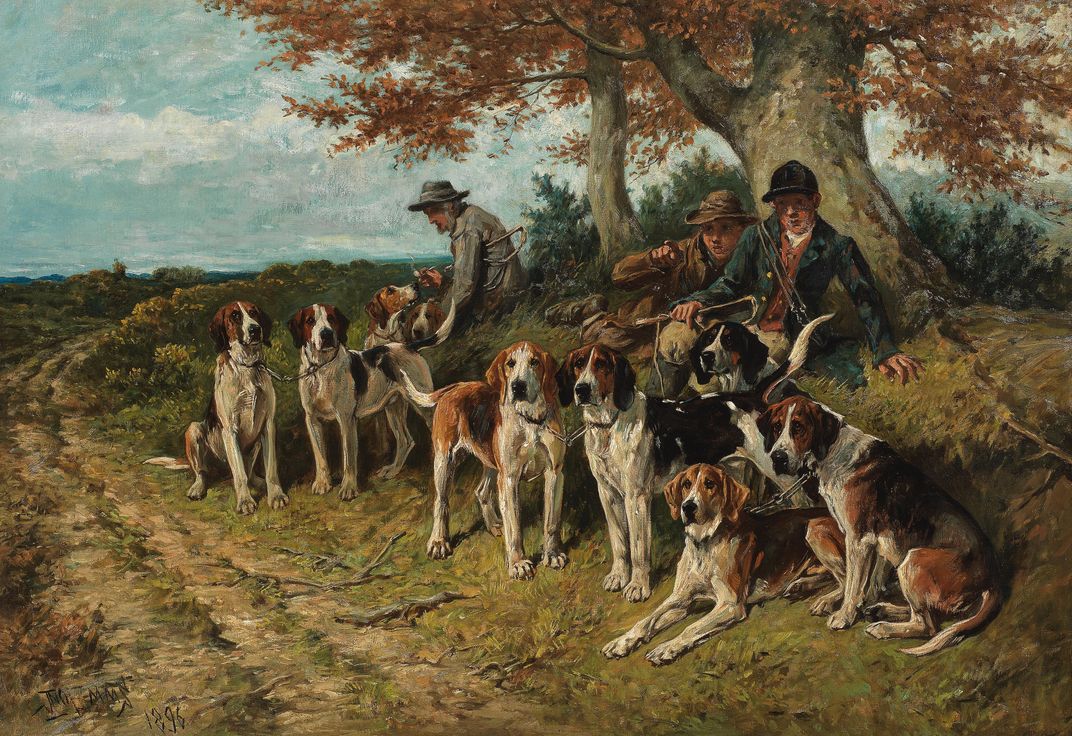 Still, not all of the items on offer require breaking the bank. For less than $500 each, dog lovers can own a sketch of a bulldog puppy, a trio of porcelain figurines and a walking cane with a carved spaniel topper.
Dogs are a popular subject for artists, inspiring the likes of David Hockney, Pablo Picasso and Andy Warhol. Earlier this year, an exhibition at the Wallace Collection in London honored this lasting connection by uniting more than 50 artworks featuring canines.
"The way that our relationship with dogs—that unexplainable, loving bond—transgresses into art history is fascinating, and a greater reflection of society," curator Xavier Bray told BBC Culture's Matthew Wilson in March.
Bray added, "The relationship with dogs humanizes people, and brings the best out of them. The connection calms people; anxiety can be conquered by it. It can be a transformative relationship."