No, the Bone of Saint Clement Was Probably Not Just Found in London's Trash
A waste hauler found the bone fragment in a case sealed with red wax and tied with red cords. It included a faded label reading: "Ex Oss. S Clementis PM"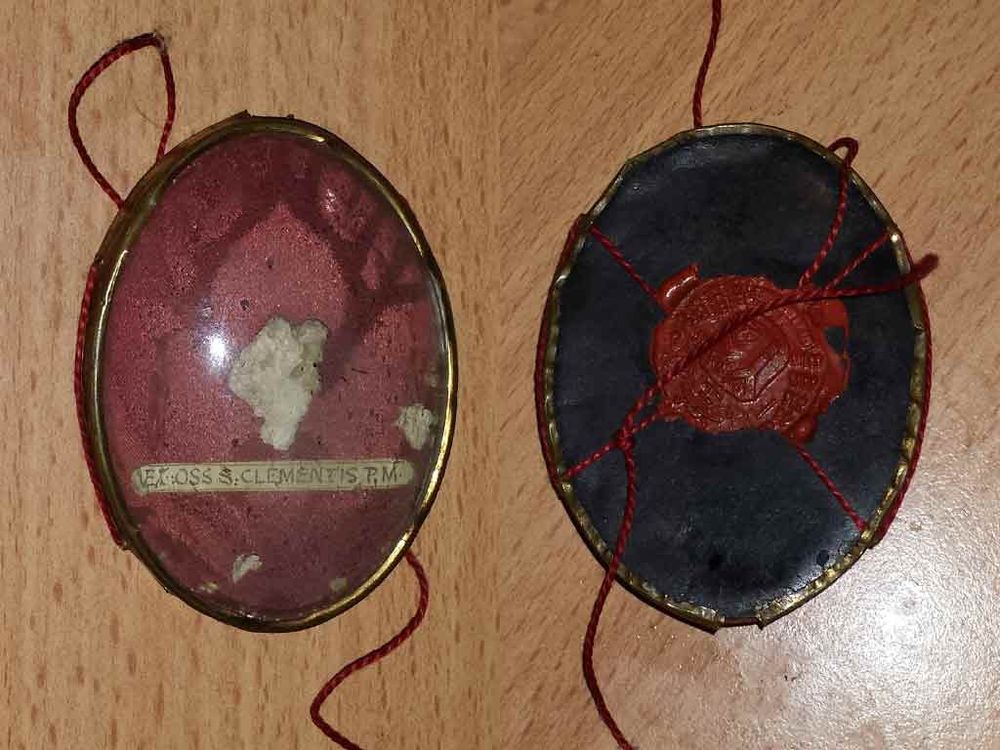 The London-based rubbish removal company Envirowaste gets rid of all kinds of junk, from shredding documents, to clearing out the homes of hoarders and hauling off old couches. Over the years, that's meant its workers have found some pretty odd, amazing and downright disgusting things like a taxidermied cat dressed in a baby's onesie, a nude painting of Albert Einstein and a notebook scrawled cover to cover with the pronouncement: "I'm the Devil." A little over a year ago, they found perhaps the strangest item yet: an alleged bone fragment of St. Clement.
Maev Kennedy at The Guardian reports that the waste haulers came across a box sealed with red wax and tied with red cords while looking for recyclables in a load of waste coming from several sites. Inside the box was a small glass dome with a little chunk of bone and a label reading "Ex Oss. S. Clementis PM," Latin for from the bone of the saint.
"You can imagine our amazement when we realized our clearance teams had found bone belonging to a pope – it's not something you expect to see, even in our line of work," Envirowaste owner James Rubin tells Kennedy. "We often come across some weird and wonderful things on clearances."
Now the company is asking the public to weigh in with what they should do with the relic on its blog.
If the bone actually belonged to St. Clement, it's a pretty nice bit of history. The details are hazy—Clement I served as Pontiff either from 88 to 97 C.E., or from 92 to 101 C.E. Legend has it that he was banished from Rome by the emperor Trajan and sent to work in a stone quarry in Greece. There he began a Christian ministry to aid his fellow prisoners. After he prayed for water for the parched quarry workers, a spring welled up from the earth. That won him many converts, but for the action, authorities tied him to an anchor and tossed him into the Black Sea, a martyrdom which later earned him sainthood. Supposedly his remains were buried at a monastery in the Crimea and were later moved to the Basilica di San Clemente in Rome.
But all of that story is apocryphal and early historians mention nothing about Clement I's imprisonment and death. Though the details of his life are obscured in legend, he did leave one concrete artifact; Clement I's "Letter to the Church of Corinth" is his only surviving text and one of the earliest Christian documents, besides the Gospels, themselves.
The chances that the bone found in the bin belongs to St. Clement are probably close to zero. It's highly unlikely his bones were every recovered, wherever and however he died. Relics, which are pieces of clothing, personal belongings or body parts of Saints, have been a part of the Catholic church since the beginning. The forgery of relics has also been with the Church for centuries. Some were simply impossible, like pieces of straw from the manger or ashes from the burning bush that spoke to Moses. Others were more plausible like splinters from the cross. Then there are just bizarre relics, like Jesus' foreskin or the Holy Head of St. Catherine of Siena (aren't they lucky they didn't find that in the trash?) Martin Luther, the father of Protestantism, objected to the sale, display and veneration of relics not only because, to educated people, they were obvious frauds, but also because their veneration smacked of paganism.
In any case, relic-mania and the sale of relics died down after a heyday in the Middle Ages. While they still remain in many churches and are still considered holy, many of the early, mass-produced relics designed to fleece religious believers have passed into private hands—and trash heaps apparently.
In fact, similar relics were so common on eBay as of 2016 that some offended Catholics launched a petition to prevent their sale, since selling bone, hair and other bits and pieces of humans, whether saints or sinners, is against the site's policy. The selling of relics is actually a sin called Simony, and in 2017 the church reiterated its long-standing message that the selling of relics is prohibited, spiritually if not legally.