Bob Ross' Very First On-Air Painting Is for Sale
Priced at nearly $10 million, "A Walk in the Woods" was the subject of the artist's 1983 television premiere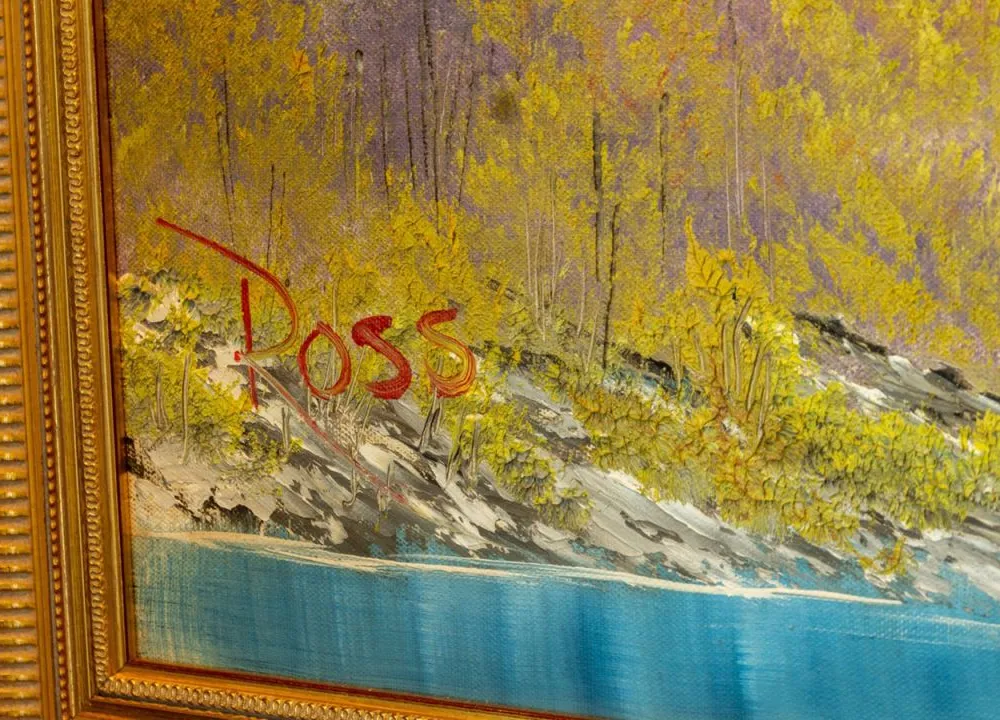 In just over 400 episodes of "The Joy of Painting," the soft-spoken artist Bob Ross immortalized himself in American cultural memory. Each 30-minute art lesson was packed full of his trademark adages about self-acceptance and serenity.
Now, the painting that began it all can be yours—for a little under $10 million.
Ross painted A Walk in the Woods live on television in January 1983. A Minnesota gallery acquired the painting recently from a volunteer at the Virginia PBS station where the television program began.
Ryan Nelson, the owner of Minneapolis' Modern Artifact gallery, which is selling the piece, says the price has increased a bit since the volunteer purchased it.
"I don't know the exact number that she paid at that point, but knowing what others paid around the same period, I'd assume it was somewhere under $100," he tells NPR's Emily Olson.
Nelson has traded Ross paintings before, and although the price tag has never come close to this amount, he's confident that A Walk in the Woods will sell. Until that time, however, Nelson says he hopes to share it with the public at a museum or traveling exhibition.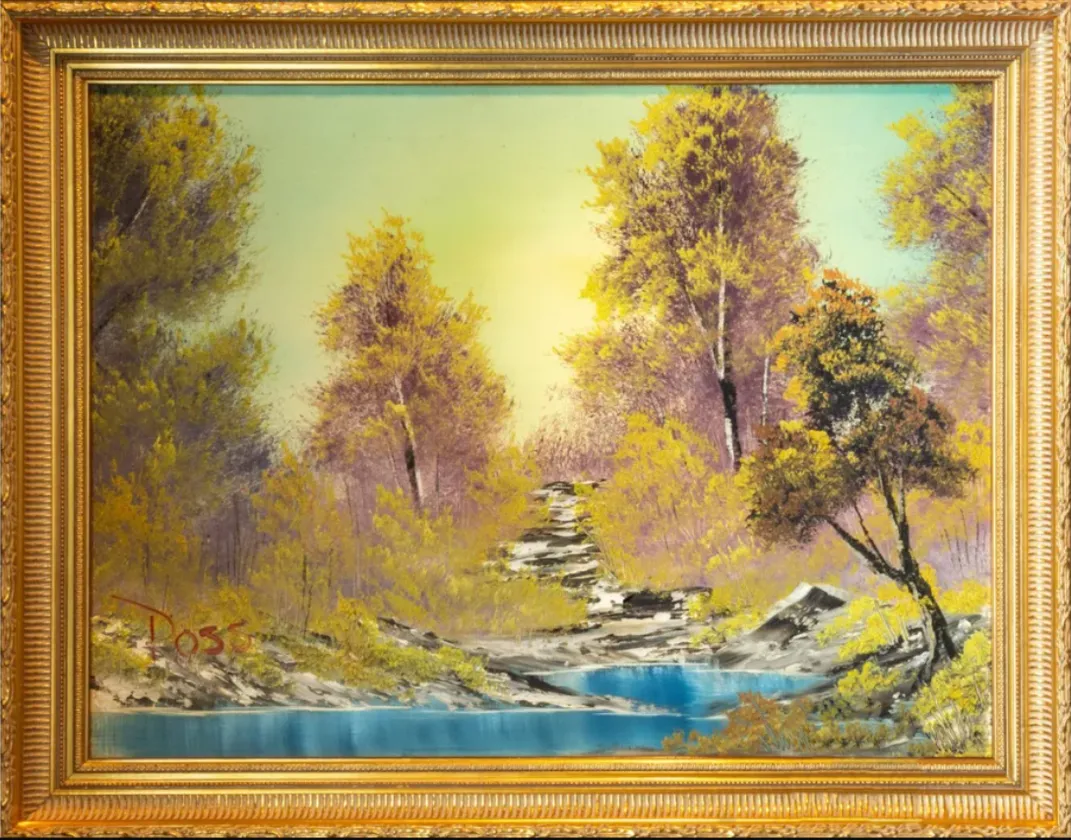 Ross spent two decades in the United States Air Force before becoming a painter. He famously credited his military career with giving him his calm and soothing disposition, saying he no longer wanted to be "the guy who makes you scrub the latrine, the guy who makes you make your bed, the guy who screams at you for being late to work," as he told the Orlando Sentinel's Linda Shrieves in 1990.
But for someone who made a career creating original artwork on live television, Ross' more than 1,000 paintings are not as widely available as one might think. In fact, ownership of Ross' paintings, as well as rights to his name and intellectual property, has been the subject of intense scrutiny in recent years.
A team from the New York Times found in 2019 that most of Ross' paintings remain in storage, owned by Bob Ross Inc., the company founded by his former business partners Walt and Annette Kowalski. The company sells painting supplies, books and DVDs with the legendary artist's name and branding.
However, according to Joan Kowalski, the company's president and the Kowalski's daughter, Ross' paintings are not for sale.
"It actually has never occurred to us. I guess I wouldn't even know how to answer that question, because we've never even really talked about it," Joan Kowalski told Larry Buchanan, Aaron Byrd, Alicia DeSantis and Emily Rhyne of the Times.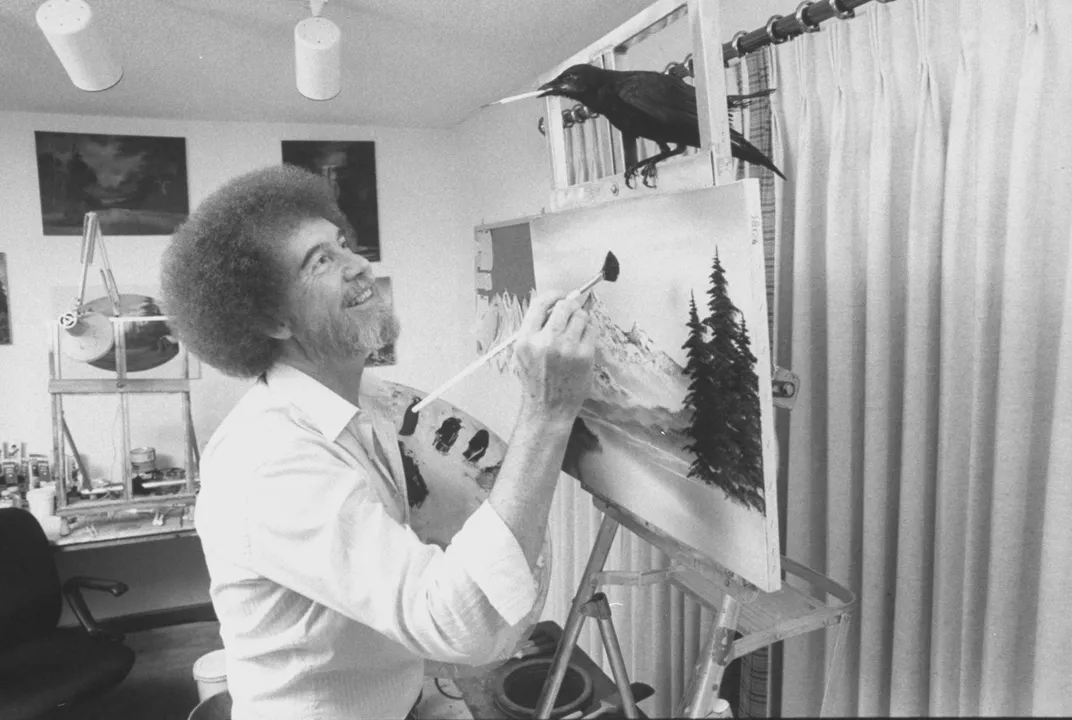 Bob Ross Inc. subsequently donated some of the artist's works to the Smithsonian's National Museum of American History.
Not long after, a documentary film premiered on Netflix featuring Ross' son Steve, who sued the Kowalskis in 2017 for his father's intellectual property and lost. In the documentary, Steve Ross alleges poor treatment by Bob Ross Inc., which he says wrongly profits from his father's name.
Joan Kowalski responded to some of the documentary's allegations in a 2021 interview with Vanity Fair's Anthony Breznican. Bob Ross Inc. has called the film "inaccurate and heavily slanted."
Ross himself died at age 52 in 1995 from lymphoma. But the episodes from his show remain in circulation, and his advice about "happy little accidents" now resonates with a generation who never even saw him live—certainly not when A Walk in the Woods was painted in 1983.
"Despite how difficult things got at times, he just had this unbelievable ability to connect with whoever was watching," the Netflix documentary's director, Joshua Rofé, told CNN's Jacqui Palumbo in 2021.