Black Bears Move Into Abandoned Canada Town Evacuated Due to Wildfires
Yellowknife, the capital of the Northwest Territories, has been largely empty for the last two weeks amid Canada's worst fire season on record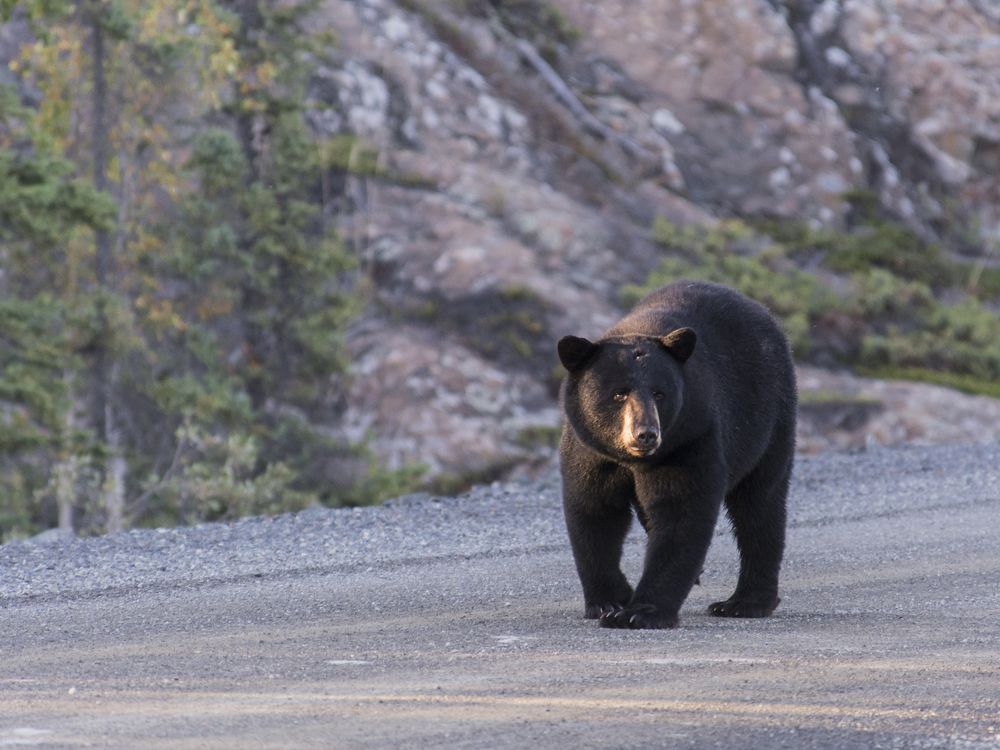 Hungry black bears have moved into a deserted town in northern Canada after human residents evacuated because of encroaching wildfires.
The creatures are making themselves at home in Yellowknife, the capital of Canada's Northwest Territories. Situated on the shores of Great Slave Lake, the isolated town is home to some 20,000 residents, the majority of which fled to safety on August 16 as several fast-moving blazes approached the city limits. The government issued an evacuation order for the city and several smaller surrounding towns.
A handful of essential workers stayed behind, including wildlife officers and police. About a week after the majority of the city's residents evacuated, law enforcement officers noticed an uptick of black bears hanging around town.
When residents evacuated, they left behind trash cans full of aromatic leftovers that likely enticed the bears to wander into the city. In addition, the fires may also be disrupting the bears' normal habitat, forcing them to be on the move.
"There was such an up and go during the evacuation that a lot of people, it's not their fault, but their garbages were still full," James Williams, a Yellowknife wildlife officer, tells CTVNews' Daniel Otis. "Then after a few days, we did notice that there was a high number of bears coming in, and that could be due to the fires pushing them this way."
It's not clear exactly how many bears have descended upon Yellowknife in recent weeks, but Williams estimates there could be as many as eight or nine, as he tells BBC News.
"If you look at Yellowknife on a map and you zoom out, we're right in the middle of the boreal forest—we're in their country," he says to the BBC. "So, we got to respect that."
Photos and videos shared by the BBC show a bear on the deck of a home, as well as three bears on a trash heap. At one point, a bear also got very close to the front door of Yellowknife's Explorer Hotel, which prompted a worker to run inside, per the footage.
Bear sightings are fairly common near Yellowknife at this time of year. Earlier in August, before residents evacuated, wildlife officers shot and killed two bears they say posed a risk to public safety in Yellowknife. One of the bears had tried to break into a home, per CBC News. At that time, wildlife officers were also keeping an eye on an additional four bears near Yellowknife, including a mother and cub.
However, the fires seem to be driving the animals farther into town, reports MyTrueNorthNow's Ethan Montague.
"The change has been where the bears have been spotted," says Matt Halstead, a corporal with Royal Canadian Mounted Police for the Northwest Territories, to the publication. "The bears have been reported being deeper into the city and residential neighborhoods than we normally see."
Wildfires continue to burn near Yellowknife and throughout the Northwest Territories, amid Canada's worst wildfire season on record. As of Thursday, more than 1,000 active fires were burning across the country, and 687 of them were classified by the Canadian Interagency Forest Fire Center as "out of control." To date, 16.1 million hectares have been burned this year.
City officials are working on a multi-step re-entry plan for residents of Yellowknife. On Wednesday, officials were worried about high winds, which they expected to strengthen the blazes and make firefighting more difficult. They paused the re-entry of most essential workers, but did allow healthcare workers to travel to Yellowknife by plane. Highway 1, the main road into the Northwest Territories from neighboring Alberta, will likely be closed through Sunday because of the fires.
"Unfortunately, we don't have a date yet for calling all residents home," said Rebecca Alty, Yellowknife's mayor, to CTVNews' Natasha O'Neill earlier this week. "We just need a bit more time and patience from residents in that regard."