Birds That Gorge Themselves in Winter Have Fewer Chicks in Spring
The well-fed birds' babies were smaller and weighed less than the chicks belonging to birds that had to scrape by during the cold months on their own wits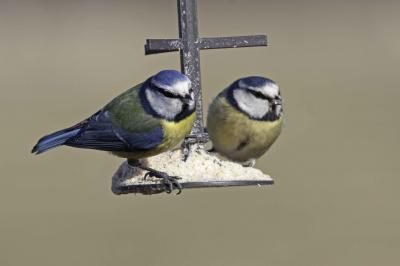 Kindly animal lovers often set out feeders full of delightful seeds and nibbles to help birds get through the harsh winter. But based on the results of a new study, those generous offerings may be backfiring. Birds who rely upon feeders to get through the winter, the authors found, tend to have fewer chicks in the spring.
The researchers focuses specifically on woodland blue tits, a common bird in the UK. For three years, the authors visited nine forests in Cornwall. They fed blue tits in some of those sites with fat balls containing vitamin E (which also turns up in high levels in most bird seed), but they left other groups of blue tits to fend for themselves. They installed nest boxes at all of the study sites, and in the spring checked those boxes for the number of eggs and also the outcome of any chicks that hatched.
Those birds that were fed during the winter, they found, had significantly fewer chicks that survived to fledge the nest. The well-fed birds' babies were smaller and weighed less, on average, than the chicks belonging to birds that had to scrape by during the cold months on their own wits.
The researchers need to carry out more experiments in order to determine just why this is so, but they hypothesize that feeders may sustain weakling birds that otherwise would not have survived the winter. Those birds' unhealthy offspring may be impacting the average chick survival of the population, making it appear as if feeders, in general, are affecting chick success. On the other hand, the feeders could be having some overall impact on the great tits. "More research is needed to determine exactly what level of additional food provisioning, and at what times of year, would truly benefit wild bird populations," the authors say in a statement.
More from Smithsonian.com:
The City Bird and the Country Bird
The Bird Whisperer