Biologists Have Spotted the First Wolf Pack in California in 100 Years
Two adults and five pups make up the newly-named Shasta Pack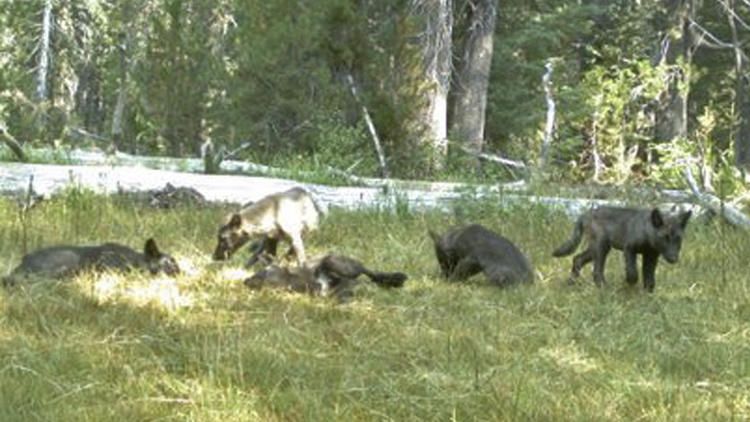 In 2011, the gray wolf tagged "OR7" gained fame for wandering more than 500 miles in Oregon and California, becoming the first of his species spotted in the latter state since the 1920s. He eventually settled down with a pack in Oregon but California hasn't missed the presence of a top canine predator for long: A whole pack has been spotted in Northern California.
The two adults and five 4-month-old pups, all with black fur, have been dubbed the Shasta Pack, reports Julie Cart for The Los Angeles Times. 
A trail camera first snapped a photo of a lone wolf and prompted biologists to set up more cameras and look for scat in the area — a remote part of Siskiyou Country. "This news is exciting for California," Charlton H. Bonham, the director for the California Department of Fish and Wildlife, says in a statement. "We knew wolves would eventually return home to the state and it appears now is the time."
Experts suspect the wolves may have dispersed from Oregon's Rogue River Pack, which was first recognized in 2014. OR7 is the breeding male there. 
California state has already listed wolves under the state's Endangered Species Act (the canine is also protected under the federal Endangered Species Act). These protections make it illegal to harass, harm, pursue, hunt, shoot, wound, kill, trap, capture or collect wolves in the state. And the state is in the midst of finalizing its management plan to dictate how to make sure the wolves can live peacefully with people. Even if the return of wolves to California excites some, it raises the hackles of others, just as it did in Oregon. Wolves rarely threaten humans but they can attack livestock. 
However, the Shasta Pack set up residency before the state could finish the management plan. "They have beat us to the punch," Eric Loft, chief of the Wildlife Branch of the CDFW tells The Los Angeles Times. Given how well the species is recovering in other areas, any plan must include criteria to delist, or remove the protections. After all, if recovery is successful, wolves will no longer be an endangered species.