Big Momma – Record 87 Eggs Found in Gargantuan Everglades Python
University of Florida researchers cut into the largest python found in the Everglades, measuring a whopping 17-feet-7-inches long and weighing 165 pounds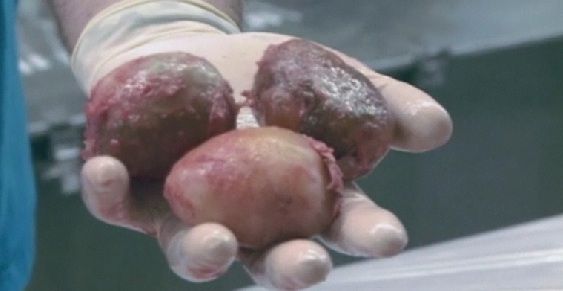 University of Florida researchers cut into the largest python ever found in the Everglades, measuring a whopping 17-feet-7-inches and weighing 165 pounds. Inside, the researchers found the snake chock full of 87 eggs, beating the previously held record of 85.
The snake will add to the knowledge of Florida's invasive Burmese python population, a problem that has plagued the state for the past quarter-century. The researchers will study the snake's gut contents to figure out what species it last swallowed, and examine its eggs for insight into the python population's reproductive status. After the autopsy the snake will be mounted and put on display at the Florida Museum of Natural History.
Florida has the world's worst invasive reptile and amphibian problem, with an estimated 137 non-native species introduced to the state over the past 150 years – 56 of which are well established and reproducing in Florida today. Most of these animals, including the python, were brought in by the pet trade and released into the wild when irresponsible owners got tired of their exotic pet.
"They were here 25 years ago, but in very low numbers and it was difficult to find one because of their cryptic behavior," said Florida Museum herpetology collection manager Kenneth Krysko in a press release. "Now, you can go out to the Everglades nearly any day of the week and find a Burmese python. We've found 14 in a single day."
Because of the rampant problem with pythons in the Everglades, the Florida government bans people from owning the animals as pets or transporting them across state lines without a permit. Residents are, however, allowed to hunt the animals in certain areas of the Everglades.
More from Smithsonian.com:
Science Teachers Guilty of Releasing Invasive Species
Are Humans an Invasive Species?