Berlin Exhibition Chronicles Evolution of Christmas Decorations From 19th Century to Today
Selections include swastika-adorned baubles from Nazi Germany, miniature bombs and warships popularized during World War I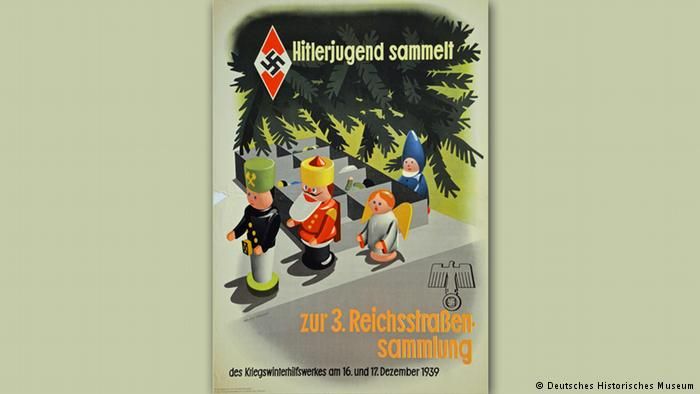 There's the bevy of Santa Clauses, angels and shiny seasonal sphere baubles you might expect to see among the 500 objects on display at the German Historical Museum's new exhibition on Christmas ornaments. And then there's the Nazi paraphernalia. Both are at the forefront of the jarring Angel, Swastika, Dome of the Rock: Christmas Tree Decorations From the 19th Century Until Today, which breaks down how the seasonal ornaments have historically acted as not only "banal and beautiful" emblems of popular culture, but also political tools appropriated in service of a wider agenda.
As the Associated Press details, when Adolf Hitler first rose to power, he and his associates tried to "co-opt" Christmas by sponsoring seasonal celebrations and tricking the masses into associating National Socialism with the holiday.
Writing for History.com, Erin Blakemore explains that the Nazis' distaste for the Christian holiday celebrating the birth of Jesus stemmed from the Messiah's status as a Jew. Instead of embracing traditional holiday celebrations, the Nazis emphasized Germany's pagan roots, deeming the rituals of long-dead "Aryan" tribes—particularly celebrations of the winter solstice—more "racially pure."
That, of course, necessitated the repackaging of the Christmas tree. The Star of David tree toppers yielded to sunbursts, and swastika-shaped cookie cutters replaced those with less politically charged outlines. Ultimately, the goal was to make the holiday into a "Nordic Yule festival."
In addition to exploring the propaganda-laden traditions of Nazi Germany, the Berlin exhibition delves into the unusual decorating style popularized during World War I and the rise of more globally focused contemporary ornaments.
As Deutsche Welle reports, wartime Christmas trees were often decorated with miniature bombs, grenades, warships and airplanes rather than shiny baubles and angelic creations. According to the Canadian Centre for the Great War, these ornate glass ornaments were designed to boost support for the war effort and highlight Germany's technological innovation.
"If you wanted to decorate your tree," the Centre states in a blog post, "... you could now buy a blown glass zeppelin, observation balloon, or later even a tank for your tree."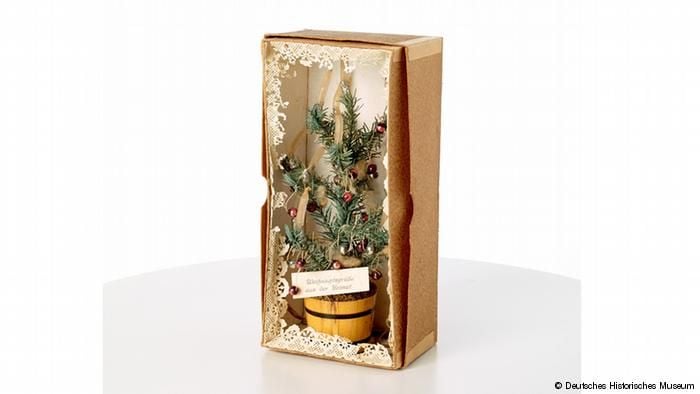 Interestingly, one of the World War I decorations featured in the exhibition departs from this celebration of military prowess to offer soldiers some holiday cheer. The ornament of sorts, a tiny pine tree adorned with shiny red and gold baubles, was reportedly sent to the front in 1914.
The rest of the exhibition's ornaments range from handmade wooden angels crafted by artisans from the Erz Mountain region to delicate glasswork depictions of Jerusalem's Dome of the Rock, a bulky (and outdated) pink cell phone, a ferocious sphinx, and an assortment of wild animals. Decorations drawing on cultural traditions from other countries, including China and Russia, also abound.
As the exhibition page concludes, "the baubles and assorted decorations for the 'German Christmas tree' have become global, shaped and positively enriched by tourism, the Internet, and major migration flows of people and their respective cultures."