Before Crime Novels, the Late Elmore Leonard Specialized in Westerns
The author was in the middle of a 46th novel when he passed away following complications from a stroke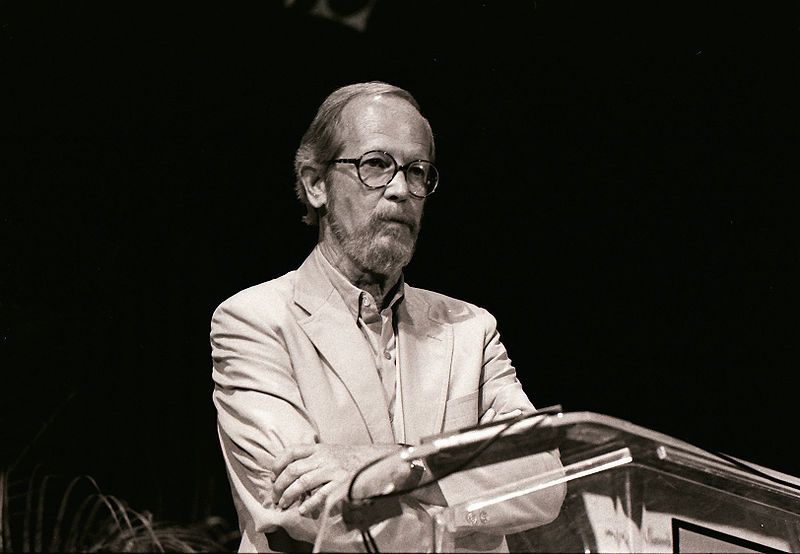 Elmore Leonard, an acclaimed crime novelist who passed away today, didn't always get his thrills from writing suspense. He began his career as a successful author of Westerns, including one short story that became the movie 3:10 to Yuma.
In the early days, he would wake up early before heading to an advertising job, writing in a "cell-like" room from 5 to 7 a.m. every day, the Detroit News reports.
A long time fascination with guns—likely brought on by Bonnie and Clyde headlines peppering his youth—soon led him to crime novels, short stories and screen plays, including Get Shorty, Out of Sight and Rum Punch. In 1999, he explained that shift in a Q&A with The New York Times. Here's Leonard:
I chose westerns as a way to get into writing. A way to learn how to write. Because there was soon to be a limitless market of better magazines, pulp magazines and I don't think you could help but sell. When the Western market disappeared because of television, I switched to crime which I considered a very commercial genre, to continue to write, but since I didn't come out of the Dashiell Hammet, Raymond Chandler school, I came up with what I think is a different approach to crime fiction, in that the emphasis is on the characters and not the plot. And yes, I am very, very surprised to get any notice from acclaimed writers in the literary category.
Regardless of whether he was writing about cowboys or crooks, that unique approach was characterized by "gritty reality," an ear for the cadence of every day speech and liberties with grammar. Some referred to him as "the Dickens of Detroit." You can see examples of Leonard's style in this short story, which he published in The New Yorker in 1994.
Leonard received the National Book Award for Distinguished Contribution to American Letters in 2012. Here's his acceptance speech from that event:
Leonard, 87, suffered a stroke several weeks ago, though his family reported that the author was recovering well and should be back to work on his 46th novel soon. Today, however, posting under Leonard's Facebook name, his researcher Greg Sutter broke the news that Leonard had died:
The post I dreaded to write, and you dreaded to read. Elmore passed away at 7:15 this morning from complications from his stroke. He was at home surrounded by his loving family. More to follow.
The Detroit News mentions an unfinished 46th novel:
Leonard never let up on his work schedule, writing longhand on unlined legal pads. He ordered a thousand of the writing pads a year.

"He's very much into his 46th novel," Sutter said when Leonard was first hospitalized. "He's been working very hard."
The news doesn't say what will become of the book: whatever the story Leonard was telling, it may have to remain unsolved.
More from Smithsonian.com:
Sorry, Malcolm Gladwell: NYC's Drop in Crime Not Due to Broken Window Theory
Law and Order Culinary Crimes Unit