Beautifully Painted Shrine Emerges From the Ashes of Pompeii
The remnants of a garden, a pool and an altar with traces of burnt offerings were also found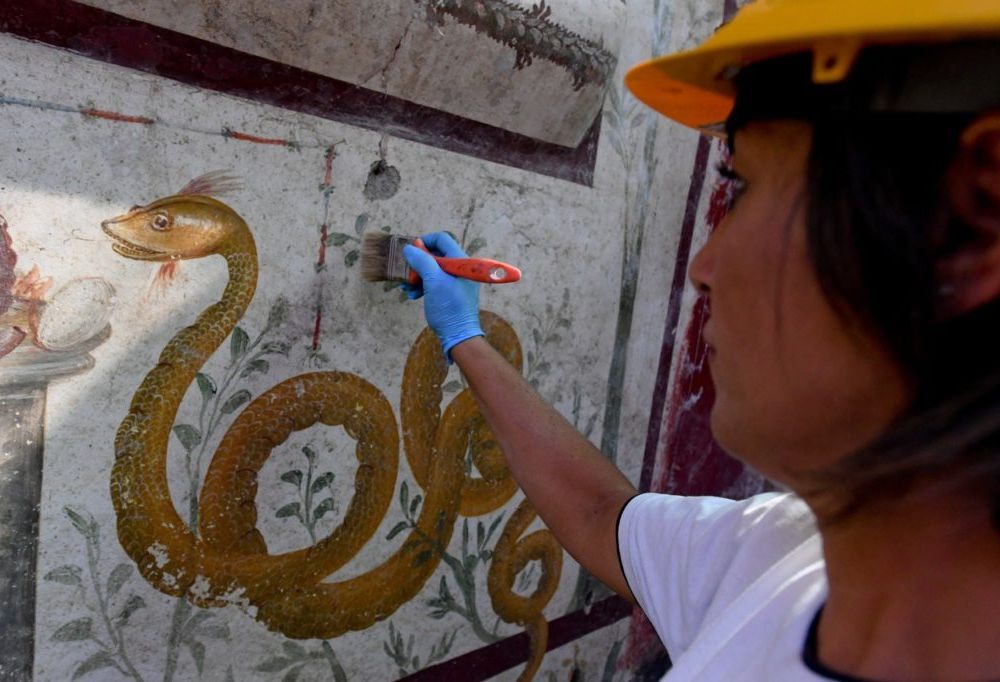 A catastrophic volcanic eruption may have brought Pompeii to its knees in 79 A.D., but the ancient Roman city has continued to live on as a famous wellspring of archaeological discoveries. The latest find to emerge from the ashes that blanketed Pompeii offers a stunning glimpse into the lives of the Roman elite. As Sarah Cascone reports for artnet News, archaeologists have unearthed a luxurious garden shrine, adorned with elaborate frescoes that still retain their vibrant color.
Set into the wall of a house, the room spans 16 by 12 feet and was once partially covered by a tile roof. The shrine is formally known as a lararium, because it honored the guardian spirits known as lares. Every ancient Roman house would have had some sort of lararium, Ingrid Rowland, author of From Pompeii: The Afterlife of a Roman Town, tells Annalisa Quinn of the New York Times. But not every house would have boasted such an opulent one.
The recently discovered shrine contained a garden and a small pool, and its walls were brightly painted with images of Roman gods, swirling snakes and a wild animals fighting against a red backdrop. A peacock was painted onto the bottom of one of the walls, so it would look as though it was bobbing its way through a garden that grew in the room before disaster struck.
A dog-headed man represented in one of the murals may have been a depiction of the Egyptian god Anubis—the Romans were "fascinated by Egypt," Rowland tells Quinn—or perhaps a representation of a fabled nation of people with the heads of dogs or jackals (the phenomenon known as cynocephaly) who were thought to live in the East.
Archaeologists also found an altar painted with eggs, a symbol of fertility. Residue on the altar may attest to food offerings that were burned there, like figs and nuts—also symbols of fertility—and additional eggs.
The volcanic ash and rocks that brought life in Pompeii to an abrupt halt also sheltered the ruins from light and weather damage. So a wealth of stunning discoveries have been made there since the city was first excavated in the 18th century: streets, houses, temples, brothels, a loaf of bread, bodies frozen in agonized positions, oodles of graffiti. Just this week, in fact, archaeologists announced that they had discovered a charcoal scrawl that may suggest the eruption occurred several months later than previously thought.
But because archaeologists of the past did not always carefully document their excavations, today's experts don't always know what sites looked like prior to restoration. The newly unearthed shrine may therefore give archaeologists a sense of what other parts of the city looked like when they were originally found. Even better, the room is "very well preserved," Massimo Osanna, the archaeologist who lead the excavation, tells Quinn. He also notes that the shrine is "exceptional" for "the incredible decoration of the wall painting."
Parts of the site are still covered with ash, and plans are underway to excavate the lower level of the house. More amazing discoveries, in other words, might very well be in store.