Did the 'Barbie' Movie Cause a Pink Paint Shortage?
The film recreates the famous doll's brightly colored world—with the help of one specific shade of pink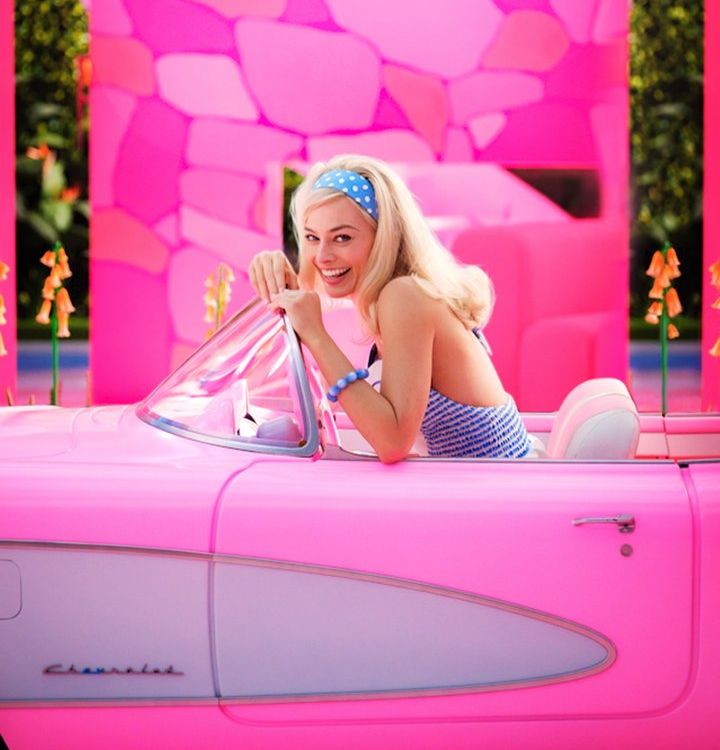 How do you bring the vibrantly colored world of Barbie and Ken to life on the big screen? With pink paint—and lots of it.
While building out the set for the new live-action Barbie movie (starring Margot Robbie as Barbie and Ryan Gosling as Ken), designers used so much of one particular shade of fluorescent fuchsia paint that they contributed to a global shortage, reports Chloe Malle for Architectural Digest.
"The world ran out of pink," Sarah Greenwood, the film's production designer, tells the publication.
The bright pink hue used on the set is made by Rosco, a company headquartered in Stamford, Connecticut, that manufactures entertainment-friendly products ranging from paint to projection equipment to flooring. Founded in 1910, Rosco has even earned four Academy Awards and one Emmy for its movie- and TV-related innovations.
Meet our Barbies and Kens ✨@BarbieTheMovie pic.twitter.com/a93Rt9zLoQ

— Warner Bros. Pictures (@wbpictures) April 4, 2023
The film, however, wasn't solely responsible for depleting the company's supply. Global supply chain issues were also hitting the company's inventory "particularly hard," says Lauren Proud, Rosco's vice president of marketing and digital experience, to CNN's Lianne Kolirin.
Plus, as Proud tells the Los Angeles Times' Jonah Valdez, the company was still grappling with the effects of the February 2021 deep freeze in Texas that damaged some of the materials they use to make their paints.
"There was this shortage," she says, "and then we gave [Barbie] everything we could." Even so, she adds, "I don't know [if] they can claim credit."
To create Barbie's over-the-top world, the team behind the movie conducted extensive hands-on research, including buying a Barbie Dreamhouse. They noted the lack of doors and walls, as well as the house's unusual proportions, and they tried to faithfully recreate both features in the three-story set they built at the Warner Bros. Studios facility outside of London.
Aside from playing with Barbie-branded toys, they also dug into architecture and interior design archives and studied a style known as Palm Springs midcentury modernism.
"We were literally creating the alternate universe of Barbie Land," says Greta Gerwig, who directed the film and co-wrote the screenplay with her partner Noah Baumbach, to Architectural Digest.
The film begins with Barbie living happily in Barbie Land—but then, suddenly, her life begins to change. Her permanently arched feet go flat, and she starts falling off her home's roof (rather than floating down gracefully). As she tries to figure out what's wrong, she encounters a worse-for-wear Barbie (played by Kate McKinnon) with marker on her face and short, chopped-off hair. McKinnon's character instructs Robbie's Barbie to go to the human world to "know the truth about the universe."
Ken comes along for the ride in Barbie's light pink convertible, and the two try to make their way in a strange new place. Meanwhile, executives with toy-maker Mattel discover that one of their dolls has escaped into the real world. "No one rests until this doll is back in a box," says the company's CEO (played by Will Ferrell).
Mattel introduced its now-iconic plastic doll in March 1959. Mothers initially criticized the curvy, 11-inch figure, but the company persevered by running television ads directed at children. Mattel released the Ken doll, Barbie's boyfriend, in 1961 and continued building the Barbie universe from there. Today, despite controversies surrounding the doll's physical proportions, Barbie continues to be a top-selling toy brand.