Smithsonian Curator Talks Barack and Michelle Obama's Official Portrait Selection
Kehinde Wiley and Amy Sherald will become the first black artists commissioned to paint a presidential couple for the Smithsonian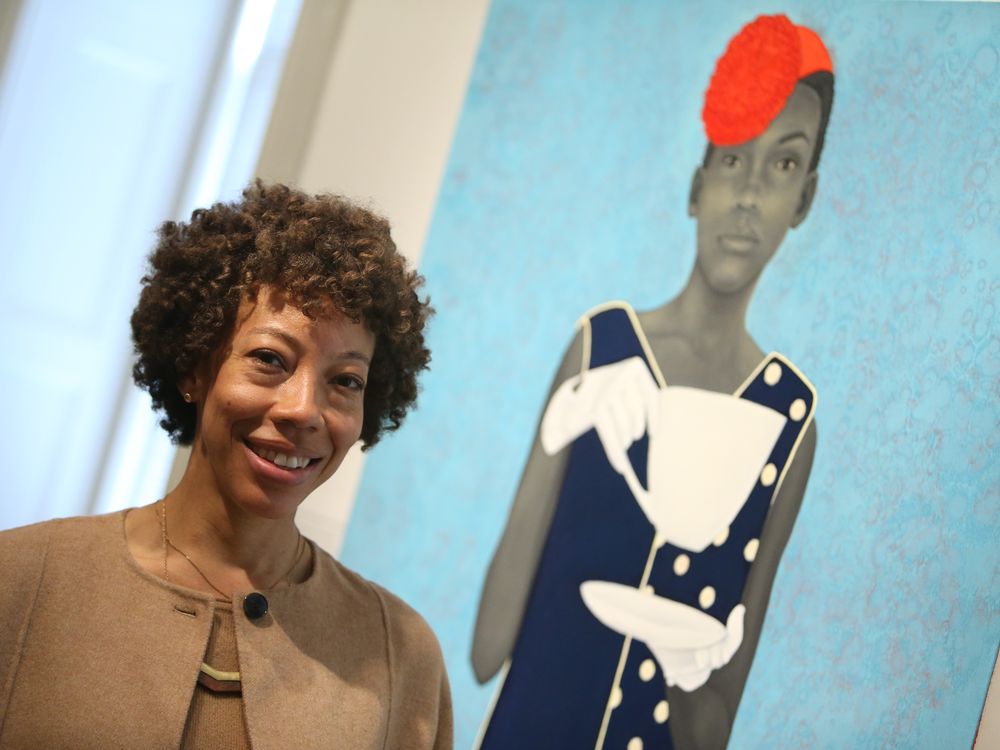 Smithsonian's National Portrait Gallery will soon add two highly anticipated works to its collection of presidential portraits. The museum recently announced that Barack and Michelle Obama have chosen Kehinde Wiley and Amy Sherald, respectively, to paint their official likenesses. As black artists who grapple with concepts of race and identity in their work, Wiley and Sherald promise to bring distinctive interpretations to the tradition of presidential portraiture.
The National Portrait Gallery is home to one of only two complete collections of presidential portraits; the other is privately held at the White House. In the 1990s, beginning with George H.W. Bush, the museum began commissioning its own official portraits of presidents. Since the start of the tradition, the National Portrait Gallery has worked with the White House to select portraitists for the task, "suggesting artists and also taking suggestions," Brandon Brame Fortune, chief curator and curator of painting and sculpture at the National Portrait Gallery, tells Smithsonian.com.
In the case of Barack and Michelle Obama, the museum suggested between 15 and 20 artists as potential portraitists. "President and Mrs. Obama worked from those suggestions," Fortune says, "I'm sure bringing their own thoughts into the process as well."
Wiley emerged as Barack Obama's first choice, while Michelle Obama tapped Sherald to paint her likeness. Wiley and Sherald will be the first black artists to paint a presidential couple for the Smithsonian, according to the Wall Street Journal.
Roberta Smith of the New York Times notes that Wiley and Sherald belong to burgeoning group of painters who are "interested in exploring race, gender and identity or in simply correcting the historic lack of nonwhites in Western painting." 
Brooklyn-based Wiley is known for his large-scale paintings of black men and women, which blend street culture with the stylistic traditions of European and American masters. His subjects, clad in hoodies and adorned with tattoos, reference works by famed portraitists like 16th-century German artist Hans Holbein the Younger and 19th-century American artist John Singer Sargent. Wiley seems to be well-prepared to tackle his latest subject. In 2012, he told Mark Mardell of the BBC that "it would be really interesting to paint Obama" and that he had already "sort of worked out different strategies about how that would be."
Sherald, a Baltimore-based artist, is a more surprising choice. A "relatively unknown," according to Smith of the Times, she has garnered acclaim for her arresting portraits of black subjects, whom she paints in grayscale against colorful backdrops. In 2016, "Miss Everything (Unsuppressed Deliverance)," Sherald's oil on canvas portrait of a black woman drinking from an oversized teacup, won the National Portrait Gallery's prestigious Outwin Boochever Portrait Competition.
When Wiley and Sherald's paintings are unveiled in 2018, they will join the museum's collection of approximately 1,600 presidential portraits, which include large-scale oil paintings, prints and drawings, and photographs. Fortune notes that the National Portrait Gallery is "always collecting images of the presidents," and while some of which are rotated in and out of display, "there is usually one portrait, often a painting, that is always on view in the America's Presidents installation." She adds: "Whether you would call those official portraits or not, they're the primary portrait."
For much of the history of presidential portraiture, the prevailing style "was essentially consistent and continuous with historic styles dating back to the 18th century," notes Philip Kennicott of the Washington Post. Fortune tells Smithsonian.com that she expects "there may be some differences" in Wiley and Sherald's work, but she demurred on speculating how the Obamas' portraits will diverge from other presidential likeness on view at the National Portrait Gallery.
"I think we have to wait and see," she says. "People will bring their own experiences to the paintings when they see them."