What to Know About This Weekend's Centennial British Suffrage March
About 45,000 women are expected to participate in four-city procession—projected to be one of the largest collective art events in British history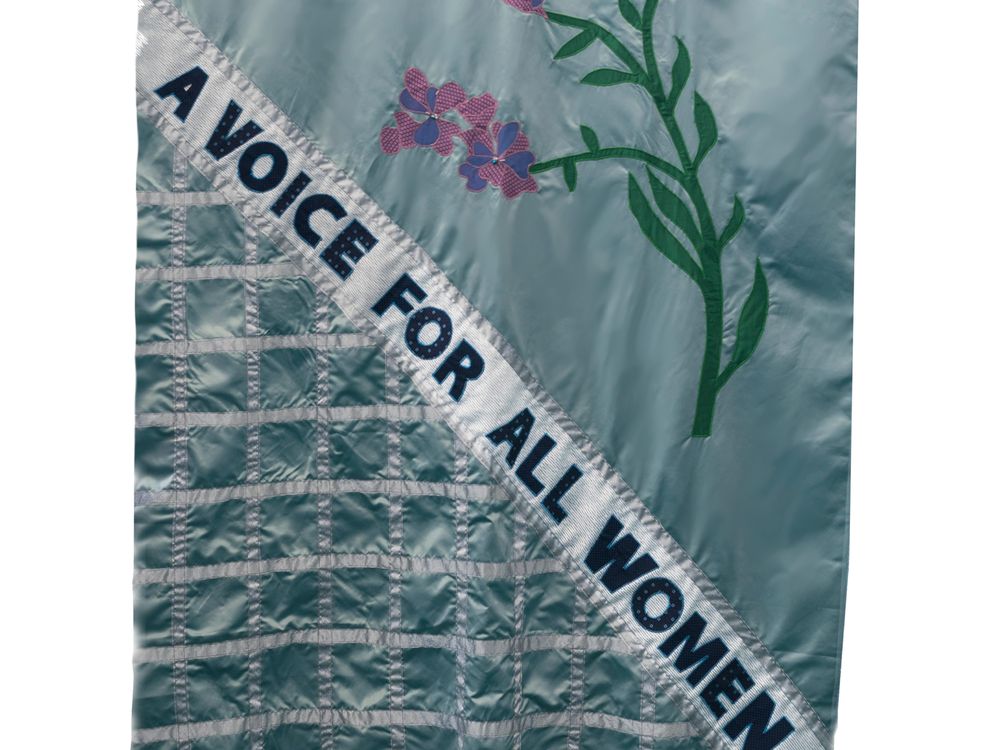 On June 13, 1908, 10,000 women converged on the streets of London with 800 handcrafted banners in tow. Filtered through the male gaze of the time, the reporter for The Observer wrote, "They looked as if they wanted votes, and meant to have them. … On their faces was a smiling consciousness of triumph which disarmed all the potential hostility of the rowdy section of the crowd." The Morning Leader's reporter on the scene focused on the artistry on display. "They have recreated the beauty of blown silk and tossing embroidery," he wrote. "The procession was like a medieval festival, vivid with simple grandeur, alive with an ancient dignity."
It took 10 more years for women (or at least the specific portion of the population over the age of 30, who met property qualifications) to secure the right to vote, but the 1908 march remains a key moment in suffrage lore. Now, as Great Britain celebrates 100 years of women's votes—as marked by the February 6, 1918, passage of the Representation of the People Act—contemporary activists plan on honoring their predecessors' legacies.
This Sunday, about 45,000 women will march across London, Cardiff, Edinburgh and Belfast as part of a centennial event entitled Processions. Clad in the historic colors of the suffrage movement—white, green and purple—participants will carry 100 banners crafted specifically for the march.
Female inmates at Downview Prison in Surrey will be among those represented. They have created six of the banners that will be unfurled through the streets, thanks to a collaboration with Lucy Orta, a contemporary visual artist and professor at the London College of Fashion. Orta tells Artnet News' Javier Pes that such projects can "break down walls." The collaboration is especially significant because Downview absorbed 300 inmates from Holloway, a London prison where roughly 1,000 suffragettes were once imprisoned and subjected to force-feeding, following its closure in 2016.
For the Museum of London, Caitlin Davis, the author of Bad Girls: a History of Rebels and Renegades, explains that the suffragettes confined at Holloway did not stop campaigning for women's rights while they were incarcerated. Instead, they resisted by going on hunger strikes and defying prison rules. Holloway, Davis writes, was supposed to put women in their place "one way or another." But the suffragettes refused to give up. In fact, spurred on by the state of prison conditions they witnessed, they adopted the cause of penal reform into their platform.
The Downview banners draw on these historical perspectives, as well as contemporary inmates' own experiences. According to a press release, the designs, which gain further resonance in lieu of the fact that British prisoners lose the right to vote, examine "what it means to be a woman today, the power of the vote and our shared future." The women who created the banners will be unable to participate in the procession, but Orta reports that at least one former inmate will join marchers.
Processions, which is projected to be one of the largest collective art events in Britain's history, is co-organized by heritage art commission 14-18 NOW and public art specialist Artichoke. In addition to the Downview banners, the march will include intersectional voices with creations by LGBTQ foundations, schools, refugee centers and more. The banners' overall message is one of resistance and hope, Artichoke's Helen Marriage tells The Guardian's Sam Lewis.
"This is a mass-participation artwork," Marriage says. "[In 1918], women gained a confidence that could never fully be crushed again. We wanted to celebrate this moment while acknowledging all the issues in regard to gender equality that are still to be resolved."