Readers Can Now Access Books Banned in Their Area for Free With New App
Based on users' locations, the Banned Book Club provides e-book editions of titles banned in nearby libraries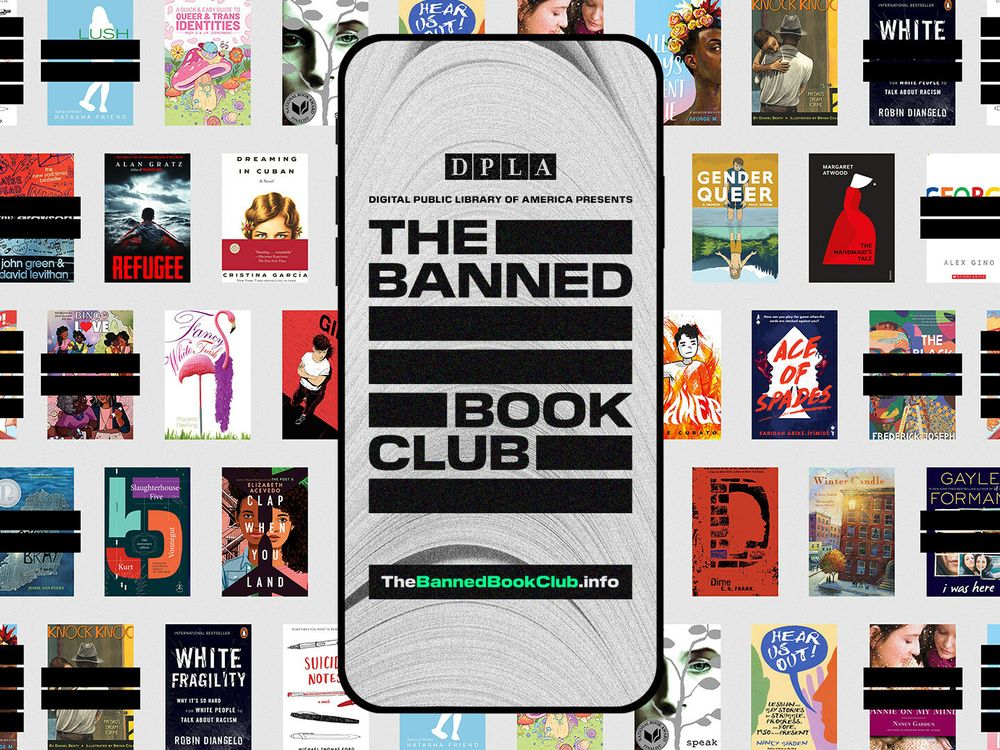 As book bans spike nationwide, access to particular texts varies tremendously depending on where readers are located. "If you're after a particular title by Toni Morrison or Margaret Atwood," writes Literary Hub's Janet Manley, "you might find that it's available in Georgia, and effectively banned next door in Florida." 
A new program aims to change that: Earlier this month, the Digital Public Library of America (DPLA) launched the Banned Book Club, which provides users with free access to titles pulled from the shelves of local libraries.
"Today book bans are one of the greatest threats to our freedom," says John S. Bracken, executive director of the DPLA, in a statement. "We have created the Banned Book Club to leverage the dual powers of libraries and digital technology to ensure that every American can access the books they want to read."
The app uses "GPS-based geo-targeting" to stock virtual libraries across the country. After visiting TheBannedBookClub.info to see a list of titles banned in their area, readers can download those books for free via the Palace e-reader app.
Following the launch, former President Barack Obama praised the Banned Book Club (and shared his own summer reading list) on Twitter.
With so many books being banned across the country, @DPLA has launched The Banned Book Club to give readers access to e-books that have been banned. Learn more at https://t.co/ET5jreRQI4. pic.twitter.com/daWmibHujK

— Barack Obama (@BarackObama) July 20, 2023
Obama has been a frequent critic of book bans, which he also addressed in an open letter earlier this month. "The impulse seems to be to silence, rather than engage, rebut, learn from or seek to understand views that don't fit our own," he wrote. "I believe such an approach is profoundly misguided, and contrary to what has made this country great."
Across the country, book banning efforts are at record highs. Between 2021 and 2022, the number of demands to censor library books and other materials nearly doubled, jumping from 729 to 1,269, according to a report from the American Library Association (ALA), which has been tracking banned book data for more than 20 years. The number of unique titles targeted increased from 1,858 to 2,571. 
"Overwhelmingly, we're seeing these challenges come from organized censorship groups that target local library board meetings to demand removal of a long list of books they share on social media," said Deborah Caldwell-Stone, director of the ALA's Office for Intellectual Freedom, in a statement earlier this year. "Their aim is to suppress the voices of those traditionally excluded from our nation's conversations, such as people in the LGBTQIA+ community or people of color."
She added, "The choice of what to read must be left to the reader or, in the case of children, to parents. That choice does not belong to self-appointed book police."
Among school libraries, Texas banned 801 books during the 2021-2022 school year—more than any other state, according to a report from PEN America. Texas was followed by Florida (566 bans) and Pennsylvania (457 bans).
The Banned Book Club comes on the heels of several similar efforts. One of those is Books UnBanned, which New York City's Brooklyn Public Library launched in 2021. The initiative allows anyone in the United States between the ages of 13 and 21 to access the library's online resources. 
The books in a library should "reflect the entire community," Nick Higgins, the Brooklyn Public Library's chief librarian, told the New York Times' James Barron earlier this year. "That includes all sorts of voices, abilities, backgrounds, experiences and income levels. To forcibly remove some of those stories is antithetical to what libraries and even democracy are about."