Bag Full of Otters Recovered at Thai Airport
Eleven live otters turned up in a scanned bagged that someone had abandoned at the oversized luggage area of Bangkok's airport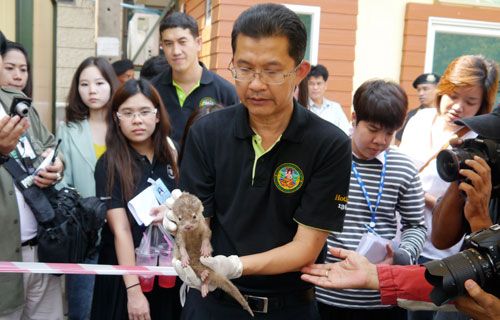 Illegal wildlife smugglers fell short on a latest attempt to traffic animals. Eleven live otters turned up in a scanned bagged that someone had abandoned at the oversized luggage area of Bangkok's Suvarnabhumi International Airport. No one claimed the bag, and it bore no tags, the conservation organization TRAFFIC reports.
When officers unzipped the suspect cargo, they found six smooth coated otters and five oriental small clawed otters—both vulnerable species—stuffed inside. The animals appeared to be juveniles and will find a home at the Bang-Pra breeding center for care after they undergo a health check.
Throughout Southeast Asia, otters are disappearing from their former ranges thanks to high demand for the animals' pelts and for their use as pets, wildmeat and traditional Chinese medicine. While officials have intersected otter skins before, this is the first time a bundle of live otters has been found at the airport. Chances of catching the culprits are slim, but conservationists are relieved that the otters will at least have a chance at a new life in this case.
More from Smithsonian.com:
Three Decades After Last Sighting, Japanese River Otter Declared Extinct
State Department Takes on Illegal Wildlife Trade