Bacterial Infections Spread in Storm-Ravaged Puerto Rico and Texas
In the wake of Hurricanes Maria and Harvey, bacterial infections threaten communities struggling to rebuild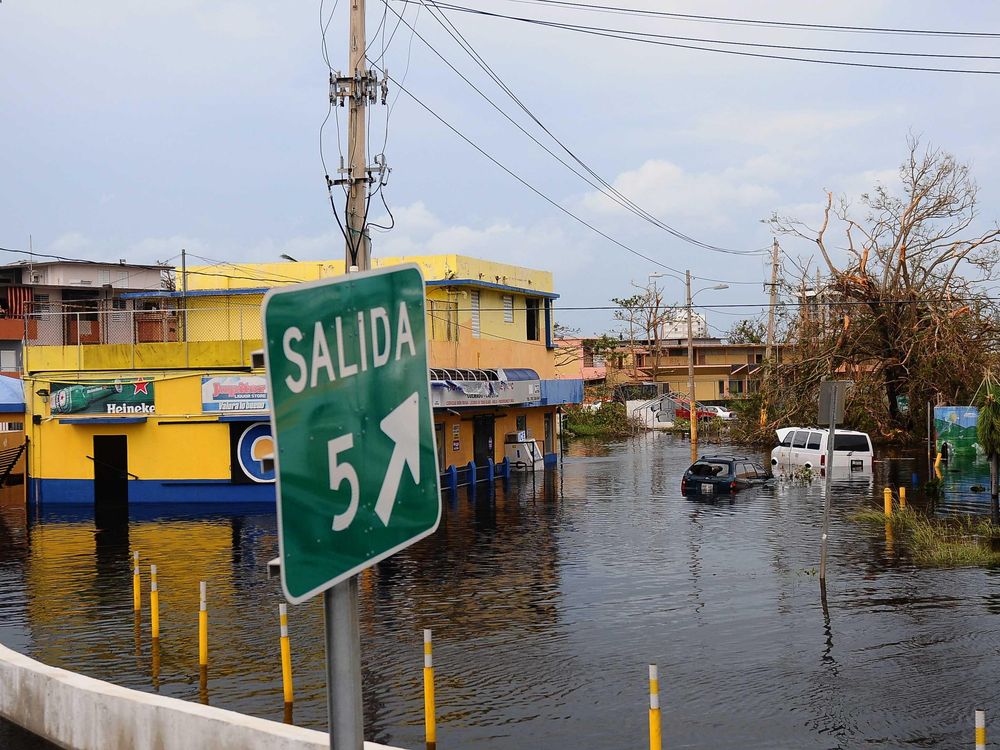 Hurricane Maria whipped through Puerto Rico over a month ago, nearly flattening the island. Recovery has been slow and the death toll from this disaster continues to rise, currently at 51 people. But the latest death was not from drowning or injury, but a bacterial infection.
The unnamed victim died of the bacterial disease leptospirosis. This is the second confirmed death from the Leptospira bacteria, reports CNN's Jacqueline Howard. Officials suspect at least 76 cases of the disease on the island.
Leptospirosis is spread through the urine of infected animals, and once it gets into the soil or water, the bacteria can survive for weeks to months. Infection occurs from drinking contaminated waters or contact with open wounds. And it's easy to mistake leptospirosis infection with other illnesses, warns the Centers for Disease Control. Symptoms are varied and can run from fever and headache to chills and abdominal pain. In serious cases, the bacteria can cause organ failure and death.
With more than a third of Puerto Rico still lacking access to running water, it's likely that some of the latest infections are due to drinking from local streams. "People should try to avoid certain risks such as contact with animal urine or other body fluids, swimming or wading in waters contaminated with animal urine and avoid walking barefoot to lessen exposure to contaminated soil [and] water," Rizwan Sohail, a doctor specializing in infectious disease at the Mayo Clinic, tells AccuWeather. But this is easier said than done on the storm-ravaged island.
In addition to Puerto Rico, infection remains a problem in Texas in the wake of Hurricane Harvey. Last week, Josue Zurita, a carpenter, became infected with necrotizing fasciitis while working on rebuilding efforts, reports Rachel Siegel for The Washington Post. According to local health officials, Zurita likely became infected as a result of bacteria from floodwater or debris entering his body through a cut, Siegel reports. This is the third confirmed case of necrotizing fasciitis infection in the region.
Necrotizing fasciitis is a flesh-eating bacteria that kills soft tissue and can progress very quickly. Zurita passed away just six days after he was diagnosed. As Philip Keiser, the Galveston County local health authority, tells Howard at CNN, "I have seen these things spread over hours. Even in one case, as I was examining a patient, I could see the red spread in the minutes I was examining him, and that's the real danger to it."
Back in September, Peter Hotez, dean of the School of Tropical Medicine at Baylor University in Houston told The Washington Post that infectious disease after hurricanes are not uncommon, but that it's hard to predict which infections specifically will hit, explaining, "we don't have enough epidemiological studies." In the aftermath of hurricanes, the CDC advises avoiding flood water, disinfecting contaminated objects with diluted bleach, and to immediately wash any cuts or wounds that come into contact with flood water.