Authorities Raze Ai Weiwei's Beijing Studio
The contemporary art giant is known for his caustic criticism of the Chinese government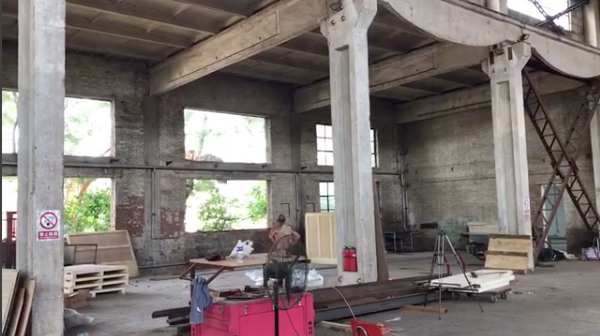 Just over a decade ago, Ai Weiwei envisioned a modern-day fairytale—in this case, an actual project entitled "Fairytale"—that would bring 1,001 Chinese citizens to Kassel, Germany, one-time home of the Brothers Grimm and site of Documenta 12, a quinquennial art exhibition designed to highlight the best of the contemporary art world. To create his "Fairytale," Ai fashioned a monumental installation of 1,001 Qing Dynasty chairs (one to represent every individual accompanying him in the venture) and went about securing travel arrangements for the diverse group of chosen volunteers.
Last Friday, the Beijing studio that served as the birthplace of "Fairytale" experienced an inauspicious ending after it was unexpectedly razed by authorities.
"Today, they started to demolish my studio 'zuo you' in Beijing with no precaution," the renowned artist and vocal political dissident wrote on Instagram, where he posted a series of video clips detailing the destruction, from the snaking arm of a backhoe shattering windows to the astonished stares of laborers attempting to rescue works of art left in the studio.
Ai tells NPR's Shannon van Sant that the government had previously stated he would be required to move out of the studio by a certain date, but this point had not yet been reached.
"Compared to the memories which have been lost, compared to a society which has never established trust in the social order, a trust in the rule of law, or a trust in any kind of unity in defending the rights of its people, what has been lost at my studio is insignificant, and I don't even care," Ai says. "There are profoundly deeper and wider ruins in this deteriorating society where the human condition has never been respected."
According to AFP, Ai had occupied the hangar-sized former factory since 2006. Here, in the Left Right Art District of Beijing's suburbs, the artist imagined up works such as the swirling, chandelier-like "Fountain of Light" and "Straight," a sculptural installation featuring 150 tons of steel retrieved from schools destroyed by the devastating 2008 Sichuan earthquake.
The natural disaster, which killed an estimated 90,000 individuals, represented a turning point for Ai. The contemporary artist had risen to international prominence in the mid-1990s after returning to China following a decade-plus stint in the United States. The Observer's Emma Graham-Harrison writes that in 2008, Ai was "a favorite of the Chinese government" and had even been tapped to conceive the Beijing Olympic's awe-inspiring "Bird's Nest" stadium. But after the earthquake, which hit just before the Games, Ai expressed his disillusionment with the authoritarian reigme, which censored and controlled all of the information about the natural disaster. Ai chose not to attend the opening ceremony of the Olympics, instead writing an open letter on why he was staying away.
In the following years, Ai's work became increasingly critical of the Chinese government. In 2011, he was detained for 81 days on charges of tax evasion, and his Shanghai studio was demolished. These actions, which the artist maintains were politically motivated, resulted in the confiscation of Ai's passport, leaving him confined in the country for several years. Upon regaining his freedom in 2015, Ai moved to Berlin, where he has continued to produce (often remotely) works of art that double as caustic commentary on human rights abuses.
The Art Newspaper's Lisa Movius notes that the destruction of Ai's studio may be unrelated to his political statements. Instead, the studio appears to be simply the "latest artistic casualty in Beijing's ruthless gentrification and redevelopment campaign." In 2017, Chinese authorities demolished a village known for its low-rent artist studios, and just last month, two galleries in the arts district of Caochangdi were evicted in advance of imminent demolition.
Ga Rang, one of Ai's studio assistants, tells AFP that authorities want to transform the Beijing suburb into a modernized community of "malls and commercial buildings."
"It's a shame," he says. "You won't ever find a place in Beijing like this again."
As part of Smithsonian Second Opinion, Ai WeiWei recently sat down with Smithsonian Secretary David J. Skorton to talk about why authoritarian regimes censor art. Watch their conversation below: