Australian Zoo Asks For Help Naming Rare White Koala
Among the suggestions thus far are "Tofu" and "Daenerys"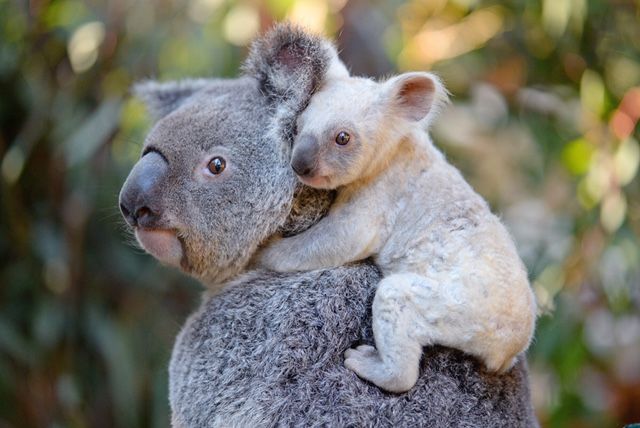 The Australia Zoo in Queensland has welcomed 12 baby koalas this breeding season. Now, after spending several months inside their mothers' pouches, the little joeys are starting to make their first public appearances. As Australia's ABC News reports, one of the new babies surprised zoo officials when she emerged from the pouch with snowy, white fur—a rarity for the fluffy marsupials. Now, the zoo is asking the public to help name this very special koala. 
The female joey is not an albino. Unlike albino koalas, who sport pink eyes and nose, the pale fuzzball has dark features. According to the BBC, the joey likely inherited a maternal recessive gene that causes light-colored fur. Her mother, Tia, has previously given birth to other babies covered with pale-colored fuzz, but none have been as white as the new joey, Jessica Wilkinson writes on the official Australia tourism website.
"In veterinary science it is often referred to as the 'silvering gene' where animals are born with white or very pale fur," says Rosie Booth, the zoo's wildlife hospital director, according to the BBC. "[J]ust like baby teeth, they eventually shed their baby fur and the regular adult coloration comes through."
Temporary though it may be, white fur is a detriment to koalas in the wild, since pearly down makes the critters more visible to predators. But this isn't a cause for concern for the new joey. She is currently snuggled up with her mother in the "Mum and Bubs" branch of the Australia Zoo.
The little one does not have a name yet, so the zoo is looking to the public for help. A call for names on the zoo's Facebook page has elicited more than 1,000 responses, with commenters suggesting monikers like Tofu, Pearl, Daenerys (Mother of Dragons in the Game of Thrones), and Elsa (the princess turned queen in Frozen).
The new joey can be viewed with other baby koalas and their mothers in a leafy enclosure. Visitors won't be able to get close to the babies, but Wilkinson of Tourism Australia notes that "encounters are available at Australia Zoo with mature koalas where you can cuddle or pat them."
Koala cuddles? Be right back, just booking a flight to Australia.