Australia Legalizes Same-Sex Marriage in Jubilant Vote
The first same-sex weddings will be able to take place as early as January 9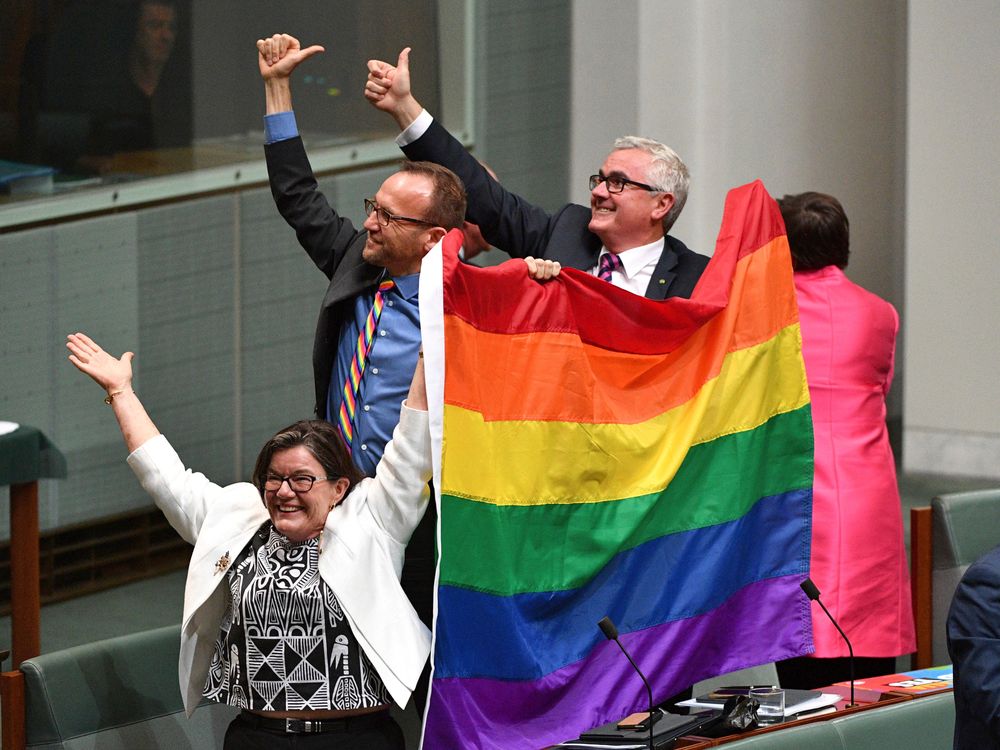 A bill legalizing same-sex marriage has passed with overwhelming support in Australia's parliament, just three weeks after a national survey showed that a majority of Australians citizens are in favor of marriage equality.
As Michael Koziol of the Sydney Morning Herald reports, the bill passed in the Senate last week without any amendments, and was put to a final vote in the House of Representatives on Thursday. With four members of parliament voting against the bill, and several others abstaining, the numbers were so clearly in favor of the bill that a formal count was not needed.
Cheers erupted in the public gallery when the vote was declared, and MPs rushed to embrace one another. Teary-eyed politicians joined spectators in singing "I Am Australian," an unofficial national anthem.
Public gallery erupts into chorus of 'I Am Australian' after Parliament votes to legalise same-sex marriage #auspol #SSM pic.twitter.com/uuoePCJamD

— ABC News (@abcnews) December 7, 2017
In 2004, Australia amended its Marriage Act to say that marriage could exist only between a man and a woman, "to the exclusion of all others." The new law undoes that amendment, changing the definition of marriage from "the union of a man and a woman" to "the union of two people," according to Damien Cave and Jacqueline Williams of the New York Times. Same-sex marriages that took place in other countries will also be automatically recognized.
The law is expected to go into effect on Saturday, which is when same-sex couples will be able to start lodging notices of intended marriage. The minimum notice period is 30 days, so Australia's first same-sex weddings under the new legislation could begin taking place by January 9.
Thursday's historic vote followed an unprecedented national survey that polled Australian's opinions on marriage equality. The voluntary postal survey was spearheaded by Australian prime minister Malcolm Turnbull after two failed attempts to hold a plebiscite—a compulsory national vote on whether to change the law—occured in 2016 and 2017. (Following in the steps of the previous administration, Turnbull had pledged to hold a plebiscite before introducing any legislation on same-sex marriage back in 2015. As Paul Karp for the Guardian explains, the postal survey was undertaken as "a second-best option to fulfil [the administration's] commitment not to facilitate the introduction of a same-sex marriage bill until the Australian people have had their say.")
LGBTQ advocates opposed the plebiscite and the survey, arguing that a human rights issue should not be put to public debate. "Our very identity has been the subject of public scrutiny," senator Penny Wong, who is openly gay, said at the time, according to Cave and Williams. "Through this campaign, we have seen the best of our country and also the worst."
On November 15, the referendum's results showed that 61.6 percent of Australians supported marriage equality, a solid majority that spurred both houses of parliament to pass the bill.
"We've voted today for equality, for love," Prime Minister Turnbull said as the bill passe​d Thursday. "[I]t's time for more marriages, more commitment, more love, more respect."