In Stellar Tribute, Astronauts Teach "Lost Lessons" From Educator Who Died on Challenger
Christa McAuliffe had planned to teach the lessons during her 1986 trip to space. Now, two astronauts will finally carry out the plan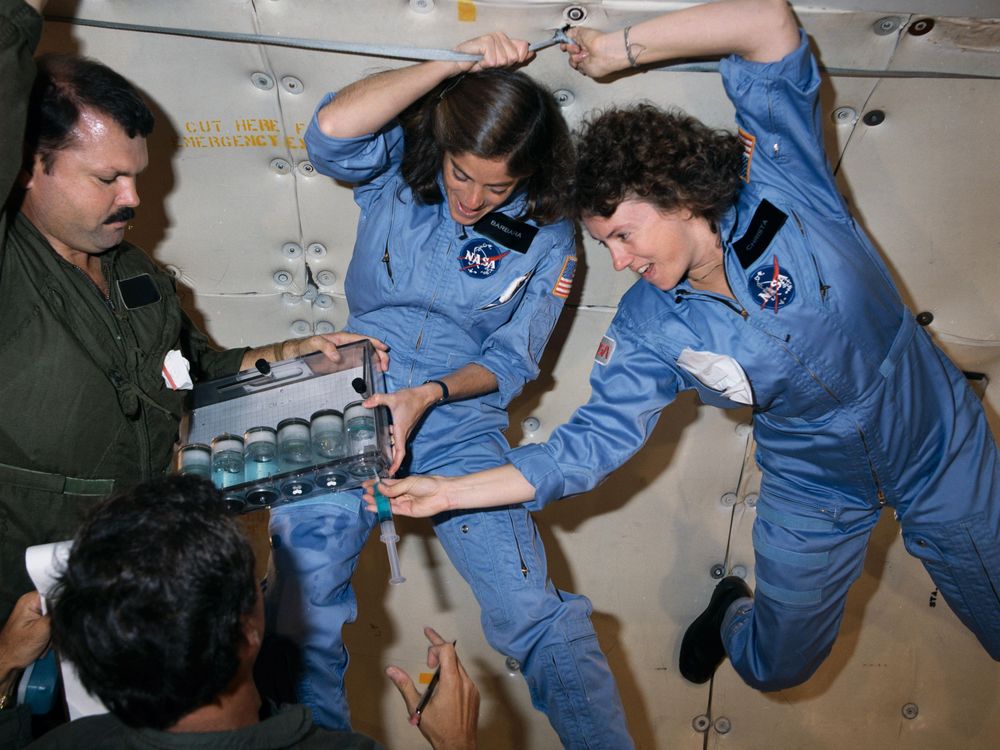 Christa McAuliffe—NASA's first designated teacher in space—had prepared lessons to record during her time aboard the space shuttle Challenger. But she never had the chance to carry out her plan. On January 28, 1986, just 73 seconds into its flight, the ship exploded, killing McAuliffe and six other crew members on board.
Now two teachers-turned-astronauts, Joe Acaba and Ricky Arnold, will pay tribute to McAuliffe and her work. Over the next several months, they plan to record these "lost lessons" while on the International Space Station, Marcia Dunn reports for Associated Press.
McAuliffe taught history, law, and economics at Concord High School in New Hampshire prior to joining NASA as part of President Reagan's Teacher in Space program, Marina Koren reports for The Atlantic. "I will be filming lessons and trying to stay out of the way," McAuliffe said in a biography by Grace George Corrigan, Koren writes. "In fact, learning to avoid being a nuisance represents the biggest part of my training. I can look—but not touch!"
She prepared educational materials—a mix of live performances and prerecorded lessons—that were intended to be released during the Challenger mission. After the explosion, her "lost lessons" fell by the wayside during investigations and other research. The recorded lessons and practice sessions were eventually released along with descriptions by a NASA educational specialist, which are now all hosted by the Challenger Center.
The astronauts announced their plans during a TV linkup with students at McAullife's alma mater, Framingham State University, Dunn writes. After recording the lessons, they will be hosted online for the public by the Challenger Center, Marquita Harris reports for Refinery29.
Four of McAuliffe's six lessons will be filmed, with modifications to take advantage of equipment available on the space station. The lessons will cover effervescence (bubbles), chromatography (a chemical separation technique), liquids, and Newton's laws of motion.
Acaba is currently on the space station, but will return to earth at the end of February. Arnold will be part of the replacement crew launching in March. Both have a background in education, teaching middle and high school math and science prior to their selection as educator-astronauts in 2004. Acaba taught in Florida, Koren writes, while Arnold taught in Maryland, Morocco, Saudi Arabia, Indonesia, and Romania. NASA is calling the back-to-back mission by educator-astronauts a "Year of Education on Station." The lost lessons will join short "STEMonstration" videos the duo are recording that feature various scientific concepts.
Acaba is also completing an indirect tribute to McAuliffe by journaling his time in space. McAuliffe planned to keep a journal during her space shuttle mission, Dunn writes. When asked by a student if they would do the same, Acaba revealed he's been journaling throughout his 14-year astronaut career. "When I'm sitting on my porch sometime in the future, I'll look back on all these great times," Acaba told the students.
McAuliffe's backup for the Challenger mission, Idaho elementary school teacher Barbara Morgan, became the first teacher in space twelve years later during construction of the space station. Morgan is currently on the board of the Challenger Center honoring the McAuliffe and the rest of the crew.
If all goes smoothly, the lost lessons will be available online this spring.