Asian-American Superhero The Green Turtle Returns!
The character, created in the 1940s and revived in a 2014 graphic novel, stars in a new comic book to celebrate Asian Pacific American Heritage Month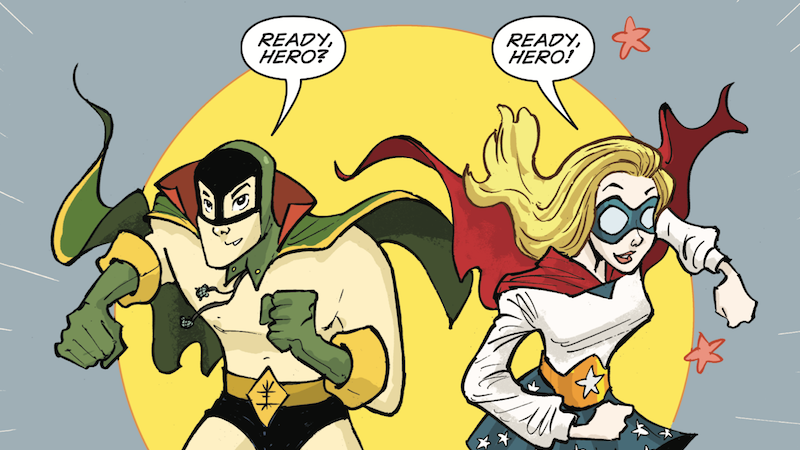 Back in 1944, Chinese-American comic book artist Chu Hing created a superhero named the Green Turtle, who appeared in five issues of Blazing Comics before disappearing into the night. There were rumors that Hing intended The Green Turtle to be the first Asian-American superhero, but was prevented by his publisher. So in 2014, cartoonist Gene Luen Yang and illustrator Sonny Liew resurrected The Green Turtle, definitively establishing his Chinese-American backstory in a graphic novel called The Shadow Hero. Now, in celebration of Asian Pacific American Heritage Month, the Green Turtle has returned and is starring in his own comic book, reports Charles Pulliam-Moore at i09.
According to a press release, the comic is being distributed at Panda Express restaurants along with the kid's meals, or it can be read online here. "Sonny and I are so excited to work with Panda Express. Together, we created 'Shadow Hero Comics #1' to celebrate not just Asian Pacific American heroes, but all of the heroes in our lives," Yang says in the press release. "A hero can be anyone who inspires us to never give up. We hope stories like ours will encourage young readers to embrace their own originality and never give up on themselves, no matter what the odds may be."
Hansi Lo Wang at NPR reports that there were rumors that when Hing originally created the Green Turtle, he intended the character to be Chinese-American. But his publisher didn't think readers would appreciate an Asian character while the U.S. was in the midst of a war with Japan. While the characters skin was printed in eraser-pink, Yang tells Wang that there are clues in the original comics that the Green Turtle was of Asian ancestry. "He almost always has his back turned toward the audience, so all you see is his cape," Yang says. "When he is turned around, something is blocking his face. It's either hidden by shadow, or he's punching and his arm is in the way. Or there's a piece of furniture in the way."
The subject of those comics is also a clue—the Green Turtle leads a group of Chinese people against occupying Japanese forces. When he revived the character in 2014, Yang—a MacArthur "Genius Grant" recipient whose graphic novels, American Born Chinese and Boxers & Saints were both nominated for the National Book Award—decided to give The Green Turtle an decisively Asian-American origin story. Pulliam-Moore reports that the characters's true identity is Hank Chu, a young man working in his family's grocery store in the Chinatown of a fictional California city of San Incendio. While he doesn't have super strength or the ability fly, The Green Turtle is able to dodge bullets and other projectiles.
Super heroes and their secret identities have long resonated with people from immigrant and minority families. That's because, like super heroes, they must navigate different identities within the culture. "Every superhero has this superhero identity and a civilian identity," Yang says. "A lot of their lives are about code switching. It's about switching from one mode of expectations to another mode of expectations. And I really think that mirrors something in the immigrant's kid's life."
In the new comic book, The Green Turtle teams up with Miss Stardust, an alien from another planet who is also interested in protecting the citizens of San Incendio—and the Earth. The comic is set in the 1940s—during the golden age of comic books—and includes the kitschy villains of The Roller Rocket Gang, a squad of roller skating robbers.