An Artist Is Building a Parthenon of Banned Books
More than 100,000 books will become a monument to intellectual freedom in Germany next year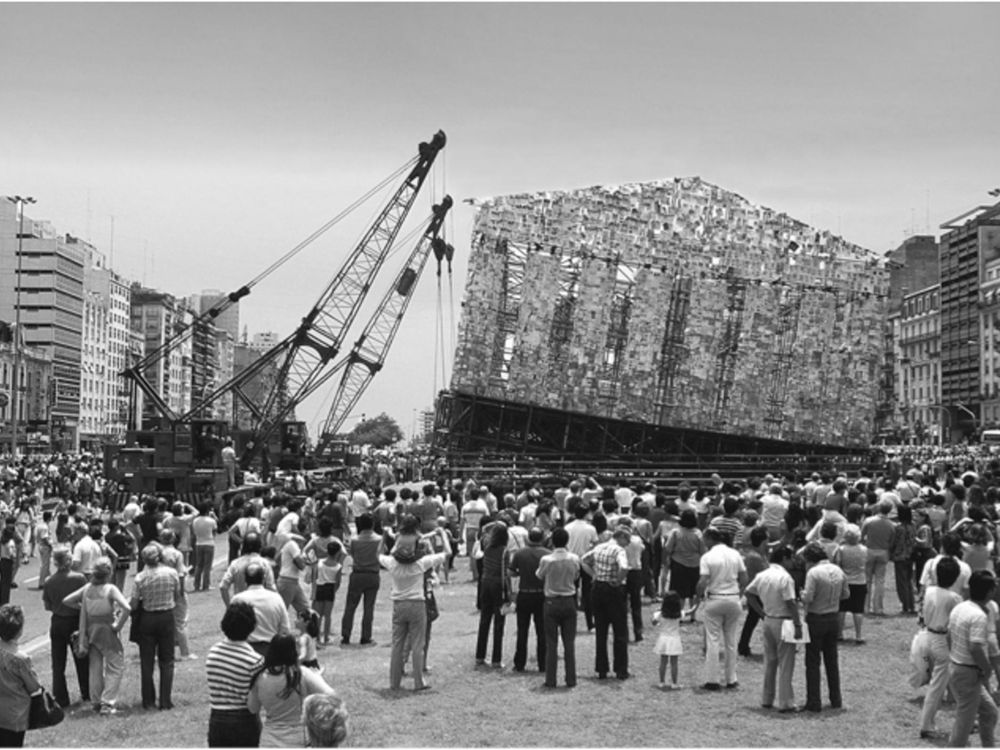 In Ancient Greece, no building symbolized democracy and beauty like the Parthenon, a graceful temple that beckoned to the citizens of Athens from atop a hill. And next year, writes Ellie Diaz of the American Library Association, the ancient structure will take on new meaning when it's recreated in a public square in Germany—built entirely out of banned books.
The Parthenon of Books is the brainchild of Marta Minujín, an Argentine conceptual artist who is calling on the public to donate as many as 100,000 currently or once-banned books for the installation. When it's complete, it will be erected in Kassel, Germany's Friedrichsplatz Park, where Nazi party members burned an estimated 2,000 books on May 19, 1933, during the so-called "Aktion wider den undeutschen Geist" (Campaign against the Un-German Spirit).
Friedrichsplatz wasn't the only place where books were burned in Germany. Rather, books were collected and turned into burning pyres all over the country throughout May 1933 in a series of actions by right-wing students and Nazi party members aimed at annihilating "un-German" books that contained anti-nationalist, Jewish, or "decadent" rhetoric.
Among the books burned during the so-called "Action Against the Un-German Spirit" were works like Erich Maria Remarque's World I novel All Quiet on the Western Front and books by Helen Keller, who responded to the act with a blistering letter to the students of Germany. "History has taught you nothing if you think you can kill ideas," Keller wrote. "You can burn my books and the books of the best minds in Europe, but the ideas in them have seeped through a million channels and will continue to quicken other minds."
That spirit informs Minujín, who based her project on one of her past installations. In 1983, she built a parthenon of books to mark the fall of Argentina's dictatorship. At the end of El Partenón de Libros, two cranes tipped the structure on its side and the public was able to take the books. Minujín plans a similar fate for the books in her modern-day Parthenon, though it will contain far more than the original installation's 20,000 books and will be on display for 100 days starting on June 10, 2017.
"Democracy without books is not democracy," says Minijín in a statement. The artist is working with professors and university students to assemble a list of currently and once-banned books for the exhibition, which will launch next year as part of documenta 14, an art event that will take place concurrently in both Athens and Kassel. And Americans like Diaz, who heads up the ALA's Banned Books Week, are already pitching in—the American Library Association recently donated novels by Phyllis Reynolds Naylor and Jeff Smith to the cause along with Two Boys Kissing by David Levithan, which has been on the list of most-challenged books for two years despite being long-listed for a National Book Award. Want to get in on the action? Click here for more information on the call for donations.