Archimedes Would Be Proud of This Now-Bright Norwegian Town
Inspiration for the idea traces back to the 212 BC legend about Archimedes' burning mirrors used to set Roman battle ships ablaze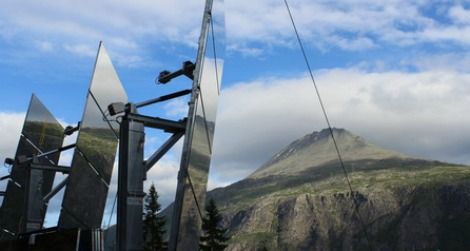 Scandinavia's winters are long, dark affairs. In order to brighten things up a bit, Rjukan, a valley town in Norway, installed three 550-square-foot mirrors to focus precious sunlight down to the residents below, NPR reports.
Sensors allow the mirrors to automatically follow the path of the sun, optimizing the angle of the light to capture as much as it as possible. "The square will become a sunny meeting place in a town otherwise in shadow," Rjukan's official website writes.
The technique is not new, however. Inspiration for the idea traces back to the 212 BC legend about Archimedes' burning mirrors used to set Roman battle ships ablaze, NPR says.
More from Smithsonian.com:
Reading Between the Lines 
Who Goes to Norway in February?