Archaeologists Find an Unusual Victim of Human Sacrifice in Peru
The young woman was either poisoned or strangled with a cord, then dumped into a pit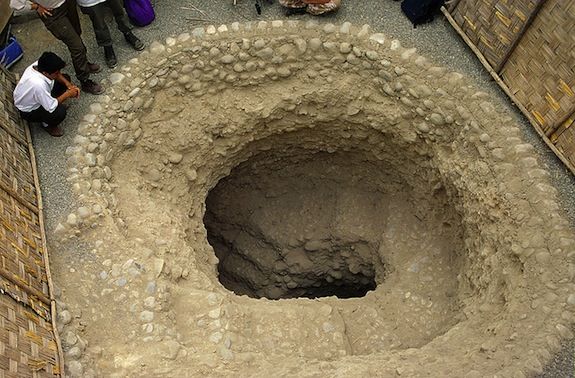 Archaeologists think that the young woman was either poisoned or strangled with a cord, then dumped into a pit. Found in Peru, her remains lay under the floor under the floor of a ceremonial complex in a large temple, where they were left 1,300 and 1,400 years ago. It looks to the archaeologists as if she was the victim of a human sacrifice ritual.
The lead archeologist, Regulo Franco, noted to the EFE news agency:
"it came as quite a surprise to find a woman, and even more to see she was buried in the prone position with her head toward the west in the direction of the sea, and with one of her arms extended, a very abnormal position"…
The Moche built massive pyramids and aqueducts in the Peru, years before the Inca became the dominant power in the region. Archeologists have found evidence that this culture, which also created stunning murals and pottery, also regularly practiced human sacrifice. Sometimes it was performed as part of ritual combat, other times, in this arid climate as a part of a ritual celebrating the rain.
But human sacrifices from this culture tended to be men, and most of the others were buried on their backs. It's the cause of her death—which seems to have been poisoning or strangling, "the usual method with young women who accompanied Moche dignitaries to the tomb," says one archaeologist—that indicates that she was sacrificed.
More from Smithsonian.com:
Unlooted Royal Tomb Found in Peru
Here's What Three Mummies Might Have Looked Like While Alive
In Scotland, Two Mix-and-Match Mummies Contain Parts of Six Corpses