Archaeologists Excavate Death Pit, Finding Hundreds of Sacrificed Soldiers in Denmark
Archaeologists are excavating hundreds of skeletons from the boggy swamps, and the remains belong to men who all sacrificed around the time of Christ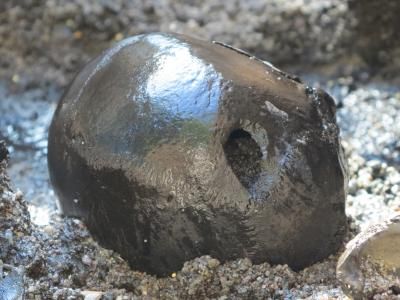 Silently slumbering beneath east Denmark's Alken Enge wetlands lies the remains of an army long dead. Now, those soliders are once again seeing the light of day. Archaeologists are excavating hundreds of skeletons from the boggy swamps, and the remains belong to men who were all sacrificed around the time of Christ.
"It's clear that this must have been a quite far-reaching and dramatic event that must have had profound effect on the society of the time," explains Project Manager Mads Kähler Holst, professor of archaeology at Aarhus University, in a statement.
In the death pit, Holst and his team have found fractured skulls, hacked-off thigh bones and a colorful assortment of ancient weapons, shields and armor, suggesting that the Iron Age men did not go willingly to their deaths. The mass grave is so immense that the researchers gave up on trying to excavate it all, focusing instead on smaller digs that will allow them to recreate a picture of the larger landscape and the horrific events that transpired some 2,000 years ago. They hope the excavations will lend clues about who the soldiers were, and what led to their untimely and brutal demise.
So far, they do know that the death pit the bodies were dumped into used to be a lake. Over the centuries, landscape changes turned the lake into today's bog and wetlands.
For those in Denmark or traveling through the area, the team invites curious visitors to stop by the site and experience the slice of macabre history for themselves. Tours run on Thursdays. Bring the whole family.
More from Smithsonian.com: