Antonin Scalia's Papers Find a Home at Harvard Law
The Supreme Court justice left behind a substantial legal and archival legacy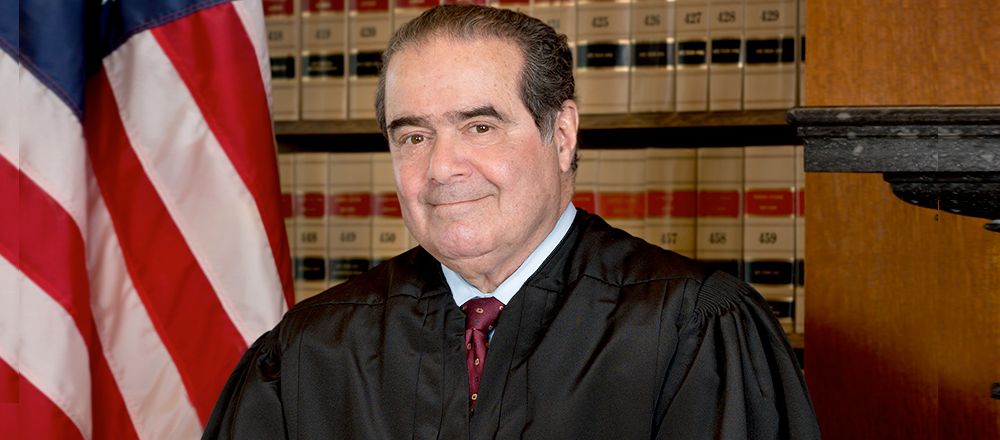 When Antonin Scalia died in 2016, he left behind a legacy of conservative Constitutional interpretation and a big question mark about his successor. But though his seat on the court hasn't been filled yet, another Scalia-related query was just answered. The Boston Globe's Maddie Kilgannon reports that the Supreme Court justice's personal papers will find a home at Harvard Law School.
It's an archival coup for the university, which granted Scalia a J.D. magna cum laude in 1960. Kilgannon writes that Scalia's family donated his papers, calling the bequest a "homecoming" for the late justice.
In a release, Harvard Law writes that the collection contains judicial papers from Scalia's tenure on the U.S. Supreme Court, the U.S. Court of Appeals, his prior government service in a number of agencies like the U.S. Department of Justice, his academic career and correspondence. Not everything will be available right away when Scalia's papers are opened up for research, though. The release notes "materials regarding specific cases will not be opened during the lifetime of other Justices or judges who participated in the case." 
When some of the material from the trove is first made available to the public in 2020, the papers will begin to tell the story of a legendary jurist who clung to a strict interpretation of the Constitution. During his lifetime, Scalia developed a reputation as a committed conservative who relied on the words of statutes themselves instead of legislative history. As The Washington Post's Robert Barnes wrote in Scalia's obituary, his writing style was "certain and clever," even when "acerbic and dismissive of his opponents." That outspoken, sometimes scathing quality made Justice Scalia just as famous off the bench as on it—something his papers may reveal or perhaps counter.
Despite his prickly personality, Scalia made long-time friends of his fellow justices, even those whose political views could not have been more opposed to his. Another friend was Supreme Court nominee Neil Gorsuch, who revered the late judge and fly-fished with him in his native Colorado. Gorsuch has been called a natural replacement for Scalia's empty place on the bench, though others have pointed out that in terms of his past opinions, he may be well to the right of the late justice.
During his lifetime, Scalia maintained a close relationship with his alma mater, which now holds a regular series of lectures in his honor. While legislators grapple with the political minefield left behind by the late jurist's vacant seat, archivists at Harvard Law will process and organize his papers before making them public. What picture will they paint of the fiery jurist and fierce friend? Only one thing is certain: You'll need to wait until at least 2020 to find out.