Manhattan's Mini-Bean Is Finally Complete
The sculpture, based on the famous Chicago landmark, had been under construction for years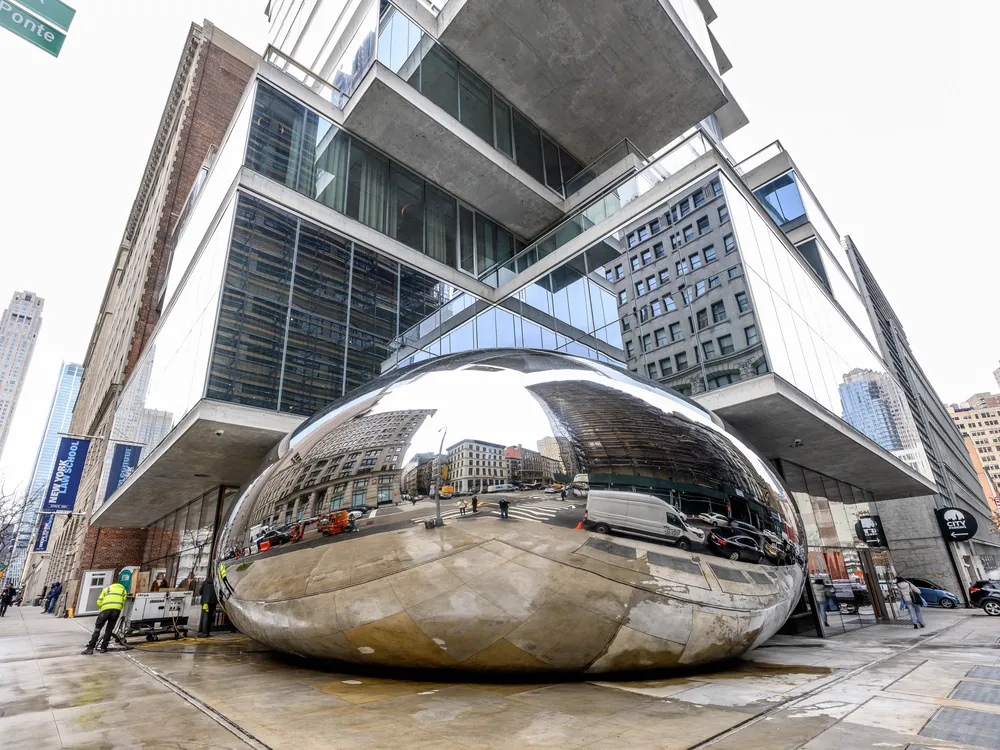 After years of delays, New York City finally has a shiny silver bean of its own. A new sculpture by Anish Kapoor—modeled after his famous Cloud Gate, known as the Bean, in Chicago—was officially unveiled this week. 
Sometimes called the "mini-Bean," the new 19-foot-tall, 48-foot-long work sits at 56 Leonard Street in Manhattan's Tribeca neighborhood. Like Cloud Gate, it has a mirrored surface that reflects the surrounding cityscape back at the viewer.
The sculpture cost between approximately $8 and $10 million to create, per CNN's Benjamin Sutton, and it doesn't yet have a name. According to Time Out New York's Anna Rahmanan, a naming ceremony will take place in the coming months.
The mini-Bean is Kapoor's first permanent public work in New York, though calling it public art "feels like a mistake," as the luxury condo building above it "is about as private as it gets," writes ARTnews' Alex Greenberger. Kapoor purchased one of the condos in 2016.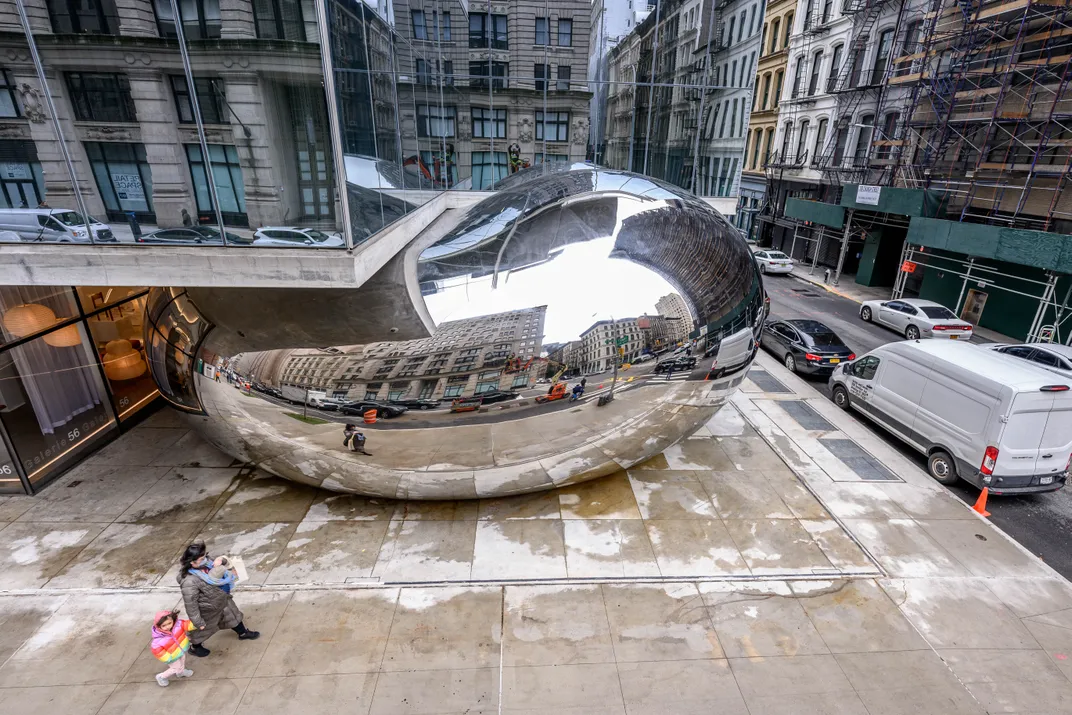 "The city can feel frenetic, fast and hard, imposing architecture, concrete, noise," Kapoor tells Tribeca Citizen. "My work at 56 Leonard Street proposes a form that, though made of stainless steel, is also soft and ephemeral. Mirrors cause us to pause, to be absorbed and pulled in a way that disrupts time, slows it down perhaps. It's a material that creates a new kind of immaterial space."
The 40-ton piece was commissioned in 2008. It has faced multiple delays related to the project's complexity and, more recently, the Covid-19 pandemic, which caused shipping delays and prevented the British installation crew from entering the country, reports Curbed's Clio Chang.
Even before the pandemic, part of the hold up was that the sculpture, despite its resemblance to Cloud Gate, is different in several key ways, reported Tribeca Citizen in 2018. For example, while Chicago's Bean is bolted securely to the ground, Manhattan's mini-Bean is more free-flowing, able to move and shift depending on the weather. 
Builders were tasked with fitting together 38 large pieces of stainless steel in a way that looks completely seamless to create the desired mirror-like effect. The condo building's developer, Alexico Group, tells Curbed that "the proprietary means and methods used to actualize the seamless finish had never previously been utilized."
To add to the construction headache, this past summer, a seam in the completed part of the bean reportedly ruptured under the hot sun, according to Artforum. 
What this all boils down to? "It is, it turns out," writes Curbed, "really hard to make a big outdoor bean."