New Animal Overpass Is Already Protecting Critters in Washington State
The bridge over Interstate 90 will allow animals to cross the busy roadway and connects wildlife in the North and South Cascades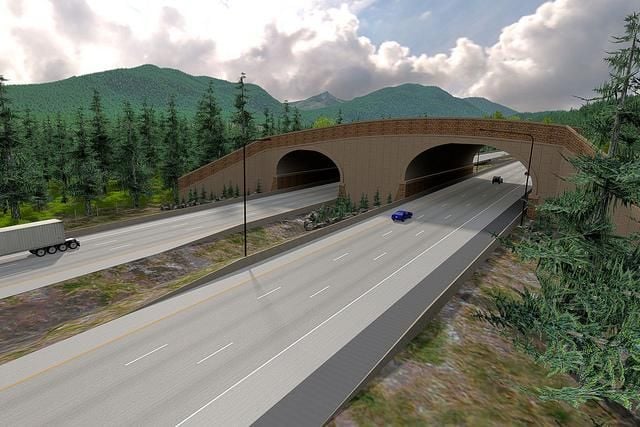 Country musicians may sing about the highway as a symbol of freedom, but for animals it's a borderline where few cross and many never to return. A new overpass on Washington State's Interstate 90 east of Snoqualmie Pass aims to change that. The path is for animals only and is intended to give elk, bear, and other creatures safe passage above the busy highway, which cuts through the North and South Cascades habitats.
Already, the critter bridge, which is slated to be finished in 2019, is doing its job. Jessica Leigh Hester at Atlas Obscura reports that a video tweeted out this month by Washington State's Department of Transportation (WSDOT) confirmed the overpass' first user, a coyote who pranced across the elevated, vegetation-covered bridge.
Nice! Our camera captured the 1st image of #wildlife using the new I-90 overcrossing east of @SnoqualmiePass! This coyote safely crossed the highway, avoiding traffic, anvils, ACME rockets & roadrunners! Excited to see what other species cross! pic.twitter.com/aQqnG0m9Wa

— Washington State DOT (@wsdot) December 6, 2018
Still to come is fencing near the corridor that will help guide animals onto the overpass, and buffer car noise coming from below.
The $6.2 million project is the first in an ambitious plan to make Washington's interstate more critter friendly, reports Eli Francovich at The Spokesman-Review. One more overpass is planned on the I-90 Snoqualmie Pass East, along with additional bridges and large culverts under the highway. Having both kinds of animal infrastructure is important, since some species are more likely to go over bridges, while some prefer tunnels, explains Hester for Atlas Obscura. One study even found that male bears tended to use underpasses, while females and cubs stayed on top.
Researchers pinpointed this crossing on I-90 as an important one for animals, especially herds of elk, who move out of the mountains to lower elevation when winter hits.
The idea is to reduce the number of animal and car collisions, and encourage animal populations arbitrarily sequestered by the interstate to intermingle again. "Everything from an elk down to a small salamander, they need to move to find food, to find mates, to find new places to live as their populations expand or just when conditions change, like a fire breaks out," Jen Watkins Conservation Northwest I-90 Wildlife Bridges Coalition coordinator tells Manuel Valdes at the AP. The conservation group began working on the project in 2004, and ultimately established a partnership with WSDOT, the Forest Service, and other organizations to build the animal infrastructure project.
The Washington project isn't the first. Just a couple of weeks ago, Utah's DOT opened its own overpass near the summit of Parley's Canyon crossing a six-lane stretch of I-80. In Colorado, where 30 wildlife underpasses and two overpasses have been constructed in recent years, recent data shows the pathways have reduced wildlife-related crashes by up to 90 percent in some areas.
In the United States and abroad, adding wildlife infrastructure has broad support. Researchers up north have also found that six wildlife overpasses and 38 underpasses constructed in Canada's Banff National Park over the Trans-Canada Highway 20 years ago have been incredibly effective at protecting wildlife.
Back when the U.S. highway system was first conceptualized, animal migration and crossings weren't taken into consideration. Now, cars kill at least 1 million animals per year by a conservative estimate, Jason Marks at Sierra reports.
Retrofitting existing highway systems for wildlife corridors is a solution, but an expensive one, since each overpass can cost millions of dollars. But keeping animal populations healthy and connected—and out of the passing lane—might be an investment worth making.
Correction, February 13, 2019: This story has been updated to reflect that just two wildlife overpasses are planned for the I-90 Snoqualmie Pass East project.