The British Navy Has a Long History of Adopting Animal Mascots
Ships' pets included dogs, cats and some other animals that were more unusual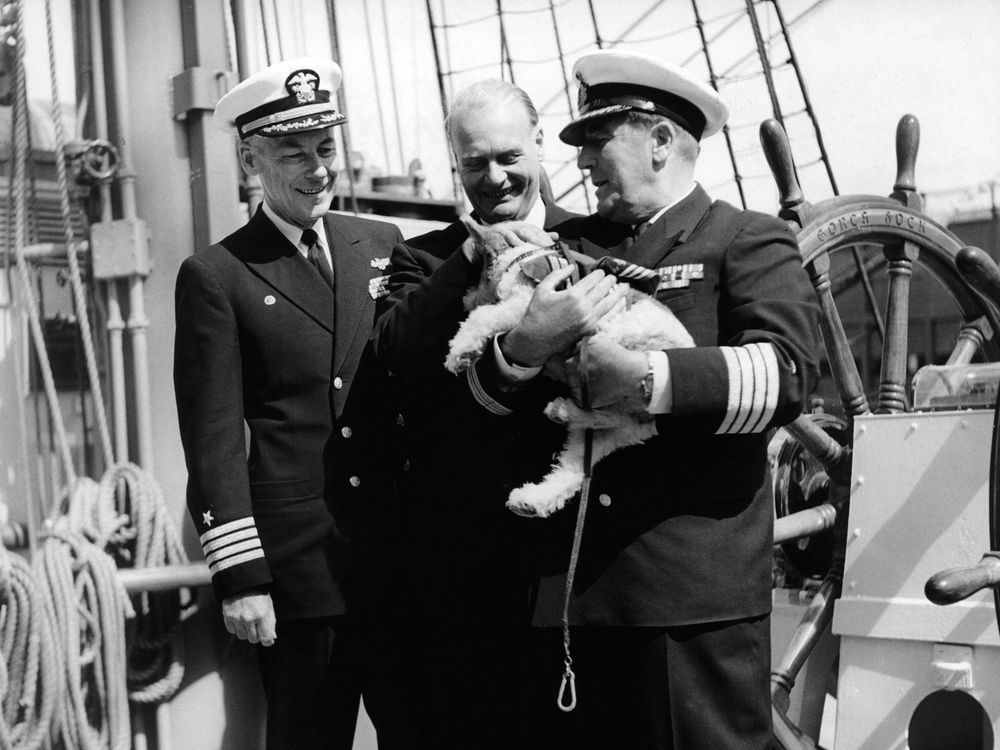 Long voyages at sea can be lonely, so sailors throughout history have taken animals on board. Dogs and cats are the most popular companions—as on land, also on water—but the British Royal Navy has plenty of other critters that have joined its ranks.
Some of the most memorable of this maritime menagerie are highlighted by Steven Gray at The Guardian. The animals that voyaged with the fleets grew so numerous that the Royal Navy's training facility on Whale Island, Portsmouth, built a "sailor's zoo" in 1893. "By 1935 there were lions in spacious cages, marsupials in grass paddocks and birds in aviaries," Gray writes. 
One such mascot was Barbara, a polar bear who had been rescued from an ice floe near Greenland during World War II. Since keeping a live polar bear in close quarters with humans is dangerous, the Navy retired her to Whale Island, where she died before the zoo closed in 1940. She rests there still, buried next to other naval mascots such as Jack the parrot, who survived a cyclone, a black bear named Amelia and other animals.
Animals have served in all branches of the military but were particularly popular with many navies, according to Arnold Arluke and Robert Bogdan's book Beauty and the Beast: Human-Animal Relations as Revealed in Real Photographs. Some of the mascots were smuggled on board, others were gifts from foreign governments or domestic municipalities and ushered on with "presentation ceremonies where the mascot made the transition from land to sea, from civilian to navy life," the authors write.
While the sailors may have enjoyed the animal company, life aboard a ship can't have been as pleasant for the animals themselves. More recent pairings of navies and animal mascots have left the non-humans happier and safe on land, as is the case of the recent adoption of a lemur crewmen named Artful. 
Britain wasn't the only country to have naval mascots. Bears were predictably popular on U.S. ships during Theodore Roosevelt's presidential terms, Arluke and Bogdan note in their book. Goats were long associated with the navy as a source of food because they were smaller than cows and less picky about their own food. But as food supply to ships improved, goats transitioned to pets. There are several stories about the first goat to attend the Army-Navy game, but after a midshipman recruited one named "El Cid" off the USS New York to attend a 1893 match, the tradition stuck.
"Bill the Goat" is still an official mascot of the U.S. Navy, although the animal (or rather, one of his successors) stays ashore nowadays and represents the officers playing the field during the Army-Navy football game. 
Currently, U.S. navy ships are goat-free. Along with other animals, they were banned. One captain who ignored regulations and kept a three-year-old pygmy goat named Charlie on board his missile cruiser apparently lost his job in the spring of 2015. The monkeys, bears, dogs, cats and others spared the distress of close quarters and seasickness would probably thank those responsible for the change. As would the sailors who no longer have to clean up after the navy's animal mascots.