Ancient Statue Destroyed by ISIS Resurrected in London—With a Twist
Iraqi-American artist Michael Rakowitz has created a reproduction of the statue using 10,500 date syrup cans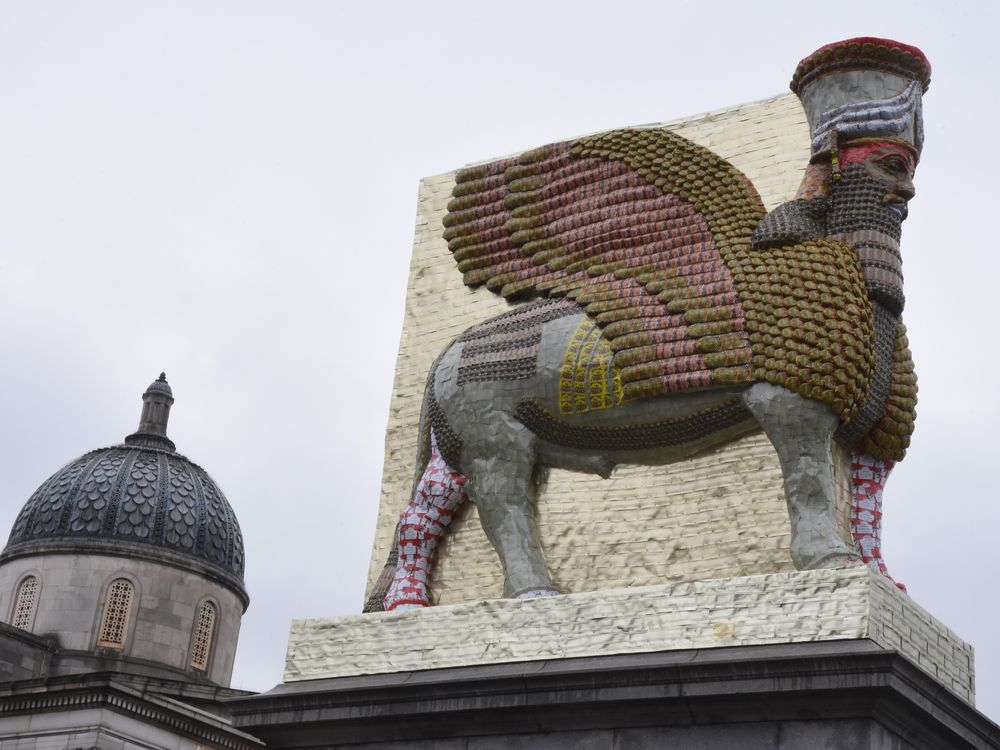 For nearly three millennia, a monumental statue of a Lamassu—a protective deity that is part bull, part eagle, part human—flanked the entrance to the ancient city of Nineveh, located in modern-day northern Iraq. Then, in 2015, ISIS militants destroyed the statue, along with many other precious artifacts. In wistful tribute to a cultural relic that fell victim to violence and war, Maev Kennedy reports for the Guardian that a copy of the Lamassu monument has been erected in London's Trafalgar Square.
Designed by the Iraqi-American artist Michael Rakowitz, the Lamassu recreation stands on one of four plinths that surround Nelson's Column, the famed monument to Admiral Horatio Nelson's victory against the French in the Battle of Trafalgar. Rakowitz's installation belongs to a larger project called "The Invisible Enemy Should Not Exist," which seeks to recreate every Iraqi artifact that has been destroyed or gone missing in the aftermath of the 2003 U.S. invasion of Iraq. It is, Rakowitz tells Naomi Rea of Artnet News, "a commitment"; more than 8,000 artifacts have disappeared from Baghdad's Iraq Museum, alone.
The Lamassu work will stand on Trafalgar Square's "fourth plinth" until 2020. In the 19th century, three of the plinths were crowned with statues of kings and military leaders, but the fourth was not filled. According to Digby Warde-Aldam of Artsy, the pedestal was supposed to hold a statue of William IV, but was left empty due to "near-sighted budgeting."
In the late 1990s, the British government decided to feature contemporary art installations on the vacant plinth. Twelve works have been featured so far in the campaign—including pieces by artists such as Rachel Whiteread, Antony Gormley and Marc Quinn. Rakowitz is the first non-European artist to be selected for the public art project.
Rakowitz's homage to the Lamassu sculpture is a full-scale reproduction of the original, but with a contemporary twist: it is made from 10,500 flattened date syrup cans, rather than limestone. Iraq's date industry, once second only to its oil trade, has been decimated by years of conflict. According to Rea of Artnet, less than 10 percent of the country's 30 million date palms survived the Iraq War.
The Lamassu recreation is supposed to remind viewers of a devastating loss of culture, both historic and contemporary. But the installation is also a symbol of resilience, of the possibility of new beginnings in the face of brutality and destruction.
"It's meant … to be a ghost that's supposed to haunt," Rakowitz tells Rea, "but also a spectral presence that's supposed to offer some kind of light."