Ancient City of Palmyra, Gravely Damaged by ISIS, May Reopen Next Year
Between 2015 and 2017, militants wreaked havoc on the site's ancient treasures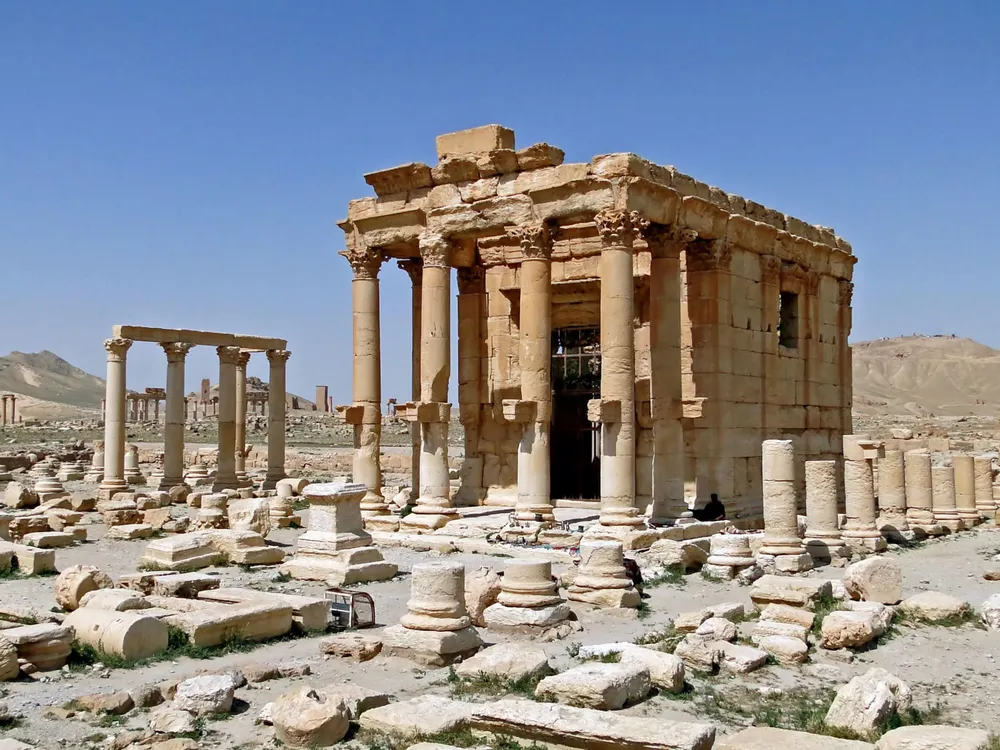 After seizing the ancient city of Palmyra in 2015, ISIS militants launched a campaign of cultural destruction, detonating centuries-old temples, blowing up historic columns and mutilating precious works of art. But now, more than a year after ISIS was expelled from Palmyra, Syrian officials are preparing to reopen the site to visitors, reports Sarah Cascone of Artnet News.
Restoration work on Palmyra, which today is located in Syria's Homs Governate province, may be completed as early as the spring of 2019. Talal Barazi, the provincial governor of Homs, told the Russian state-owned publication Sputnik News that "authorities now have a project to repair all the damage caused to Palmyra's Old City" and that Syria had received "offers from the world powers to restore the artifacts and historical value of Palmyra."
Experts from Russia, Italy and Poland are among those who have been helping salvage relics from the site, and UNESCO has also contributed to conservation efforts.
"[Palmyra] is the world history and it belongs not only to Syria," Barazi told Sputnik News.
Built on a desert oasis, Palmyra was once a thriving city on the trade route that linked the Roman Empire to Persia, India and China. Palmyra came under Roman control in the first century A.D., and blossomed into an important cultural center filled with sumptuous architecture that married Greco-Roman and Persian influences. The ruins of this once-great city have been given UNESCO World Heritage status, and Palmyra used to be one of Syria's most-visited attractions; according to Cascone, it once drew up to 150,000 visitors each year.
But the arrival of ISIS cast a dark cloud over the city. The jihadist group occupied Palmyra twice; first in May 2015 and, after being briefly ousted by government forces, again in December 2016. The jihadist group wreaked havoc on the city's historic treasures. Militants destroyed the Temple of Bel, the Temple of Baalshamin, the Arch of Triumph and part of a second century Roman theater—all major landmarks of the ancient city. Statues in Palmyra's museum were toppled and mutilated. Khaled al-Asaad, the 82-year-old head of antiquities in Palmyra, was executed.
ISIS was expelled from the city in March 2017, and has not returned since. Last month, Josie Ensor of the Telegraph reported that Syrian archaeologists, with assistance from experts at the Pushkin Museum in Moscow, had started piecing together statues and sculptures from the site. According to Ensor, Russian archaeologists have also "made 3D models of the destroyed temple complexes for Syrian scientists to work from" as part of the restoration efforts.
But whether visitors will actually be able to return to Palmyra if and when it reopens next year remains uncertain, as Frieze points out. Though it may be drawing to a close, Syria's brutal civil war is still ongoing. Travelling to the country, many governments caution, is highly unsafe.