Amid Controversy, Minneapolis Museum Removes Sculpture Based on Execution of 38 Dakota Men
Members of the Dakota community say that the sculpture trivializes a painful chapter of their history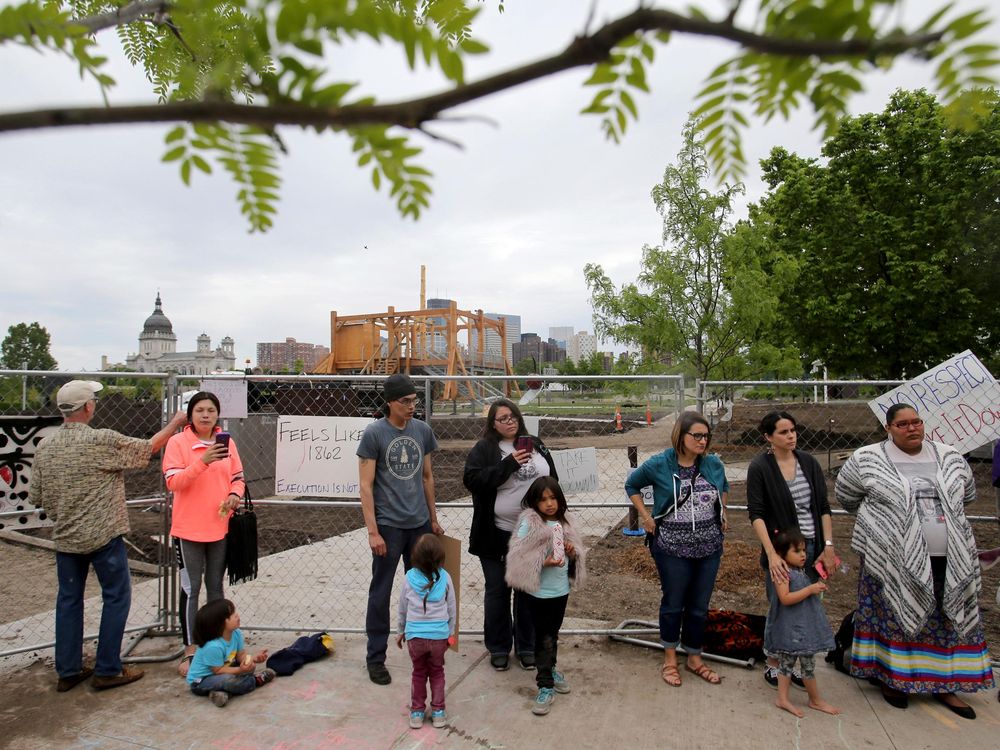 The Walker Art Center in Minneapolis had planned to unveil its newly renovated Sculpture Garden on June 3, marking the conclusion of a $10 million reconstruction project. But the Garden's grand opening has been pushed back a week, as museum officials scramble to take down a controversial sculpture that has angered the Dakota community of Minneapolis, as Andrew R. Chow reports for the New York Times.
"Scaffold" by Sam Durant is a hulking, two-story structure, complete with seven gallows that represent high-profile public executions. One of those gallows is meant to evoke the hanging of 38 Dakota men in 1862. When the statue's inclusion in the Sculpture Garden was announced, critics argued that the work trivializes a painful episode in Dakota history. Liz Sawyer of the Star Tribune reports that around 100 protestors gathered outside the Garden, demanding that sculpture be taken down.
The executions of the Dakota 38 took place during a five-week battle between white settlers and Native residents of southwestern Minnesota, who were rebelling "against broken promises of the United States and its reservation policies," according to the University of Cincinnati. The Minnesota Historical Society states that a military tribunal condemned 38 men to death for their participation in the rebellion, with President Lincoln's approval.
Contemporary scholars have condemned the trials as tragically unjust. "The evidence was sparse, the tribunal was biased, the defendants were unrepresented in unfamiliar proceedings conducted in a foreign language, and authority for convening the tribunal was lacking," says Carol Chomsky, associate professor at the University of Minnesota Law School, according to the Minnesota Historical Society.
Sheila Regan of Hyperallergic reports the Dakota community has expressed several complaints about "Scaffold." The sculpture was made by a non-native artist, for one thing, and it is a difficult reminder of the past—particularly because it is situated on land that was once used by the Dakota. Critics have also argued that the sculpture's placement within the Garden is inappropriate; "Scaffold" is situated next to a rather cute sculpture of a cherry on a spoon.
In response to the outcry, museum officials announced that they would remove "Scaffold" from the Sculpture Garden. "The responses have overwhelmingly conveyed and expressed anger and sadness that 'Scaffold' has caused the Dakota community and beyond," Olga Viso, executive director of the Walker Art Center, says in a statement. "As the executive director of the Walker, I regret the pain that this artwork has brought to the Dakota community and others."
Viso also notes that the museum has scheduled a meeting with Durant and the Traditional Spiritual Dakota Elders. "This is the first step in a long process of healing," she says.
Durant also released a statement about the controversy. "'Scaffold' opens the difficult histories of the racial dimension of the criminal justice system in the United States, ranging from lynchings to mass incarceration to capital punishment," he writes. "I failed to understand what the inclusion of the Dakota 38 in the sculpture could mean for Dakota people. I offer my deepest apologies for my thoughtlessness."