America's Favorite Sport Used to Be… Competitive Walking
Pedestrianism was popular in the late 19th century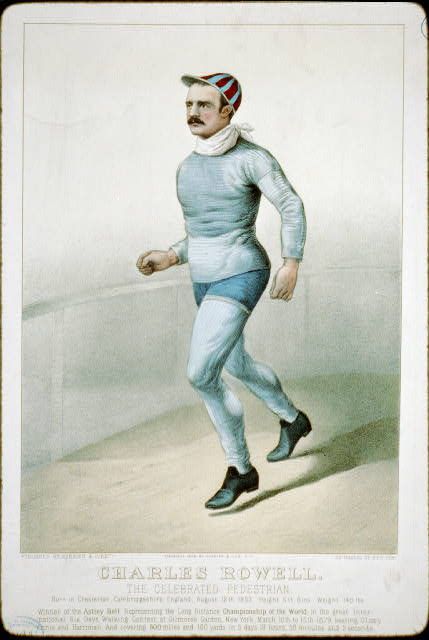 You may or may not think that power walkers look...sort of silly. But, whether they know it or not, power walkers are, in a way, historical reenactors—with each step they take, they are taking part in one of America's greatest pastimes.
In his recent book, journalist Matthew Algeo explores the wonderful world of competitive pedestrianism, the sport of walking, and walking, and walking... for days.
Writing in the Washington Post, Algeo reintroduces America to the greatest of sports: "The sport was known as pedestrianism, and its most successful practitioners were this country's first celebrity athletes. Their images appeared on some of the first trading cards, and they received lucrative endorsement deals."
Professional pedestrians could walk for staggering distances. In 1876, the New York Times reported on one race:
"A REMARKABLE TEST OF ENDURANCE--ONE THOUSAND MILES WALKED IN ONE THOUSAND HOURS--DE WITT AND GOULDING BOTH ACCOMPLISH THE FEAT--THE CONTESTANTS STILL WALKING."
Though competitors breaked for naps, says Algeo, the events truly were multi-day races.
Although running was sometimes allowed, it was not an effective strategy for races that lasted 144 hours straight — roughly the length of 50 baseball games. Stopping occasionally to catch a few winks on cots placed on the arena floor, the competitors pushed themselves to, and sometimes beyond, the edge of physical and mental collapse. A nation starved for entertainment in the days before radio and record players savored the competition.
Catching up with De Witt and Goulding, said the Times, "Both men at the conclusion of the one thousandth mile confessed themselves to be weary, but neither of them was willing to give up."
Pedestrianism, obviously, eventually fell out of favor. Though, there is a modern equivalent in the form of "racewalking." (It's even an Olympic event.) Like the races of old, the emphasis is on endurance, though at only 30 miles, the events aren't quite as epic.