From above, the 695,000 white flags shivering in the wind on the National Mall look similar to the gravestones just across the Potomac in Arlington National Cemetery. Each flag, planted in neat squares on 20 acres of grass just north of the Washington Monument, represents one person who has died from Covid-19 in the United States.
Titled "In America: Remember," this sobering memorial—on view in Washington, D.C. through October 3—is the work of Maryland artist Suzanne Brennan Firstenberg. With the sea of plastic flags, many of which feature handwritten dedications to lost loved ones, "we are recapturing the human dignity of each one of these people who have been compressed and ... reduced to numbers," said Firstenberg at a September 17 opening ceremony.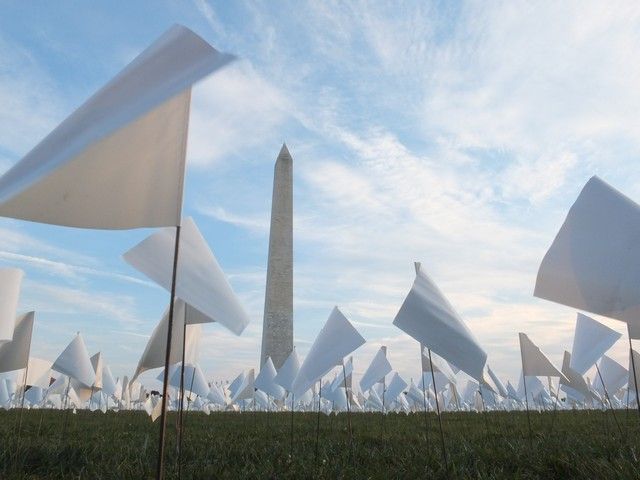 The artist's attempt to make the pandemic's death toll tangible began in October 2020 with a similar display of 219,000 flags at the D.C. Armory. As Firstenberg recounted at the September event, "pure outrage" inspired the installation, dubbed "In America: How Could This Happen…"
A longtime hospice care volunteer, Firstenberg told DCist's Mikaela Lefrak that an incendiary remark by Texas Lt. Governor Dan Patrick fueled her to create art that would honor the beloved individuals who'd perished as a result of the virus' spread. (Last March, Patrick claimed that senior citizens, himself included, would be happy "to take a chance on your survival in exchange for keeping the America that all America loves.") But the original display came to a close after Firstenberg and her volunteers ran out of space, with the rising number of Covid victims outpacing the group's allotted area at the D.C. Armory.
"This is communal," Firstenberg told Petula Dvorak of the Washington Post last year. "This is creating a space for mourning."
Watch: Maryland artist Suzanne Brennan Firstenberg's installation "In America: Remember" features over 660,000 flags covering the National Mall.

Each one is dedicated to an American who died of COVID-19.

Video by @tyronefoto pic.twitter.com/48e4AIp3T8

— WAMU 88.5 (@wamu885) September 21, 2021
The more recent installation on the National Mall also makes space for bereavement: Benches are spaced along the grassy paths, and passersby can write tributes to deceased friends or family before choosing where to place their flags. 
Those unable to visit the memorial in person can dedicate a flag via InAmericaFlags.org through September 30. Volunteers will then transcribe the messages. A GIS mapping partnership allows participants to see the location and a photo of their planted flag, while a live webcam provides a bird's eye view of the entire memorial. Lesson plans related to the project are also available on its website.
"They're depending on volunteers like us to give their loved one the recognition and the grief and mourning alongside it that they deserve," said Emily Deale, the exhibition's weekend volunteer manager and educator, on the day "In America: Remember" opened to the public.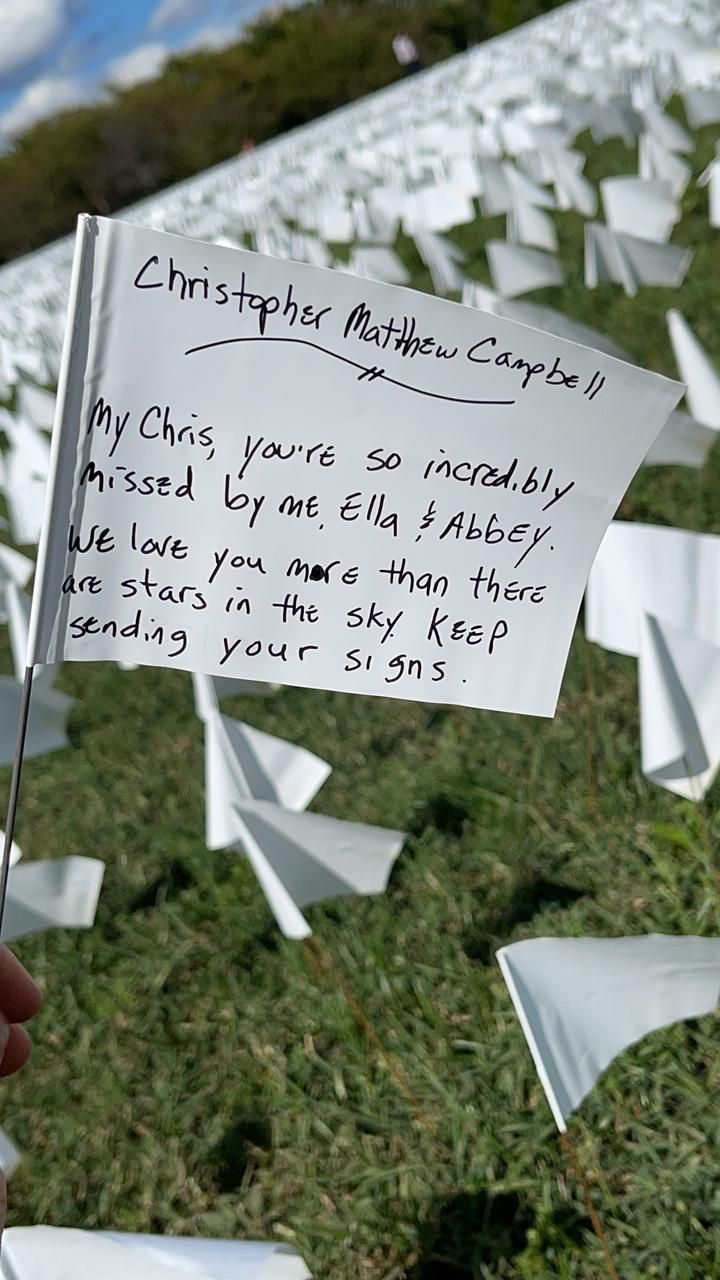 On the Covid Lost Loved Ones map, users can view photographs and commemorations that correspond with handwritten messages on the pennants. One memorializes James McCloud of Ironton, Ohio, who contracted Covid-19 just days before he excitedly received his first vaccine dose. Another flag honors Takelya Conola Bazemore, a nurse in North Carolina. "[Every day] we are in need of your comforting bear hugs," wrote a family member to Juanita Julian, who helped teach her nieces to pronounce words in Navajo.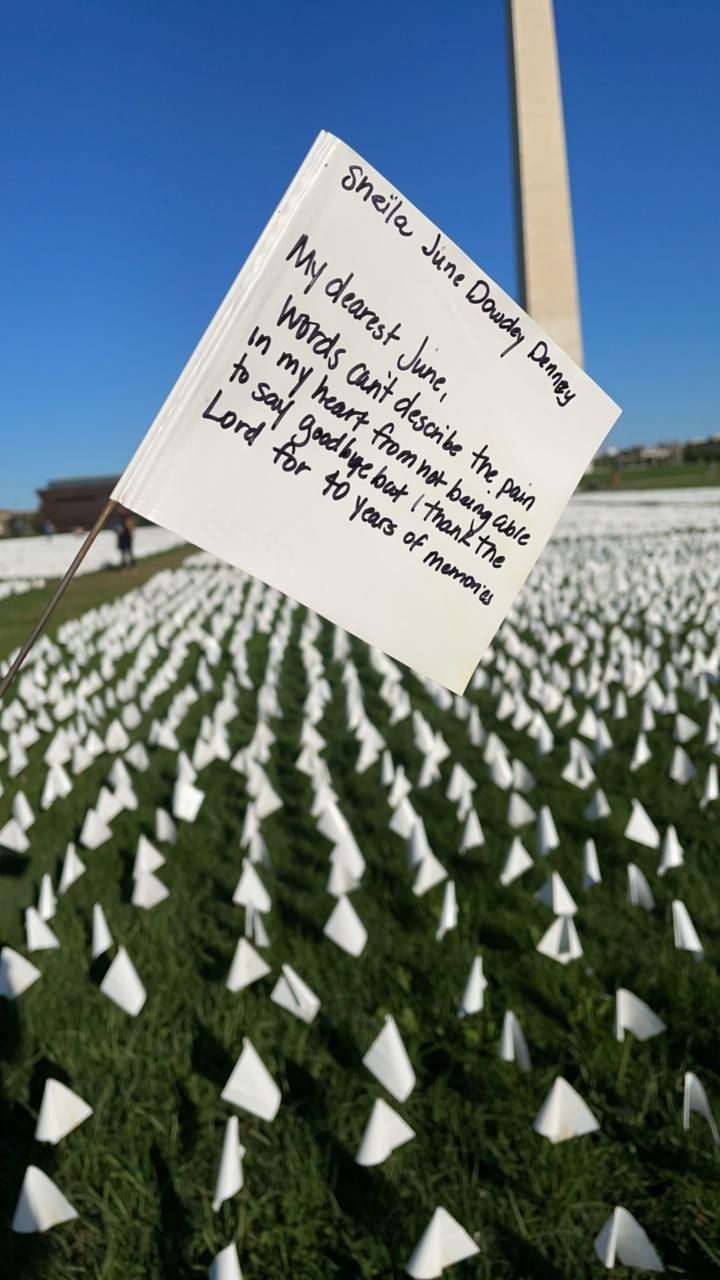 The list of names continues: Anna Levine, who graduated from law school at age 62 and died of Covid-19 29 years later. Leslie Lamar Parker, a father from Minneapolis who died at 31. Dan and Deborah Hinojosa of Fresno, California, who died on the same day this January, one month before their 40th anniversary.
"I still see you every morning, noon, & night," wrote retired Sergeant Major Connell Delaine's sister. Arnold Daniel Nordhagen's daughter asked any flag readers to "please consider getting immunized for my dad."
The husband of Georgia resident Sheila June Dowdey Denney wrote, "My dearest June words can't describe the pain in my heart from not being able to say goodbye but I thank the lord for 40 years of memories."
A billboard by the installation displays the number of Americans who have lost their lives to Covid-19. Firstenberg has updated the oversized numerals as the death toll piles even higher. On the first day of the exhibition, the board counted 670,032 dead. Thirteen days later, that figure is up to 696,284.
"I don't want to plant any more flags," said Firstenberg last month. "We shouldn't have to."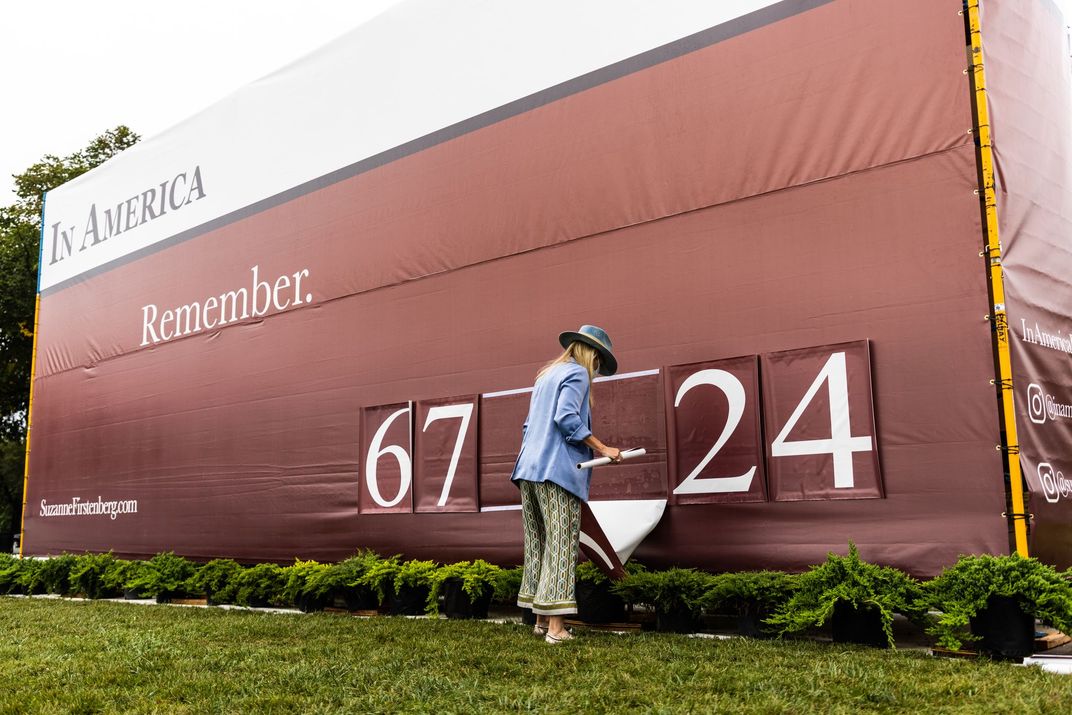 In a speech at the opening ceremony, Smithsonian Secretary Lonnie Bunch described the hundreds of thousands of flags as a way for Americans to contemplate the grievous truth of the pandemic—both its historic significance and its very personal impact:
The National Mall in some ways is our greatest repository of collective memory, populated by numerous memorials and monuments celebrating significant Americans. But as essential as these monuments are, they tell an incomplete story. There are no memorials to survivors, no plaques detailing how communities suffer in the absence of their departed. It is up to historians, scholars and artists like Suzanne to make sure that we understand this moment, that it is in context. This moment, this installation, helps us begin a period of reckoning with that loss.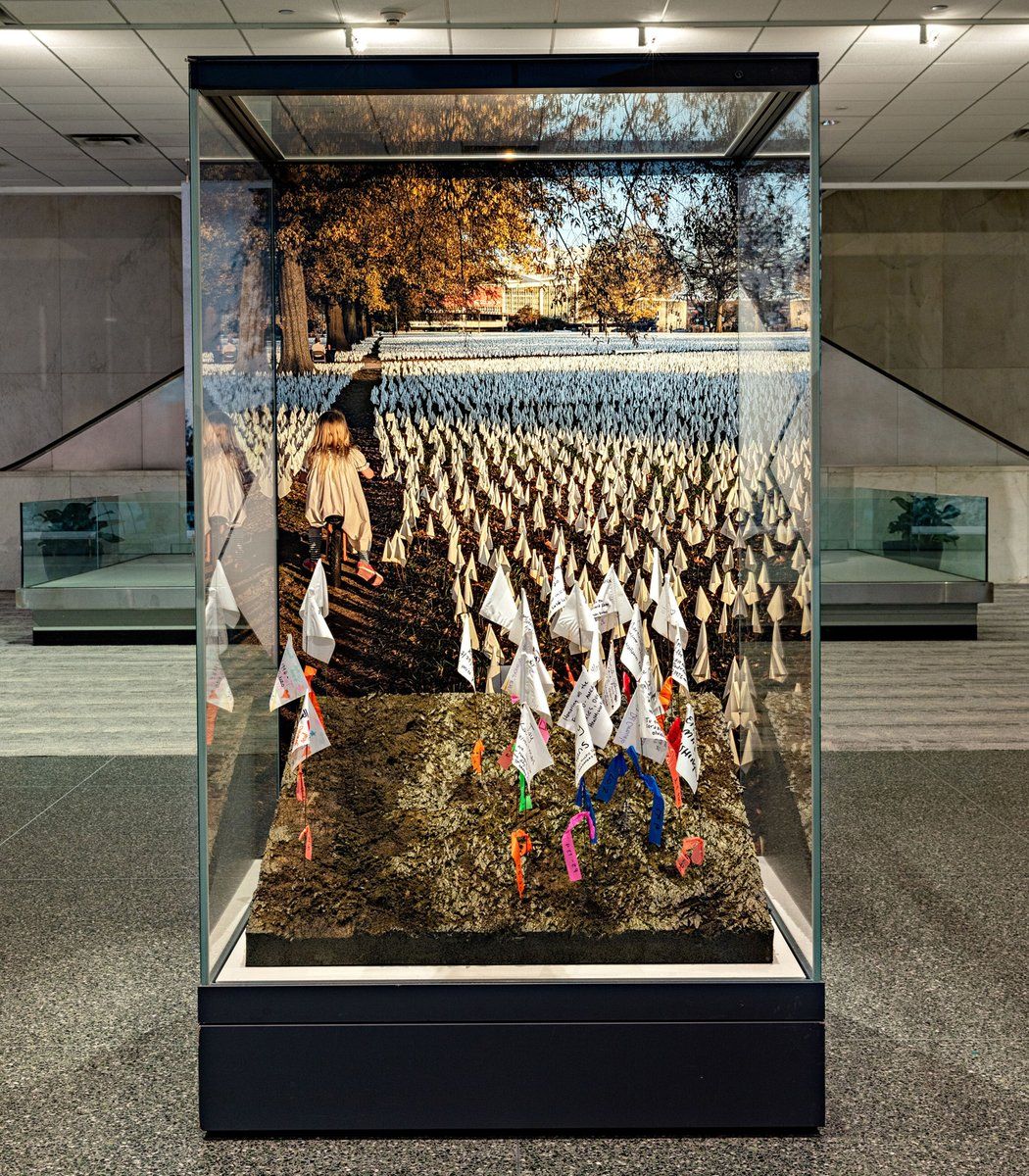 The Smithsonian previously collected flags from the first "In America" exhibition. Now, they're on display at the National Museum of American History. After the grid of banners on the Mall is cleared away, as the number of Covid-19 fatalities continues to rise, the flags in the collections will memorialize the dead.
"They are more than statistics," Bunch said. "They are people who loved and were loved, and whose lives were transformative, and they've left a mark on us all."