Entrance Gate to Greek Temple of Zeus Unearthed in Turkey
Archaeologists excavating the ancient city of Magnesia hope to fully restore the 2,300-year-old sacred structure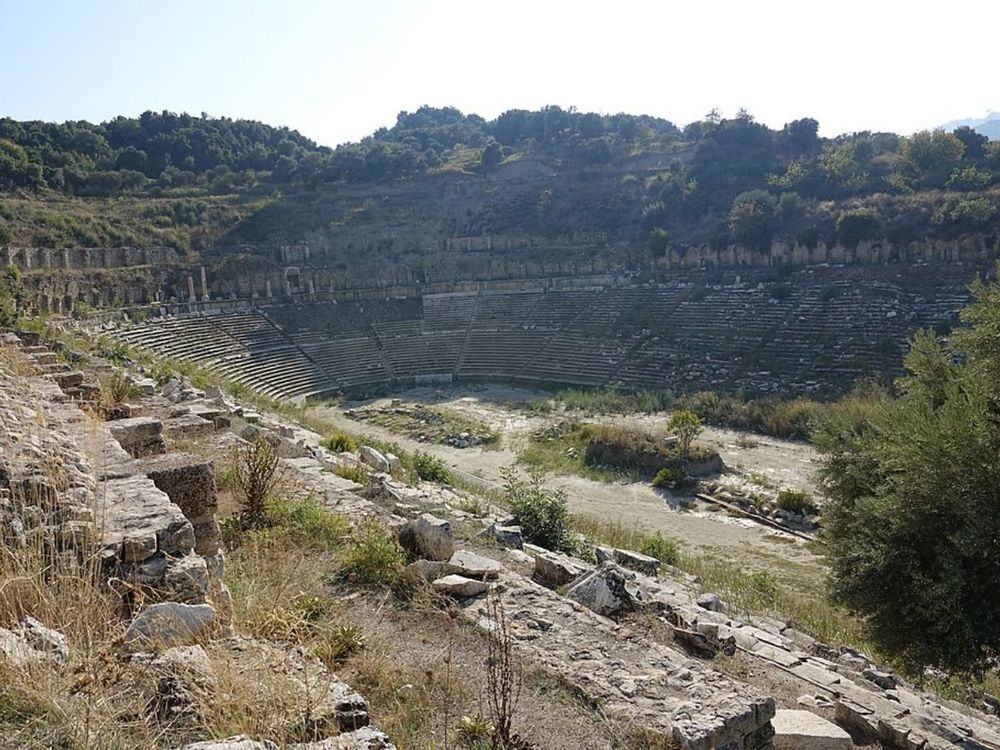 In the early 1890s, German archaeologist Karl Humann unearthed remnants of a 2,300-year-old Temple of Zeus in the ancient Greek city of Magnesia, located in what is now the Aydın province of Turkey. The dig site was then reburied and all but forgotten until Görkem Kökdemir, an archaeologist at Ankara University, began excavations there some 20 years ago.
That latest effort has proven immensely fruitful. To date, Kökdemir and his team have uncovered a sanctuary, a stadium, a theater, 80 statues and other artifacts. Now, reports Ferdi Uzun for the state-run Anadolu Agency (AA), the researchers have discovered the entrance gate to Zeus' sacred temple.
Speaking with the Hürriyet Daily News, Kökdemir says, "We think that the temple we found in this area is a well-known temple in the history of architecture just like the Temple of Artemis, which is the fourth largest temple in Anatolia and also located in Magnesia." (The third largest is a separate Temple of Artemis in Ephesus, whose ruins stand what is now western Turkey.)
Archaeologists tentatively dated the gate and its accompanying temple to the third century B.C.E., reports state-run broadcaster TRT World. Magnesia itself was established in the fourth century B.C.E.
Gate of #Zeus Temple discovered in western #Turkeyhttps://t.co/9f7ZBkHPsY pic.twitter.com/lRNH0KbLeJ

— Hürriyet Daily News (@HDNER) September 28, 2021
The area where the gate was found is one of Magnesia's most sacred.
"There is the Artemis sacred space there, there is also a sacred agora," Kökdemir tells TRT World. "The Zeus Temple is in the sacred agora. It is very significant. It is the second important cult [of Magnesia]."
He adds, "In ancient cities people [worshipped] not just one deity, they [worshipped] multiple gods or goddesses. In Magnesia the first deity is Artemis, and the second deity is Zeus."
Kökdemir expects his team to uncover 60 to 70 percent of the original temple structure. The researchers plan to restore the house of worship, which once boasted pillars of around 16 feet tall and a roof that stood 24 feet above ground, notes Patricia Claus for the Greek Reporter.
During the 19th-century dig, Humann unearthed a small portion of the Temple of Zeus. Those pieces, now housed at the Pergamon Museum in Berlin, were used to fashion an exhibition that included "90 percent imitation parts," Kökdemir tells TRT World. The makeshift structure remains on view today.
Excavations at Magnesia are expected to continue for some time. Kökdemir hopes to have the temple fully restored in a few years, but he acknowledges that it will likely take 15 to 20 years to uncover a nearby stadium thought to have a seating capacity of about 50,000 people.
"When we unearth this temple completely, the eyes of the world's archaeology community will be here," he tells AA.