Agatha Christie's Fiery Letters Offer New Glimpse Into the Queen of Crime
The author was not a fan of pink or Pekingese dogs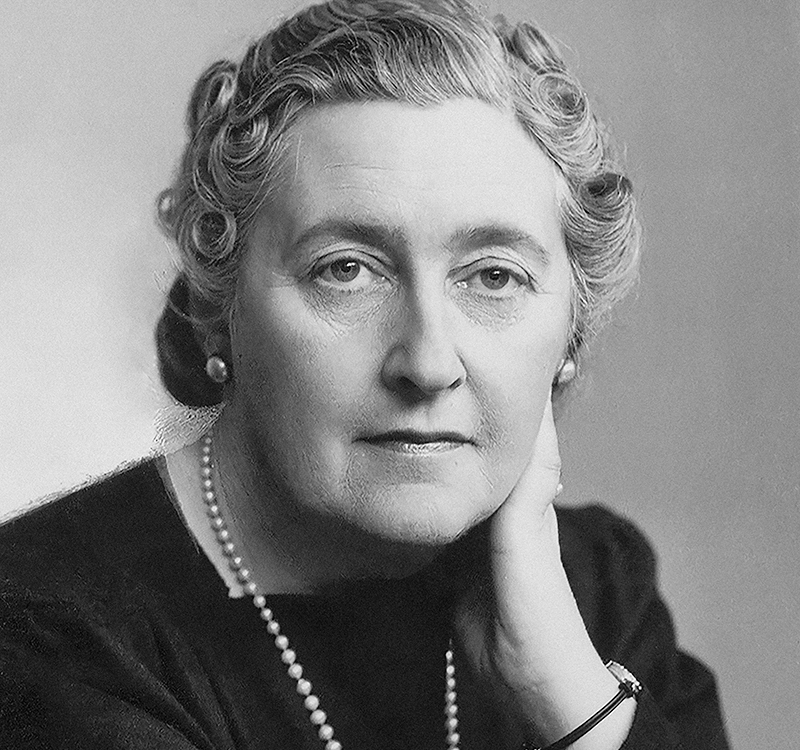 In April of 1947, Agatha Christie penned a letter to her publisher Billy Collins about the cover for her forthcoming novel, The Labours of Hercules. An illustration of a Pekingese dog adorned the book's jacket and, to put it mildly, Christie was not pleased.
"The wrapper design for Hercules has occasioned the most ribald and obscene remarks and suggestions from my family," Christie quipped, according to Danuta Kean of the Guardian. "All I can say is – Try again!!"
This fiery note, along with other letters from the private correspondence between Christie and Collins, will be displayed starting today at the Theakston Old Peculier crime writing festival in Harrogate, England. The exhibition, titled "Agatha Christie and Collins: Rare Images and Documents from Her Life and Publishing Career," will run until Sunday as part of a yearlong celebration marking the 200th anniversary of HarperCollins, Christie's longtime publisher. Her letters—which are by turns funny, caustic, and vulnerable—offer a never-before-seen glimpse into the creative processes of the best-selling fiction author of all time. ("[O]utsold only by the Bible and Shakespeare" HarperCollins notes.)
Christie began working with Collins in 1926, after he convinced her to leave the publisher of her first six novels and sign with William Collins Sons & Co.—now known as HarperCollins. Within the first year of their partnership, Christie published The Murder of Roger Ackroyd, a twisty whodunit that became her first smash hit. The public developed a voracious appetite for her books, and Christie wrote two or three novels per year "as a rule," according to a website devoted to the author.
"It's pretty staggering," Sarah Weinman, crime fiction expert and editor of the anthology Women Crime Writers: Eight Suspense Novels of the 1940s & 50s, tells Smithsonian.com. "She was popular in her own time—so much so that the phrase 'a Christie for Christmas' was how all of her books were marketed at the height of her fame." 
Wieman explains Christie's books were all published right around Christmas time and so it became a tradition among her fans to give and receive the new Agatha Christie novel for the holiday.
Over time, Christie became Collins' most profitable author and his friend. Their correspondence was usually quite cheerful; before taking Collins to task over the detested Pekingese—which ultimately did appear on the cover of  The Labours of Hercules—Christie asks her publisher out to lunch. "It is such a long time since we have got together," she writes in the 1947 letter. 
Nevertheless, the notes on display at the Theakston festival reveal that Christie did not shy away from sparring with Collins over publication dates, cover designs and marketing materials. The author was intimately involved in the publishing process and could deploy withering turns of phrase when she was dissatisfied. 
In 1967, for instance, Christie expressed her "fury" after being informed that without her knowledge, one of her books had been released early. "It's usually [available] in November and then it comes in very handy for sending to friends at Xmas time – but one can hardly send it as that now?" she wrote, according to Kean. "I do think it's treating your authors disgracefully."
In another letter, Christie expresses her objections to a publicity blurb—"I don't like the blurb at all"—and yet another, she critics a book cover design. "The pinky color was more sentimental than murderous!" she writes, and then adds: "Sorry to sound so scathing!"
Kean ascribes Christie's acerbic notes to a flaring "temper," but Weinman takes a different view of the author's tone.
"If you are the top-selling crime writer and arguably commercial writer of your day," Weinman said, "I think you have more than earned the right to dictate, to some degree, what your terms are."
Going through their correspondences, though, it's clear that Christie and Collins enjoyed a close friendship. In 1966, Christie scribbled a handwritten note to Collins, thanking him for a party that he threw upon the publication of a book by her second husband, Max Mallowan. "As you know I am usually not a party woman," she wrote. "But it really did feel all friends together."
According to Weinman, the dynamic between Christie and Collins—with its intimacies and its tensions—is fairly typical. "Writers and editors have complicated relationships," she says. "Writing is a very personal and emotional endeavor, but money and marketing is involved." 
Through it all, Christie remained grateful for Collins' contributions to her work. As the Agatha Christie website notes, the author dedicated her 1958 novel Ordeal by Innocence to her longtime publisher. "To Billy Collins," the inscription reads, "with affection and gratitude."