African-Americans Sent Thousands of Anti-Slavery Petitions in the 18th and 19th Century
The petitions lend insight into the lives of African Americans during this tumultuous period in U.S. history, and now they're being digitized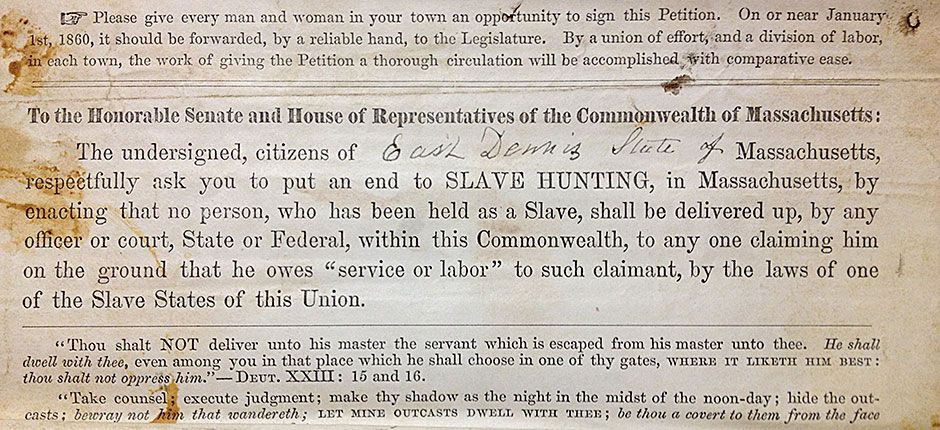 Massachusetts abolished slavery in 1783, but throughout the 18th and 19th century, the state's legislator fielded thousands of petitions calling for an end to lingering slavery, segregation and the uncertainty caused by legislation like the Fugitive Slave Act of 1850 and by the Supreme Court's Dred Scott decision in 1857. And among these documents were "some of the first petitions prepared, signed, and circulated by African-Americans in North American history," says Daniel Carpenter, the director of Harvard's Center for American Political Studies.
In order to make these documents more accessible, the center will catalogue, transcribe and digitize around 5,000 of the petitions, currently owned by the Massachusetts State Archives. The center aims to complete the project by June 2015.
The petitions speak to fear and anxiety in African American communities, even though slavery had already been abolished in the state. African Americans living around Boston feared re-enslavement, for example, or that their basic life freedoms would be limited by discriminatory regulations.
The Harvard Gazette continues:
Included in the thousands of petitions are first-person accounts of former slaves and free African-Americans seeking aid and full rights. 

"Any handwritten document from African-Americans in the 18th or 19th century is enormously valuable and quite rare," said Henry Louis Gates Jr., Alphonse Fletcher University Professor and director of the W.E.B. Du Bois Institute for African and African American Research. "So seeing these signed by black people demanding their full equality and freedom is quite exciting."

Gates added that the petitions will help further illustrate differences in the African-American community at the time, something he tries to highlight in his teaching.
African American abolitionists Prince Hall, Thomas Paul, Charles Lenox Redmond and William Cooper Nell were among the signers, as were allies like Ralph Waldo Emerson, Henry David Thoreau, John Greenleaf Whittier and Louisa May Alcott.
More from Smithsonian.com:
Designes for National Museum of African American History and Culture 
Holding on to Gullah Culture