Advice for Drivers From Dorothy Levitt, the Pre-War Racing Record Breaker You've Never Heard Of
Levitt's story is proof that women were in auto racing almost from the start, and she has some ideas for other drivers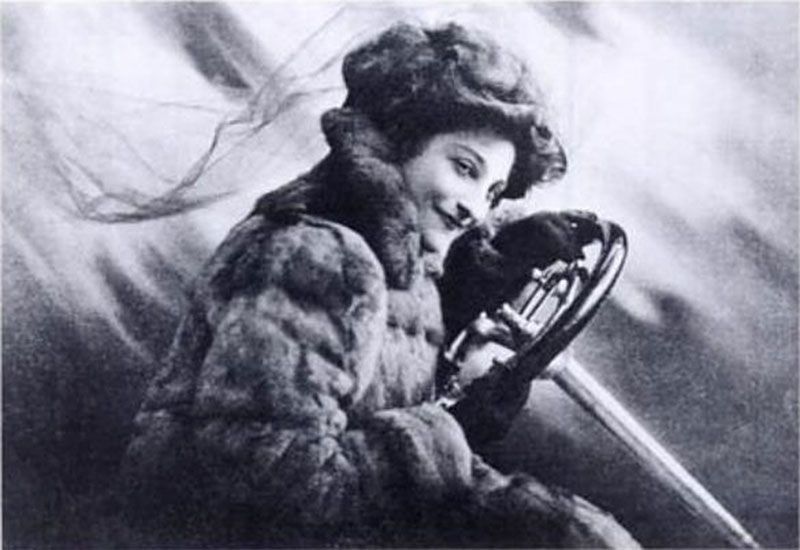 Dorothy Levitt was simultaneously a woman before her time and one who was well-suited to it.
Born on this day in 1882, she was one of the first female British racing drivers and held several records. At a time when few people drove, writes Rebecca Onion for Slate, she encouraged women to get out and use the road. Her own story was very much of its time, though—she started driving because her boss at Napier Car Company wanted to do a publicity stunt by putting a woman at the wheel, writes historian Julie Wosk.
Levitt became one of the first women to race in 1903, and continued to race for Napier. But she was more than a stunt: her talent as a driver kept her on the road. She placed well or won a number of races, and she didn't just drive automobiles—she also raced boats, rode horses and even learned how to fly planes, writes Ronnie Schreiber for The Truth About Cars. She also taught other women how to drive, he writes, including Queen Alexandra and her three daughters.
Sounds like a woman you'd want to meet, right? Well, we've got the next best thing: advice on driving from the record-holder herself. Levitt's driving columns for the Daily Graphic were collected, revised and published in a 1909 book called The Woman and the Car: A Chatty Little Handbook for All Women Who Motor or Want to Motor.
"Throughout her handbook Levitt reveals the complexity of transitional times," Wosk writes. "She both reaffirms and refutes stereotypes about women drivers, telling women that they do have the intelligence to understand mechanical repairs while also advising them on etiquette and how to choose an automobile with an attractive interior."
Levitt's book is clearly written for women and addresses their specific concerns. In a time when women were legally second-class citizens in so many ways, it must have been empowering to realize that regardless of gender, there could be a place for you on the roads. Here are some of her top tips:
Don't be afraid of your car. Levitt wrote that driving is for everyone—whether fearful or not. "There may be pleasure in being whirled around the country by your friends and relatives, or in a car driven by your chauffeur; but the real, the intense pleasure, the actual realisation of the pastime comes only when you drive your own car."
She recommended the De Dion single-cylinder car for a woman driver, because "it combines simplicity with reliability."
Dress well. If your car is closed-in, wear whatever you like because "the conditions are precisely the same as being in a carriage." But if you're driving an open car, "neatness and comfort are essential." In general, racing goggles or masks aren't necessary, she said, but shoes are better than tight-laced boots and high stockings should be worn in winter.
As for a dress, well, any old thing will do. But "under no circumstances wear lace or 'fluffy' adjuncts to your toilette—if you do, you will regret them before you have driven half a dozen miles." Make sure to wear a round cap or "close-fitting turban of fur" that fits you well, and tie a veil over it, to protect your hair and keep your hat in place. Don't forget your scarf and gloves.
Stock your glove compartment, which you'll find under the seat. "This little drawer is the secret of the dainty motoriste." Here is Levitt's list of indispensable items: "a pair of clean gloves, an extra handkerchief, clean veil, powder-puff (unless you despise them), hair-pins and ordinary pins, a hand mirror—and some chocolates are very soothing, sometimes!"  
She recommended keeping your hand mirror close to you, as you may wish to look behind you while driving and can use it to do so.
Don't forget your gun. Although Levitt, an experienced hunter, wrote that she never had to use hers, "it is nevertheless a comfort to know that should the occasion arise I have the means of defending myself." She recommended an automatic Colt, or, should you be disinclined towards firearms, a dog.
You can fix your own car. "The details of the engine may sound complicated and may look 'horrid,' but an engine is easily mastered," she wrote. Take a few hours to learn your car, she says, and you will know "all that you have to know."