Adorable, Critically Endangered Baby Sumatran Rhino Born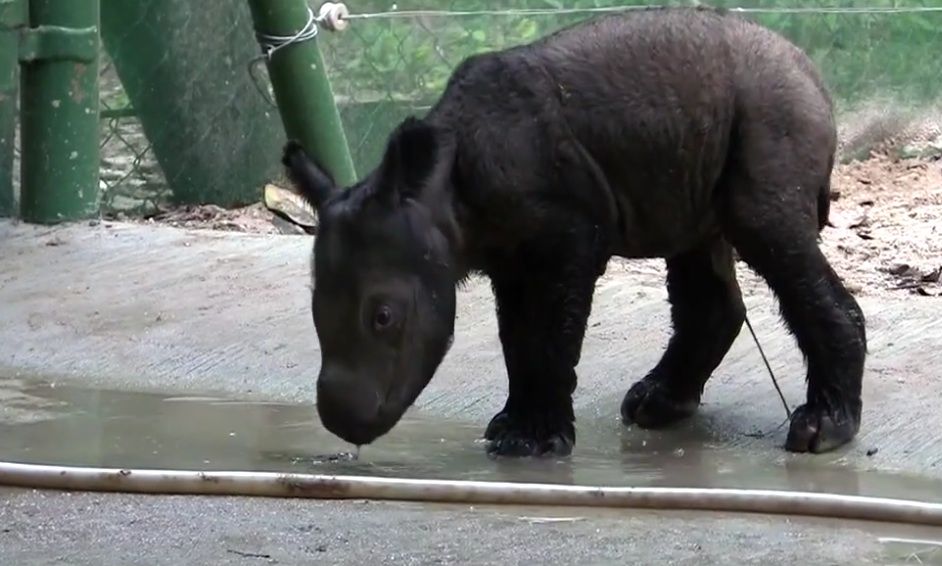 As the planet bids goodbye to Lonesome George, the last of a subspecies of Galapagos tortoises, the world welcomes a new conservation-hope poster child. After a 15-month pregnancy, Ratu, a captive endangered Sumatran rhino, gave birth to a healthy male calf late Sunday night in Sumatra, Indonesia. Fewer than 275 of the critically endangered animals still exist in the wild, with some experts giving the species less than a 50 percent chance of survival.
Yale Environment 360 elaborates on the baby's significance:
According to conservationists, it is the first captive birth of a Sumatran rhino (Dicerorhinus sumatrensis) in Indonesia's history and just the fourth captive birth of a rhino globally in the last century. The birth also marked the first time that a wild rhino (Ratu) was successfully bred with a captive rhino — in this case a male raised at the Cincinnati Zoo. The male rhino, Andalas, had been flown to Sumatra in 2007 in hopes that it would breed with one of the sanctuary's three female rhinos.
The Way Kambas National Park posted this adorable video of the new baby drinking water for the first time. Skip to 0:50 if you just want to hear it squeal:
And here's a video of Ratu's delivery, which you probably don't want to watch if you're eating lunch:
More from Smithsonian.com:
Defending the Rhino 
Caring for a Wounded Rhino Calf