155 Years After His Death, Abolitionist John Pierre Burr's Epitaph Updated to Include His Father, Aaron Burr
Descendant Sherri Burr's research shows that the vice president had children with Mary Emmons, a servant in his household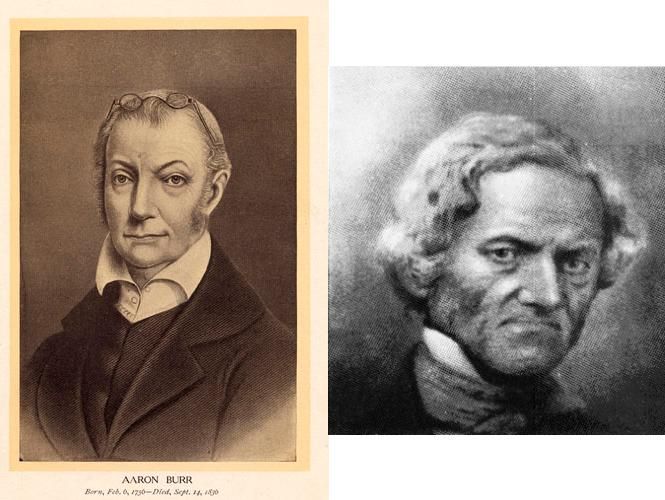 By day, John Pierre Burr worked as a barber. By night, he was a conductor on the Underground Railroad, working with individuals such as Harriet Tubman and Lucretia Mott to transport runaways to Canada. A new headstone unveiled over the weekend at Philadelphia's Eden Cemetery honors his life accomplishments, and also shares something new: John Pierre, the updated epitaph reads, was the "Son of Vice-President Aaron Burr and Mary Eugenie Emmons."
As Hannah Natanson reports for the Washington Post, that change comes thanks to Sherri Burr, a law professor at the University of New Mexico. The professor spent years delving into her forefather's parentage, and last September, she presented her findings to the Aaron Burr Association. The group, which includes fellow descendants and history lovers, unanimously recognized John Pierre and his sister Louisa Charlotte as the children of founding father Aaron Burr. Their mother, Mary Eugenie Emmons, hailed from Calcutta, India, and worked as a servant in the Burr household.
Speaking with NPR's Michael Martin, Sherri says she discovered the ancestral connection while working on a book titled Complicated Lives: Free Blacks in Virginia, 1619-1865.
"After I finished researching my father's maternal line, I decided to look at my family's paternal name, which had always been a secret from my brother and me," the author explains. "We were told that there was something special about our family name, but we were never told what it was."
Family records and DNA testing revealed Sherri's English and East Indian roots—an unknown background that pushed her to take a closer look at Aaron's relationship with Emmons.
Aaron—best known for his fatal duel with Alexander Hamilton— fathered John Pierre when his first wife, Theodosia, was dying of cancer. Stuart Fisk Johnson, president of the Aaron Burr Association, says this fact kept many from acknowledging the prominent Philadelphian's paternity, but he adds, "The embarrassment is not as important as it is to acknowledge and embrace actual living, robust, accomplished children."
John Pierre Burr's headstone is unveiled at Eden Cemetery. pic.twitter.com/WtHiZIaQLJ

— Kathleen E. Carey (@dtbusiness) August 24, 2019
According to Kathleen E. Carey of the Delaware County Daily Times, John Pierre's new headstone reads, in full: "Champion of Justice and Freedom, Conductor on the Underground Railroad, Son of Vice-President Aaron Burr and Mary Eugenie Emmons, Husband of Hester (Hetty) Elizabeth Emery, Father of Ten Children." In addition to this epitaph, the memorial features a portrait of the deceased; the dates of his August 26, 1792, birth and April 4, 1864, passing; and etchings of a flower and spiraling staircase.
Sherri tells Carey that John Pierre and Louisa Charlotte "could have passed into white society because their mother was East Indian [and their] father was English." Instead, the two decided to marry into the African-American community, becoming fierce advocates of the abolitionist movement and actively helping enslaved people escape bondage.
Later, when John Pierre's hometown of Philadelphia threatened to prohibit African-Americans from voting during the 1830s, his voice "was one of the loudest saying that is wrong," Sherri notes. Prior to his death at age 71, the activist even signed a petition (also approved by Frederick Douglass) urging free black men to join the fight against the Confederacy.
Two of the most convincing pieces of evidence testifying to the siblings' parentage are a letter addressed to Aaron and a property deed in John Pierre's name. As the Post reports, the missive, sent from Louisa Charlotte to her father, requests that he lend "me the Miniature of my beloved Theodosia"—Aaron's daughter. The note ends by stating, "With kind remembrance from all the family — believe Me always … sincere and affectionate."
The deed, meanwhile, references a plot of land purchased by Aaron and placed in John Pierre's name. "It's kind of bizarre that Burr would participate in this if" the latter wasn't his son, Annette Gordon-Reed, a Harvard historian who spearheaded research on Thomas Jefferson's relationship with an enslaved woman named Sally Hemings, tells Natanson. "So that's pretty powerful."
As Sherri told CNN's Leah Asmelash, she wanted to publicize John Pierre's paternity because she wanted the historical record to acknowledge his impact. "[It was] more important to me to make sure John Pierre got recognized, because he was such an important advocate for eliminating slavery," she says. "I hope," she adds, speaking with the Post, "John Pierre Burr is never again referred to as 'the natural son' or 'the illegitimate son,' but is simply referred to as 'the son.'"