Kandinsky Painting Returned to Heirs of Jewish Collectors Could Sell for $45 Million
The masterpiece once belonged to Johanna Margarete Stern, who died at Auschwitz in 1944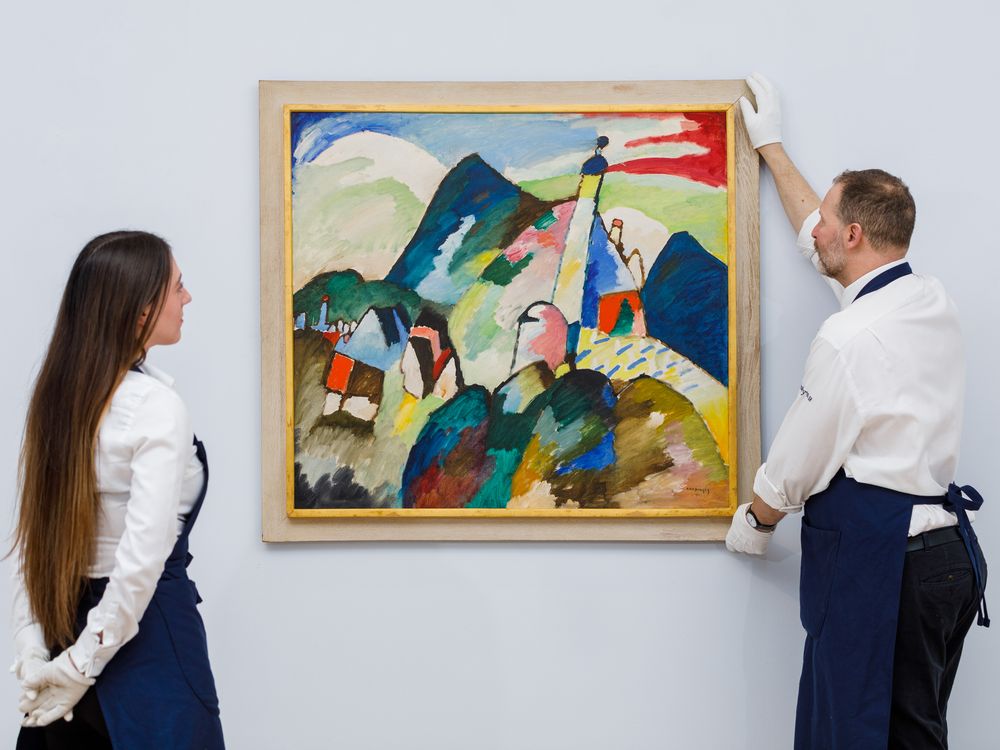 Next month, an early masterpiece by Wassily Kandinsky, the Russian-born artist sometimes called the "father of abstract art," will go under the hammer at Sotheby's in London. Titled Murnau mit Kirche II (View of Murnau With Church II), the painting is expected to fetch around $45 million.
Proceeds from the sale will be split between the heirs of Johanna Margarete Stern and Siegbert Samuel Stern, the German Jewish couple who purchased the painting before the Holocaust. Following a lengthy legal battle, a Dutch museum restituted the painting to the family last year. 
"Though nothing can undo the wrongs of the past, nor the impact on our family … the restitution of this painting that meant so much to our great-grandparents is immensely significant to us, because it is an acknowledgement and partially closes a wound that has remained open over the generations," the heirs say in a statement from Sotheby's.
Murnau mit Kirche II (View of Murnau With Church II) is "one of the greatest paintings by Kandinsky ever to come to market," according to Sotheby's. Completed in 1910, the roughly 38- by 42-inch painting is a colorful rendering of a church in a German town.
It "encapsulates the very beginnings of the revolutionary abstract language that would underpin the rest of Kandinsky's career," the auction house adds, "and set the next generation of artists on a new path."
Johanna and Siegbert acquired Murnau mit Kirche II shortly after it was painted. At the time, the two were part of the "famously glittering cultural life of 1920s Berlin," writes Sotheby's, and spent their time with the likes of Albert Einstein, Franz Kafka and Thomas Mann. In addition to the Kandinsky, their sophisticated art collection included works by Edvard Munch, Pierre-Auguste Renoir and Dutch old masters.
The rise of the Nazi party put an end to their glamorous lifestyles. Though Siegbert died of natural causes in 1935, Johanna was forced to flee Germany and sell most of her art, reports Artnet's Sarah Cascone. She made it to the Netherlands, but she was ultimately captured and sent to the Auschwitz concentration camp, where she was murdered in 1944.
One of the Sterns' daughters, Luise, also perished, per BBC News' Stephen Smith. Their other children survived; so did Luise's daughter, Dolly, who was in hiding from the ages of seven to ten. 
In recent years, the Sterns' descendants have been trying to locate pieces from their dispersed art collection. Murnau mit Kirche II was discovered in 2013, hanging on the walls of the Van Abbemuseum in the Dutch city of Eindhoven, where it had been housed since 1951, according to BBC News. In 2022, the museum returned the work to the heirs.
Johanna's 13 living descendants will split the proceeds from the auction, which will take place on March 1, per Artnet. A portion will be set aside to fund further research into the whereabouts of the family's art collection.