A Brief History of Taking Books Along for the Ride
Have books, will travel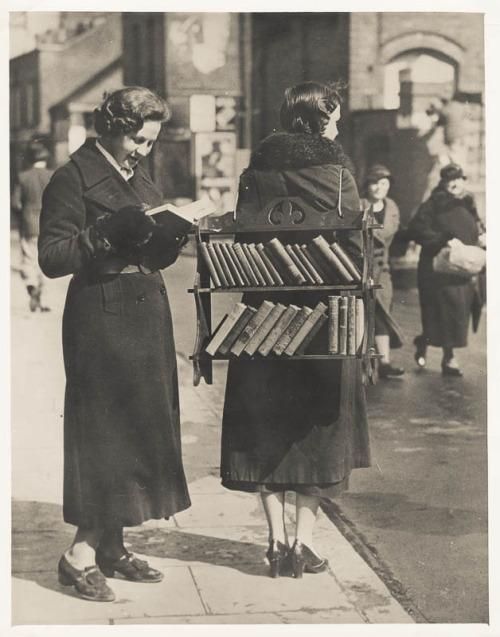 In a photograph from the 1930s, two women with pin-curls have paused in the street: one sporting a two-shelf book case stacked with the slanting spines of books; the other with a volume in her gloved hands, head bowed toward the open pages.
The caption, from the VSV Soibelman Syndicate News Agency Archive, that's been circulating via the Twitter account "History in Pictures," notes that the photo depicts a walking library in London during the 1930s. In a Tumblr blog, Annie Koh has more details from the photograph. Its extended caption reads:
Critics are always remarking that we in this country lag far behind those of European countries when it comes to borrowing books from libraries. Well, this enterprising girl at Rumsgate solves the problem by taking her books in a rack tied to her back round the streets and from door to door and people can borrow them for a week at the price of twopence.
Were walking libraries a thing? There certainly is a rich history of people walking with books and of book collections made for traveling.
For their ongoing art project exploring the intersection of walking and books, performers Misha Myers and Deirdre Heddon were inspired by historical stories, they write for the journal Cultural Geographies. Poet John Keats walked to the Lake District in Scotland in 1818, carrying Dante's Divine Comedy and the works of John Milton, for example. For conservationist John Muir's thousand-mile walk, he carried "a copy of Robert Burns' poetry, Milton's Paradise Lost, William Wood's Botany, a small New Testament, a journal and a map." 
But Myers and Heddon also wanted to ask what books add to a journey and affect the experience of it, as well as how the landscape and moving through it affects the experience of reading.
Carrying a full collection of books on a long trip would obviously have been tiring, but in 17th-century England, four individuals or families were lucky enough to own an expertly designed traveling library.
All it required were miniature books—about 50 gold-tooled, vellum-bound books, in fact, all bundled up into a larger wooden case bound in brown leather to look like a book itself, which are now held in the University of Leeds' special collections. This was a true traveling library and four were made.
"These traveling libraries were intended to be carried about by noblemen in their travels," writes David Kirby in the Michigan Quarterly Review. Scholars aren't sure who commissioned the four traveling libraries, but they strongly suspect William Hakewill, a lawyer, bibliophile and legal historian who lived from 1574 to 1655.
For those who could afford such a custom-made treasure—kings, for example—traveling libraries were attractive. Napoleon Bonaparte, perhaps weary of lugging (or telling others to lug) "several boxes holding about sixty volumes each" of his favorite books, did commission his own traveling library from one M. Louis Barbier, who was in charge of the Louvre Library, according to an article published in the Sacramento Daily Union on June 8, 1885. Author Austin Kleon posted an excerpt from the paper to his blog. The reporter writes that Napoleon requested each tiny book in the library should "contain from five hundred to six hundred pages, and be bound in covers as flexible as possible and with spring backs."
Furthermore:
There should be forty works on religion, forty dramatic works, forty volumes of epic and sixty of other poetry, one hundred novels and sixty volumes of history, the remainder being historical memoirs of every period.
For the less well-heeled, a different kind of traveling library soon became available. Schools are still visited by traveling booksellers, called book fairs or bookmobiles, that have their roots in traveling libraries from more than a century ago. These ambulatory book assemblages first moved on horse-drawn carts and then automobilies. Rural areas especially relied on the visiting collections. Some communities still enjoy their own quirky versions today.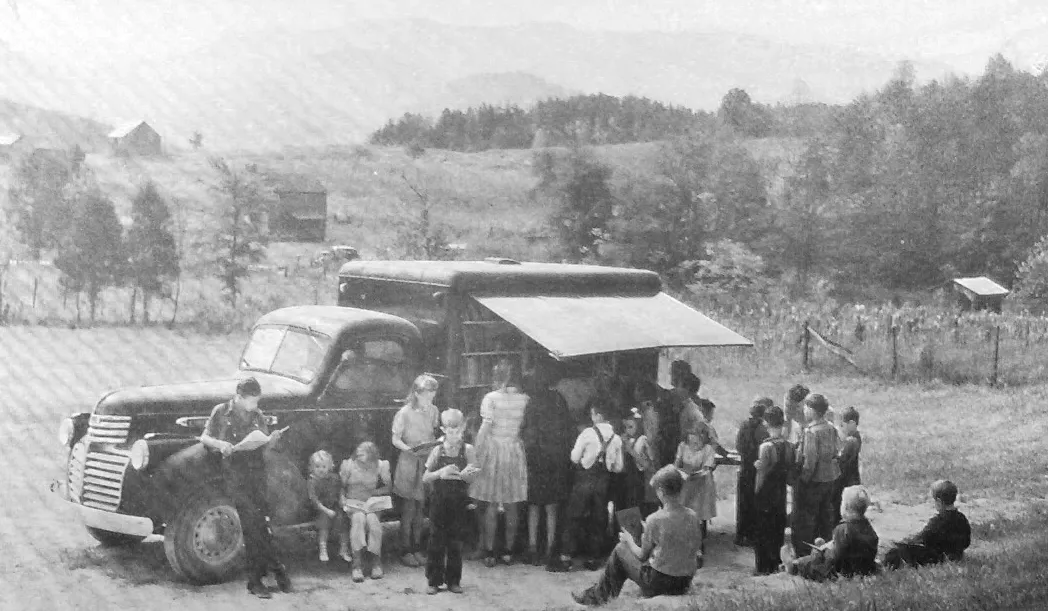 But there is another potential walking library, a metaphor offered up by Kirby in the Michigan Quarterly Review.
His essay was actually about the advent of electronic books and what digital technology might mean for future readers. "An e-book reader that is reasonably priced and a pleasure to use will be the ultimate traveling library," he notes, while adding the caveat that Kindles and Nooks likely won't resemble the future, ultimate e-book any more than the Model T resembled sleek, well-designed vehicles today. But in some ways, the e-book readers are like a library, albeit a personal one. In some formats, such as the Kindle, users can even lend a book to a friend for a time.
There's an e-book reader tucked into a specially-sewn pocked of this reporter's satchel and after submitting this article, she'll take her own traveling library for a walk.