87 Elephants Found Dead Near Botswana Sanctuary
A report attributed the killings to a "poaching frenzy"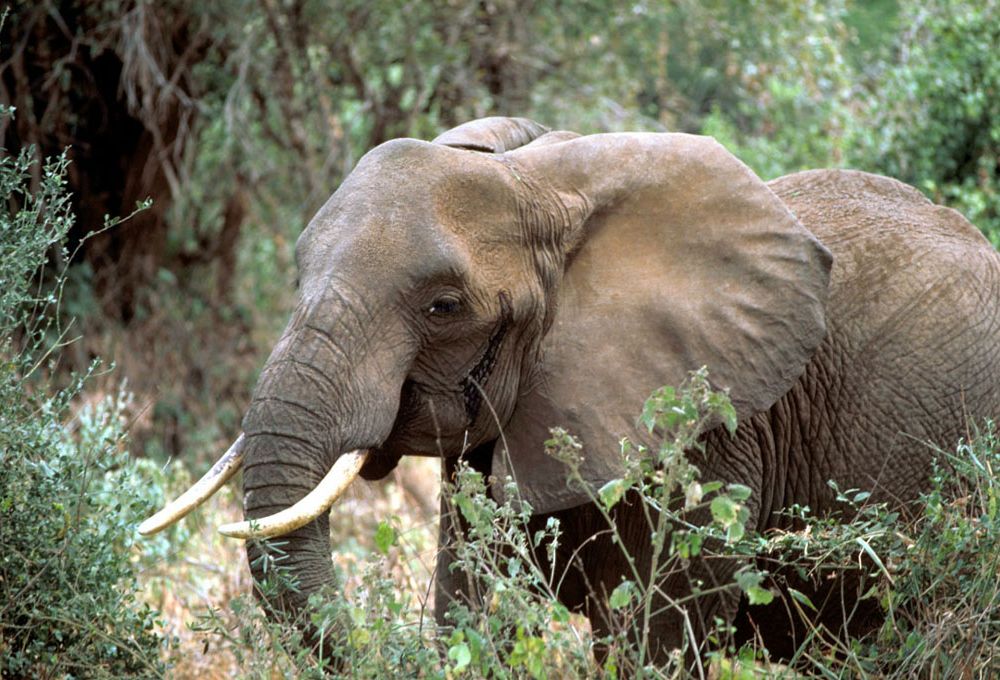 In recent decades, as African elephants have been decimated by poachers, Botswana has emerged as a rare success story. The country is home to the world's largest elephant population, and elephant numbers have remained stable there for the past 15 years. So it came as a particularly jarring blow when the bodies of 87 elephants were recently found near a wildlife sanctuary in Botswana, as Alastair Leithead of the BBC reports.
The dead animals were recorded near the Okavango Delta wildlife sanctuary, a sprawling protected area in northern Botswana, during an ongoing aerial survey by the conservation group Elephants Without Borders that began mid-July.
"I'm shocked, I'm completely astounded," Mike Chase, an elephant ecologist and the director of Elephants Without Borders, tells Leithead. "The scale of elephant poaching is by far the largest I've seen or read about anywhere in Africa to date."
Most of the animals appeared to have been killed within recent weeks, and they bore gruesome injuries suggesting that they were slain by poachers for their ivory.
"[A]ll of them had their skulls chopped to remove their tusks," Chase wrote in a report obtained by Emily Sullivan of NPR. "Poachers tried to hide their crimes by concealing the mounds of rotting flesh with drying bushes."
*The Botswana government released a statement Tuesday claiming that the report was "false and misleading," claiming that only 53 elephants had died mostly of natural causes. However, Chase and his team stick to their tally, reiterating that all 87 deaths can be confirmed by multiple witnesses and noting that a government official was present on every aerial survey, Rachael Bale reports for National Geographic.
"The varying classification and age of carcasses is indicative of a poaching frenzy which has been ongoing in the same area for a long time," the report adds.
Three white rhinos, killed within the past three months, were also found in the area.
Prior to the recent incident, Botswana had been largely "successful at protecting [its] elephants," according to the Great Elephant Census, an expansive survey released by Elephants Without Borders in 2016. The same report documented some 350,000 elephants in 18 African countries; Botswana was home to more than 130,000 of them.
Botswana's aggressive approach to protecting its elephants—the country upheld a "shoot to kill" policy against suspected poachers—was believed to be keeping the animals safe. But in May, one month after President Mokgweetsi Masisi was sworn into office, Bostwana disarmed its anti-poaching units. According to the BBC's Leithead, senior officials did not explain why the step had been taken. In June, officials announced that they would consider lifting a wildlife hunting ban in areas that are not designated game reserves or national parks, reports Allyson Chiu of the Washington Post.
This apparent softening of Botswana's anti-poaching measures has conservationists concerned. "We have the world's largest elephant population and it's open season for poachers," Chase tells Leithead. "Clearly we need to be doing more to stop the scale of what we are recording on our survey."
Sadly, the death toll in Botswana may prove higher than 87 elephants. The current aerial survey is only half finished, and conservationists worry that more dead elephants may be found in the future.
*Editor's Note, September 5, 2018: This story has been updated to include a statement from the Botswana government disputing the news reports.