7.8-Magnitude Earthquake Felt 'Like the Apocalypse' in Turkey and Syria
The death toll has risen to at least 3,000 following one of the largest quakes recorded in the region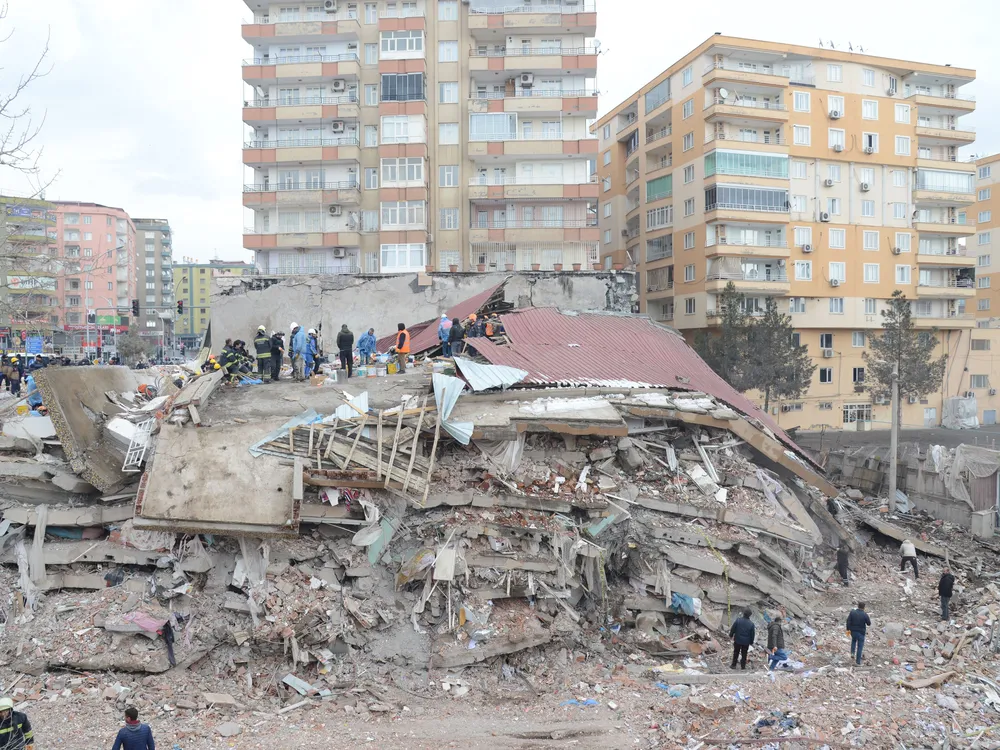 A massive 7.8-magnitude earthquake struck Turkey and Syria on Monday morning, killing at least 3,000 people and injuring thousands more. It was the worst earthquake in Turkey since 1999 and one of the strongest recorded in the region in a century. Casualties are expected to rise as rescuers continue to dig through rubble for survivors.
The initial tremor struck near the south-central Turkish city of Gaziantep at 4:17 a.m. local time. Thousands of buildings across both countries collapsed to the ground.
"It was like the apocalypse," Abdul Salam al-Mahmoud, a Syrian in the northern town of Atareb, tells Reuters' Mert Ozkan and Kinda Makieh. "It's bitterly cold and there's heavy rain, and people need saving."
Dozens of aftershocks followed the first earthquake, including an unusually strong 7.5-magnitude tremor that hit 60 miles north of the first in Turkey, just nine hours later. Both large quakes were picked up on seismographs as far away as Denmark and Greenland, along with many of the aftershocks. 
Turkey sits in one of the world's most active earthquake zones. In 2020 alone, the country recorded 33,000 quakes, 332 of which were magnitudes 4.0 and higher, writes Saumya Kalia for The Hindu.
"This area is where three tectonic plates come together—it's a triple junction," Alex Hatem, a geologist with the USGS in Golden, Colorado, tells the Wall Street Journal's Eric Niiler. "It has not had a lot of seismic activity in the recent past, however it is an area where a lot of stress builds up over time."
Drone footage showed rescuers in the Turkish city of Adana searching through the rubble of a collapsed building after a major earthquake of magnitude 7.8 struck central Turkey and northwest Syria https://t.co/qhP64Hpz5m pic.twitter.com/bKlC0lRGtE

— Reuters (@Reuters) February 6, 2023
Two major fault lines cross through Turkey, which lies on top of the Anatolian Plate. Monday's quake occurred along the East Anatolian Fault, located on the border of the Anatolian and Arabian plates from eastern Turkey into the Mediterranean. It's known as a strike-slip fault, which means the two plates slide past each other horizontally. It is a seismically active area, but this event was especially devastating.
"Since I live in an earthquake zone, I am used to being shaken," Melisa Salman, a reporter based in Kahramanmaraş, Turkey, tells the AFP. "But that was the first time we have ever experienced anything like that. … We thought it was the apocalypse."
Meanwhile in Syria, years of civil war have already displaced millions of people, and airstrikes had left infrastructure fragile before the quake. 
"Anywhere else in the world, this would be an emergency," Mark Kaye, a spokesman for the International Rescue Committee, tells the New York Times' Raja Abdulrahim. "What we have in Syria is an emergency within an emergency."
Turkish President Recep Tayyip Erdogan declared a national mourning period of seven days following the disaster. Dozens of countries, including the United States, have offered up aid as rescue teams work swiftly to find and treat survivors. 
"Our teams are deploying quickly to begin to support Turkish search and rescue efforts and address the needs of those injured and displaced by the earthquake," President Biden said in a statement, per Politico's Kelly Garrity. "U.S.-supported humanitarian partners are also responding to the destruction in Syria."