Girl Celebrating 7th Birthday Finds 2.95-Carat Diamond
Aspen Brown stumbled upon the pea-sized, golden-brown gem while visiting an Arkansas park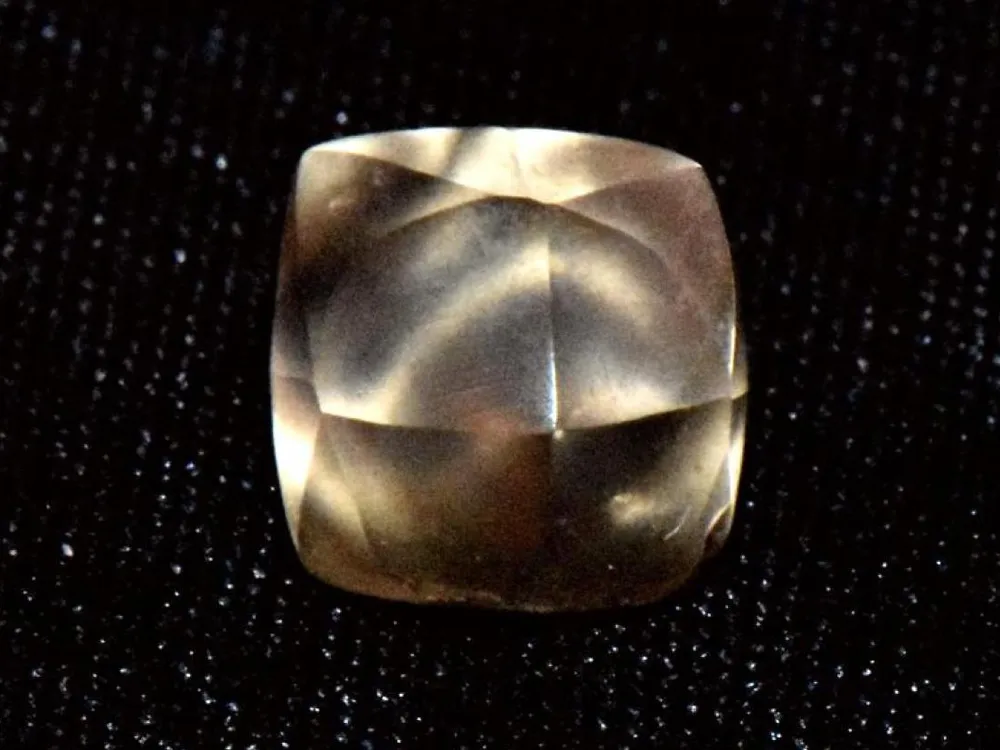 Aspen Brown was celebrating her 7th birthday with her dad and grandma when she made the discovery of a lifetime: a 2.95-carat diamond.
Earlier this month, the young girl had opted to spend her special day at Crater of Diamonds State Park, a protected area in southwestern Arkansas. She found the gem in the park's 37-acre diamond search area, where guests are encouraged to hunt for jewels and take them home.
While searching, Brown got hot and wanted to sit down for a quick break, so she made her way over to some large rocks, according to her dad, Luther Brown.
"Next thing I know, she was running to me, saying, 'Dad! Dad! I found one!'" he says in a statement from the park.
She returned to her family holding a stone about the size of a green pea. On their way out of the park for the day, the trio asked staffers to take a look. They confirmed it was indeed a diamond—one with a "golden-brown color and a sparkling luster," says Waymon Cox, assistant park superintendent, in the statement.
The stone is a "complete crystal, with no broken facets," per Cox. It also has a small crevice that likely emerged when the diamond was formed.
"It's certainly one of the most beautiful diamonds I've seen in recent years," he adds.
Brown's good luck may have had something to do with recent construction work within the park. In August, workers dug a 150-yard trench on the north side of the search area to help manage erosion. In the process, they turned over several tons of unsearched dirt, which could have brought Brown's gem to the surface, according to the park.
Shealyn Sowers, a spokesperson for Arkansas State Parks, tells NBC News' Antonio Planas that she doesn't know the estimated value of the newly discovered diamond.
The 2.95-carat diamond is the second-largest discovery made by a park guest so far this year. In March, another visitor found a 3.29-carat brown diamond.
Many visitors to the park get lucky while searching for gems: On average, fortune-seekers find one to two (much smaller) diamonds each day, according to the park. All told, visitors have uncovered more than 560 diamonds so far this year. 
Still, finding a diamond like Brown's in such a large area is "exceptionally rare," as Aaron Palke, a research scientist for the Gemological Institute of America, tells Insider's Lloyd Lee and Grace Eliza Goodwin. Last year, Palke and his team searched the park for two and a half days and didn't discover any diamonds. He estimates that most diamonds found at the park are around .05 to .20 carats. 
Why does this region of Arkansas have so many diamonds? To answer that question, we need to go back some 100 million years, when a volcanic vent erupted in the area. The blast left behind an 81-acre crater, which is where the state park's name comes from.
The eruption also brought debris, diamonds and other gems from the Earth's mantle up to the surface, where gem hunters can still find them today. Some of the precious stones found here include garnet, jasper, quartz, amethyst and agate, as well as diamonds in three colors: yellow, brown and white.
The area became famous thanks in large part to a farmer named John Huddleston, who earned the nickname "Diamond John" for finding diamonds on his land in Arkansas in 1906. As news of his findings spread, searchers began descending upon his property to try their luck, too. And many found success: The largest diamond ever unearthed in the United States was found on his land in 1924. Named "Uncle Sam," the white diamond measured 40.23 carats.
Editor's note, September 19, 2023: The diamond was found at a park in Arkansas, not Arizona. This story has been edited to correct that fact.