Scholar Deciphers 3,200-Year-Old Inscription That Could Shed Light on the "Sea People"
But the Luwian language text's unproven provenance calls its authenticity into question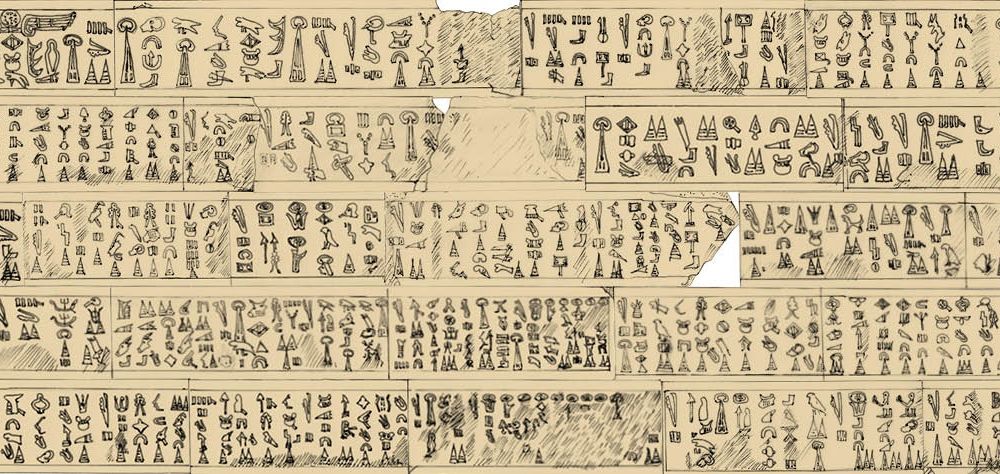 An interdisciplinary team of Swiss and Dutch archaeologists say they have managed to deduce the writings on a 3,200-year-old stone tablet that appears to tell tales of ancient Troy and the so-called "Sea People."
The 95-foot-long, 13-inch-tall limestone slab in question was discovered in 1878 in a small village in what is now modern-day Turkey, reports Natasha Frost of Atlas Obscura. Despite having no idea what the hieroglyphic symbols meant, French archaeologist Georges Perrot supposedly copied the entire inscription for his records before the limestone was taken away by the villagers and used to build a new mosque.
The archaeologists deciphered a copy of that inscription, which was written in Luwian, the tongue of a little-known civilization believed to exist thousands of years ago in Asia Minor, writes Owen Jarus of Live Science. The Luwians have been proposed by some to be the "Sea People" cryptically mentioned in Egyptian writings that might have helped drive the end of the country's New Kingdom. Swiss geoarchaeologist Eberhard Zangger goes further, proposing that the Luwians fueled the collapse of the Bronze Age superpowers by starting a series of conflicts in a kind of "World War Zero" some 3,200 years ago.
Since 1956, scholars have slowly worked to decipher the Luwian language, including Perrot's transcription. The copy was in the possession of the English archaeologist James Mellaart, who spent the last decades of his life trying to translate the slab, before his death in 2012.
Today, less than 20 people in the world are estimated to be able to read the Luwian language, and Mellaart's son gave the inscription to the team of archaeologists, who are affiliated with Zangger's Luwian Studies Foundation. 
According to a press release, their translation reveals an epic story worthy of being carved into stone, namely the exploits of prince from the region of ancient Troy named Muksus who advances his forces all the way to the borders of ancient Egypt.
However, some scholars are skeptical of the authenticity of this story. Dutch scholar Fred Woudhuizen was working with a copy of a copy of a copy, notes Jarus, since Perrot's transcription was later copied by a Turkish scholar, whose work was then copied by Mellaart. Without any stones left to corroborate this copy, the authenticity of the work is suspect. Mellaart's own credibility also must be considered. Scholars have spoken out against some of his claims, and in 1991, he was forced to publish a story in HALI magazine titled "James Mellaart Answers His Critics." 
But Woudhuizen and the Luwian Studies Foundation, however, argue that it would have been very difficult for Mellaart, being unable to read Luwian, to successfully forge a long, intricate inscription.
You can read a translation of the tablet yourself this December when the foundation publishes it in the journal Proceedings of the Dutch Archaeological and Historical Society – TALANTA.