3-D Printed Gun Plans Are Going to Be on the Internet, Whatever the State Department Says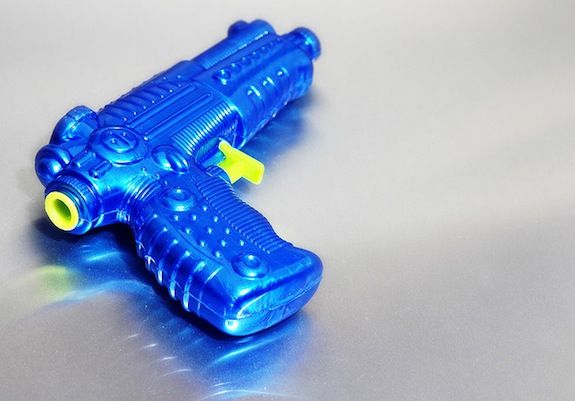 The world's first fully 3-D printed gun was fired this week, and Defense Distributed, the company behind the print-at-home weapon, wants to make the designs for this weapon available to all. But the State Department would rather they didn't. In fact, the department asked Defense Distributed to pull down the blueprints, saying that the plans could incur arms trafficking violations. As a response, The Pirate Bay, a large bittorrent site, offered to host the plans on its site for anyone who wants them.
Here's the gun being fired with a remote trigger:
The gun has had a short but steady history of being rejected. Thingiverse, a place for 3D printed blueprints, banned it in 2012. DEFCAD, a place where Thingverse-banned designs go, welcomed the gun. But the State Department Office of Defense Trade Controls Compliance wrote a letter to Defense Distributed that read: "Until the Department provides Defense Distributed with final determinations, Defense Distributed should treat the above technical data as ITAR-controlled."
Cody Wilson, inventor of the gun and head of Defense Distributed, said they would comply. "We have to comply," he told Forbes. "All such data should be removed from public access, the letter says. That might be an impossible standard. But we'll do our part to remove it from our servers."
Of course, the internet being what it is, just pulling the designs from DEFCAD is not at all the same from removing it from the web entirely. The plans had already been downloaded 100,000 times in the first two days the file was online. And the Pirate Bay says it won't bend to any department. "TPB has for close to 10 years been operating without taking down one single torrent due to pressure from the outside. And it will never start doing that," a Pirate Bay insider told TorrentFreak. The insider says that he hopes hosting the plans will force America to reevaluate their stance on gun.
"We think that the good thing about the discussion about 3D printers and their gun laws might bring more focus on the double standards that the U.S. is having and hopefully – people will start printing signs to protest against the guns, the corruption and the threats against freedom of speech that the U.S. is pushing on us," he told Torrent Freak.
The gun and TPB have something in common even—they've both been searching for a home recently. The torrent site recently had to move, after threats from local governments to shut them down. And Wilson isn't totally content with the state departments demands, and hopes to get the plans up again. But at least the two can be nomads together.
More from Smithsonian.com:
In True Pirate Form, the Pirate Bay Can't Find Anyone to Take It In
Open For Business: The 3D Printed Gun Store